Edison Research and Commercial Radio Australia have released the finding of the Smart Audio Report for Australia revealing that 26% of Australians or 5.6 million people now own a smart speaker.
From 5% in 2018 to just over a quarter today, Australian ownership lags about a year behind the USA ownership figures, mainly due to a later release.
Google dominates the market here, whereas in the US its Amazon's range.
Most speakers are in the living or family room, followed by the kitchen, then main bedroom and home office with their owners mostly using them while doing chores around the home, followed by cooking and entertaining.
Smart Speaker use is now at 88% weekly and 67% daily, but 63% of people still don't know enough about their Smart Speaker to use all of its features.
54% of people say that having a Smart Speaker is like having someone new to talk to.
49% of owners say they are now using voice operated personal assistan on their smartphone since going to a Smart Speaker
59% say they are listening to more audio, and CRA chief executive officer Joan Warner says, "The increasing prevalence of smart speakers in Australian households extends access to radio to more places and more devices and demonstrates that consumers value audio and are open to the increasing possibilities of voice assistant technology,"
In an online briefing as the figures were released, Edison Research vice president Megan Lazovick talked about the benefits for advertisers, saying "smart speakers free your hands," with 31% of smart speaker owners having added an item to their shopping basked from a smart speaker. For those who can use the functionality, "there is a quick transition from listeing to purchasing." 33% of smart speakers users have interacted with brands or made a purchase.
While there are high levels of enthusiasm for smart speakers, Lazovick says the research reveals that while 63% of people trust smart speaker companies to keep their information secure, they stll worry about hacking or personal information being accessed. "Some worry that the devices are always listening, but despite their concerns they still choose to use smart speakers."
Playing music, whether online audio, streaming AM/FM/DAB+ is still at the top of Smart Speaker use, followed by getting the weather, with getting the news now at 41%, and the increasing time people are spending with Audio is creating opportunities for content makers.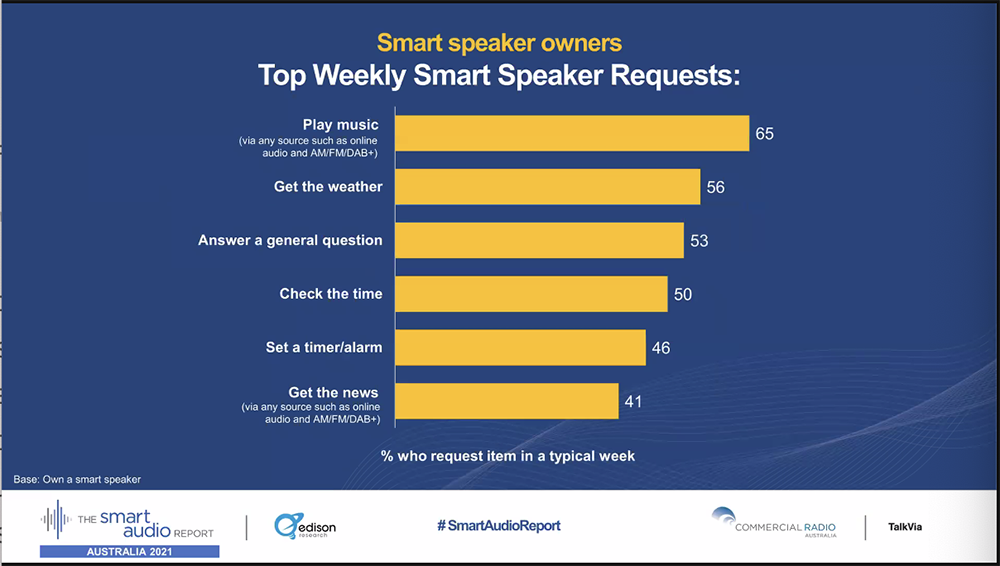 70% of those who use voice operated personal assistants say it makes life easier.
As to the level of trust for Smart Speaker or smart phones companies to keep personal information secure, 62% are comfortable with the the level of security, though 57% are worried about hackers gaining access to the device in order to gain access to the home or personal information.
A third of those using voice activation have interacted with a brand, product of service, while 28% have ordered a product.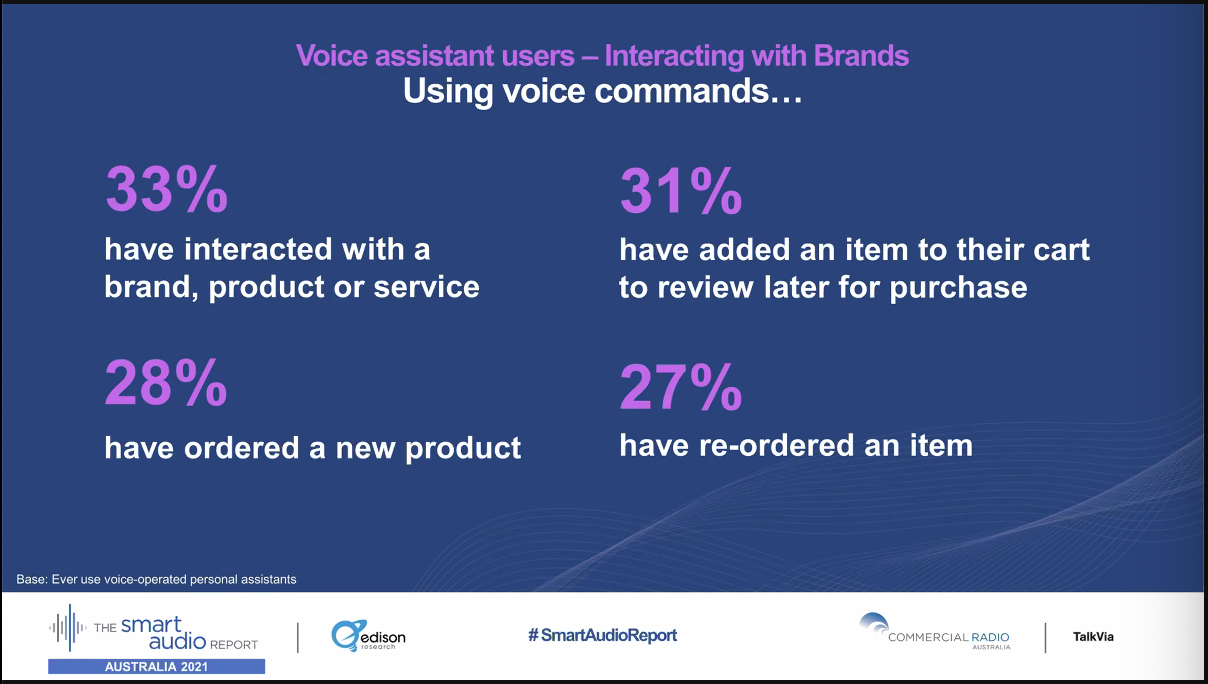 Reasons for not purchasing via a Smart Speaker include not being able to see what they buy (67%) which may change as more people purchase Smart Speaker with screens.
For those yet to buy a Smart Speaker, 40% are concerned about hackers getting personal information and the same percentage are worried about the Smart Speaker always listening.
---
Subscribe to the radioinfo podcast on these platforms: Acast, Apple iTunes Podcasts, Podtail, Spotify, Google Podcasts, TuneIn, or wherever you get your podcasts.