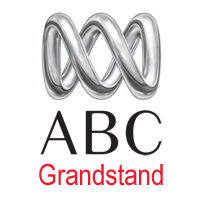 With 21 days to go until the London 2012 Olympics, the ABC Grandstand team have allocated which announcers will cover certain events. The have also released information on a comprehensive package of coverage, as well as information on how the coverage will be orchestrated behind the scenes.
Twelve commentators will be travelling to London to provide more than 200 hours of radio coverage across the 16 days. This coverage will be broadcast on ABC Local Radio nationally, on ABC's dedicated special events digital radio station ABC London 2012 available in Sydney, Brisbane, Adelaide, Perth and Melbourne, and online at abc.net.au/digitalradio.
The ABC team will start broadcasting from 6pm AEST on Saturday 28th July. Day One commentary will include all the action from the pool with Gerard Whateley, Rowing with Tim Gavel from Eton Dorney, Peter Walsh calling the Australia (Opals) vs Great Britain Women's Basketball, Drew Morphett at the Men's Road Cycling event and Shannon Byrne, attending her first Olympics, covering the 3 Day Equestrian event.
David Morrow, commentating at his 8th Olympic games, will be out and about during Week One following the Shooting teams and then bunkering down at the Olympic Stadium for Week Two to cover the Track and Field events including the 100m and 200m Men's and Women's Finals.
Charlie King, Dan Lonergan and Quentin Hull are the other members of the team, and will be covering the Australian team's participation in the Water Polo, Boxing, Canoe, Sailing, Weightlifting, Football and Hockey. The commentary team will share additional Olympic sports events.
The commentators have collectively attended 37 Olympics' between them.
ABC Radio Technical Operations Manager, Scott Whyte, will head the technical team in his 6th Olympic Games. There will be an additional 5 ABC technical support staff in London and staff in Master Controls around the country who will help get the broadcast to air.
ABC Grandstand will be operating out of a broadcast space of 70 sq metres in the International Broadcast Centre. It will contain an office area, control room and three audio booths.
It is estimated that ABC Grandstand will take 400kg of equipment to London, down from the 800kg taken to the 2010 Commonwealth Games, in an attempt to reduce greenhouse emissions.
ABC Grandstand will also be reporting on the London 2012 Olympics Games via their website abc.net.au/Olympics, and maintain a Facebook and Twitter presence.
Broadcast start and finish times will fluctuate daily dependant on event start and finish times. In general broadcast start times will range from 5pm to 6.30pm AEST and coverage will be approximately 12 hours a day.