Analysis from Steve Ahern
A while ago, in an article on smart speakers, one of my observations was a criticism of ABC News for not using its most up-to-date radio news bulletins for its flash briefing.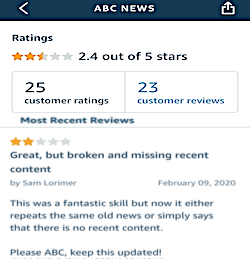 Other people also had similar issues with the service, judging by the two and a half star rating that the flash briefing received and the critical comments from users (pic left).
The ABC has rectified that problem with an update to its news flash briefings.
Just after Christmas I noticed a message in the ABC News flash briefing telling me that service would soon close and that I should do an update. Sure enough, in recent weeks, that flash briefing no longer plays, so this week I did a new search for 'ABC News' and I found an updated service, which I added.
The audio below plays the expiry message and then (edited) is followed by the new ABC state bulletin.
I have programmed my smart speaker to give me a tailored morning briefing. When I say 'Alexa/Google Good Morning' my speaker plays a set routine, which is:
Time, traffic and weather
ABC News
BBC World News
Wall Street Journal News
Podnews (always a great briefing from James Cridland)
then one of the scheduled radio stations that I aircheck each day.
I'm going to add our new radioinfo flash briefing into the routine soon.
I am pleased to report that the new ABC News briefing, now titled ABC News Flash Briefing, to distinguish it from the earlier service (which was just called ABC News), is an up-to-date bulletin from the ABC Radio newsroom, not from TV or some other source. It seems to be current as of the time played, judging by the stories in the bulletin that I heard this morning at 7am.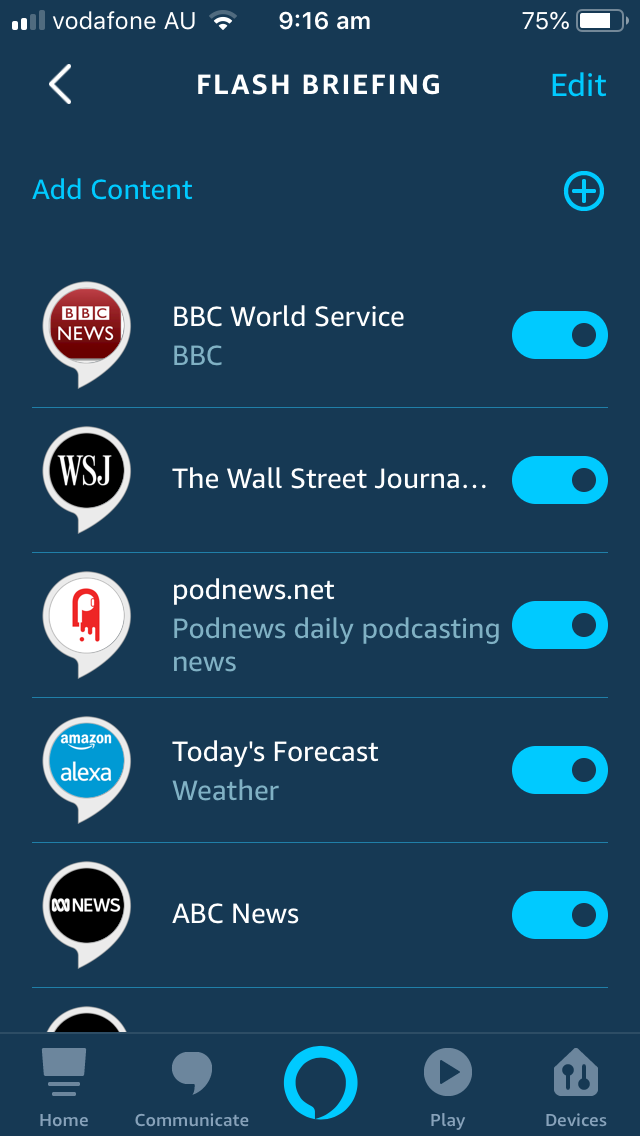 While searching the ABC News offerings for smart speakers I also discovered that ABC is now offering state bulletins as well as the national briefing, so I added a new briefing to my Good Morning routine, putting in the NSW State News after the (presumably) national news briefing.
The national bulletin I heard this morning was read by Helen Tzarimas, ABC Sydney's afternoon news reader, and the state bulletin was read by Toni Matthews. It sounded good.
There were several issues I had with the previous ABC flash briefings.
One was that the bulletins were not always the most current editions. I thought this was because they were recorded hours earlier, but an ABC spokesperson told me that it was more likely that the smart speaker (particularly Google) had not scanned for the most recent bulletin. Whatever… the main thing is the problem is now fixed.
The other was that the bulletins were not branded with the iconic ABC audio news theme, but instead began with the theme used by the ABC's visual services, the ABC TV news theme. This still has not changed. I get that the ABC may be choosing to use a more modern theme, rather than the decades old radio news theme so that it is perceived as modern, but the opposite argument is that smart speakers are an audio platform and should be consistent with the national broadcaster's audio offering, not its video offering. Whatever… I get it, but I still like the old radio theme more than the tv theme.
The third problem was that some of the levels of audio grabs played in the old service were all over the place, and were often also equalised with too much bass and were unintelligible on the smart speaker. Well done ABC… this is now fixed too.
Since we at radioinfo launched our own daily flash briefing podcast three weeks ago, we have been on a steep learning curve about flash briefings. Podcasts are now years old and the processes for delivering them are now well known and tested (we have been writing about the developments here for a long time), but delivering podcasts to smart speakers is still a new field and there is still lots to work out.
The audio industry that is serving smart speakers is not as mature as podcasts and there are still some glitches. For instance, a podcast can be a flash briefing, if your smart speaker service scans it and indexes it for replay on its smart speaker service, but this is not always guaranteed. If you want to deliver your podcast as a guaranteed flash briefing, you have to set it up as a flash briefing skill with Alexa and Google and any other platforms. We found this out the hard way when we discovered that some people easily heard our briefing, but others did not depending on what country, server or timezone they were in.
Some listeners could just ask: 'Alexa, play radioinfo flash briefing' or 'Hey Google, play the latest radioinfo podcast briefing,' and our latest flash briefing played, while for others their speakers could not find the service.
Lesson learned. We are now in the process of refining our radioinfo flash briefing for all the platforms. If your smart speaker can't find us easily, try again next week once we have perfected it.
Like us, the ABC put their products out there to see how the audience would react, and have now refined their offering in response to the way people are using the service. This is the way of the smart speaker world at the moment, it is a new frontier for audio creators and we are all still learning as the platforms evolve.
Expect more refinements to your smart speaker offerings as the year progresses.
About the Author

Steve is the founding editor of this website.
He is a former broadcaster, programmer, senior executive and trainer who now runs his own company Ahern Media & Training Pty Ltd.
He is a regular writer and speaker about trends in media.
Steve is currently in Delhi India speaking at a World Radio Day conference.
More info here.
Subscribe to the radioinfo daily flash briefing podcast on these platforms: Acast, iTunes Podcasts, Podtail, Spotify, Google Podcasts, TuneIn, or wherever you get your podcasts.
Ask Alexa: 'Alexa, play radioinfo flash briefing' or ask Google Home: "Hey Google, play the latest radioinfo podcast briefing."