Comment from Jen Seyderhelm
I went to work this week feeling crook. Didn't think anything of it until my colleague stopped me and asked how I was.
"You don't seem yourself."
I most definitely wasn't and feel grateful for those in my workplace who can pick the difference. Later, as I was about to leave, I was asking a different colleague about a regular guest I hadn't met yet.
"She's just like you actually. So up all the time."
Bit of up. Bit of down. Lots of sass. Exuberant. Emotional. Silly. Professional. Depends what day you catch me on.
All me.
I can't tell you how many times I have been told to be myself on air.
I also know I've said it to students too without really thinking. It is as bad a phrase as, "You'll be right", "You'd look nicer if you smile more" and "Yes, I'm listening *looks at phone*"
Like when you are learning to drive a car, it takes a while before you can panel AND talk. Even harder if you are watching a clock at the same time or prerecording or trying to remember everything the station expects you to say. Sometimes there is very little time left to "be yourself" at all. Yet that is what they want alongside the 30 second (but really 45) live read for a certain furniture store.
The expectations of a radio voice have changed as has our demands of what we want to hear them say. The days of the proper ABC reader with no mention of his/her/their personal life seem a long time ago.
So, what do we want to hear now? And, WHO?
I find myself increasingly standing up for Kyle Sandilands and Alan Jones, not because I agree with everything they say, but because they represent the power to be authentically themselves. I was captivated watching Kate Ritchie fight to the death with recent Nova converts Ben and Liam in Kate, Tim and Marty's ongoing Quick Draw game. Kate is feisty and mighty competitive. So am I. I mean, never in public or at work. That's why I like seeing it in Kate so much. Sally would never do that on Home and Away.
I watched A Beautiful Day in the Neighborhood about the much revered Mr Rogers (played by Tom Hanks). A key factor of Mr Rogers' appeal (admittedly to children) was his consistency of voice, dress and behavior. While I feel this same consistency is relevant of radio newsreaders (except the dress – although I do always like to imagine them in Batman outfits) we no longer want or require cookie cutter announcers.
Podcasts – the jury is still out. Some are more relevant to a methodical, consistent host. Few have the depth and breadth of a breakfast radio show's itinerary. The right voice for the podcast purpose is critical.
In my training courses – voiceover or podcast, there is an expectation that part of my role is to fix a person's voice. They don't like theirs. Most people, even seasoned radio veterans, find it hard to listen back to their audio. I dislike self-editing immensely.
But, having heard many clever podcast ideas put forward by people experienced and professional in the topic they wish to convey but without any broadcast background, I've realised that the first two reasons I will listen to someone have nothing to do with a milk and honey voice (is that still a thing?)
I like to hear someone talk with passion and enthusiasm for their topic and I want personality enough for me to feel like we have things in common. It's great that you are the funny and wise sage of everything there is to know about Warhammer Dwarf Armies but that secret recipe you just described that your mum taught you about how to bread crumb a schnitzel? I'll tune in next episode.
I spent my early days trying to be 16 different people. Then one very sanitised being. In my second stint at radio someone told me that they felt I was leaving all my naughty at home. All I was giving on air was "Nice Jen". It was dull and colourless.
The first time I let rip with the total eclipse of the Jen experience I was scared that people wouldn't like me. That did happen. But prior to full spectrum Jen no one could remember anything I did or said so the strongest feeling I was mustering was ambivalence.
Full spectrum Jen has now infected my home and friendships. In a positive non coronavirus way. I have no idea why I held me back for so long. I suspect a great many of us do.
Recently I got called into work to do a fill-in new reading shift. I waltzed through the door and exclaimed,
"GOOD MORNING BELOVED WORK!"
One of my colleagues said, "Well you can tell who doesn't work full time, can't you?"
Another, "Who ARE you?"
I just went, put on my batman outfit and prepped some bulletins.
There's a place for all of us in radio; the loud, soft, quiet, emotional, damaged, recovering, silly, professional, good, bad and country music lovers. There's a place for all of that in me alone.
"Be Yourself?"
"Who are you?"
These are big questions that I can't answer for you. But on air I knew it when I was no longer thinking before answering.

About the author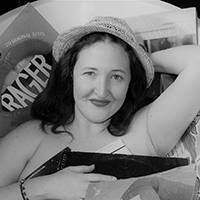 Jen Seyderhelm is an announcer, podcaster, producer, writer, news reader and music historian. She works for 2CC in Canberra.
Jen's podcast, 20/40, celebrates friendship and connection between two women with a 20-year age gap. She is taking her podcast, teaching and storytelling skills on the road in 2020 as part of an exciting national conversation project.
Subscribe to the radioinfo daily flash briefing podcast on these platforms: Acast, iTunes Podcasts, Podtail, Spotify, Google Podcasts, TuneIn, or wherever you get your podcasts.
Ask Alexa: 'Alexa, play radioinfo flash briefing' or ask Google Home: "Hey Google, play the latest radioinfo podcast briefing."