Bruce Goldberg sits down with legendary news reader Geoff Field from 2Day FM in this profile for radioinfo.

How did you get started?

I did work experience at 2ST in Nowra, and was hired at the age of 16, so I left school on the Friday and started on Monday, I have never been out of radio since then!

How long have you been in the industry?

30 something years!!!

What was the most memorable story that you have ever had to read? And Why?

Doing a news flash on Sunday afternoon about the death of Princess Diana – I raced into the studio after hearing it in a café and I was still in a state of genuine shock.

Best experience you have ever encountered in radio?

Being able to marry Jason on national radio and television, even though it was not legal, many in the gay community it helped start the momentum for Marriage Equality.


What makes you get up in the morning and get motivated?

Doing a job I love. I can't believe I work in an industry that I still enjoy being in after all these years, and getting the chance to present the stories to the people of Sydney in my own style


Favourite Food?

Greek without a doubt


Were do you see radio going in the future?

It will survive, despite what some people are saying, but with fragmentation and so many other ways of hearing content and music it will be more of a challenge, and the days of one station or one individual having a stranglehold on the audience will disappear because of the sheer number of outlets.

Any tips for an up and coming news reading talent?
Be yourself. There are so many readers that sound the same. I call them "cooky cutter" readers.. Add some personality and develop your own style, it's amazing how you can develop a connection with aqn audience b having your own style and identity – even in news!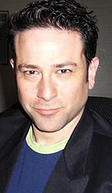 Our contributor Bruce Goldberg runs the AustRadioIndustry Facebook group.
Join at www.facebook.com/groups/AustRadioIndustry