To celebrate the release of AirCheck Ad Revenue, they have tallied the Ad Revenue by Market and Category for January 2021.
During January, Melbourne had the highest estimated Ad Revenue for radio commercials. Over $29 million was spent across 126,892 commercials with the Government, Harvey Norman and National Tiles among the top spenders. The top brands were Covid-19 ($657,698) and Victoria's 'Stay Safe, Stay Open' campaign ($607,061).
More than $20 million was spent placing ads on Sydney radio, making it the second highest earning market, even though Sydney aired more commercials than any other market.
The top category for January was 'Consumer Electronics Sales & Service' with Ad Revenue estimated at over $5.4 million over 32,307 spots. Harvey Norman, Google Australia, Bing Lee and Mitsubishi Electric were among the top advertisers of this category.
The category 'Cars & Trucks' had the second highest Ad Revenue figure at $4.9 million spent across 28,472 instances. Kia Sorento, Nissan Qashqai and Nissan X-Trail were among the most advertised models.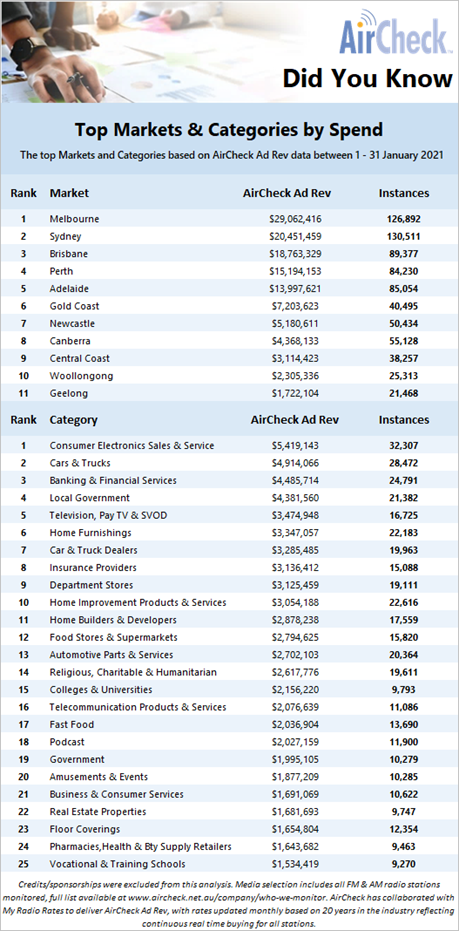 AirCheck has collaborated with My Radio Rates to deliver AirCheck Ad Revenue, with rates updated monthly based on 20 years in the industry reflecting continuous real time buying for all stations. Figures from this report were obtained in the brand-new Advertising Expenditure report.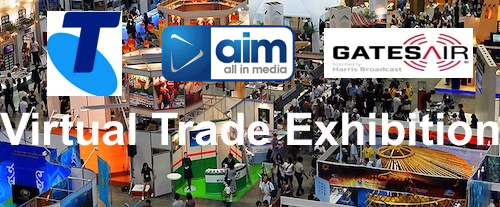 ---
Subscribe to the radioinfo podcast on these platforms: Acast, Apple iTunes Podcasts, Podtail, Spotify, Google Podcasts, TuneIn, or wherever you get your podcasts.