Our analysis of the networks and capital cities.
Also, check out: Full results, Spin, Cumes, and DAB+

Networks
Nova Entertainment
As for most network results for GfK Survey 1, it was a tale of two cities. 1. Melbourne, which was the worst affected by Covid and 2. Sydney which fared much better. And the rest which were relatively unscathed.
In Melbourne both NovaEnt's FM music stations, smooth and Nova grew their share audience while talk radio's receded and the vaccine roll-out gathers pace. In Sydney it was the opposite both the network brands.
While smooth, Sydney shed -0.5 to land on 9.4 and retain top FM spot, Melbourne's smooth hauled back 1.1 in lost share for equal 3rd place overall behind 3AW and GOLD104.3.
On the Nova side of things, Sydney's 96.9 shed just -0.4 for an unspectacular 6.4 overall share – which puts it just 0.1 above Melbourne's Nova100 which benefitted from an end to lockdown with a +1.1 boost to its share.
In the other markets, Nova's best result was in Adelaide where it neither gained or lost share, returning a solid 9.8 to make it number 5 in that market.
Meanwhile in Brisbane and Perth, Nova stations hung on to their number one spots despite losses of -1.1 and -0.7 respectively.

ARN
It was an up and down day for ARN, similar to that of NovaEnt's. Both their stations, KIIS101.1 and GOLD104.3 went up in Melbourne while WSFM and KIIS106.5 lost share in Sydney.
GOLD104.3 came roaring back post Covid with a +2.0 gain – which accounts for the lion's share of the audience share (-3.3) that 3AW kindly returned to the market after having hoarded them for the past year. But perhaps more pleasing for ARN management was that KIIS101.1 had managed to get itself off the mat (4.5 overall) and box on at 5.9.
While the Melbourne results were in line with expectations, ARN Content boss, Duncan Campbell feels that the Sydney book which shows WSFM down to a 6.8 share and KIIS106.3 on a 7.9 while ABC SYD shot up by +3.7 to land on a 12.2 overall, "It's an odd book. It doesn't make sense historically."
It was also a great day in Adelaide for ARN nailing the #1 and #2 (equal) spots in that market. Mix102.3 kicked again, +1.3, to reassert its dominance and the venerable AM banded CRUISE1323 followed.
Brisbane's 97.3FM, though not the dominant figure it once was, clawed back enough (+1.1) to be in contention on a 9.9 share once again.
In Perth, amidst news today that 96fm hero jock Fred Botica is retiring, 96fm, that until recently, looked so promising, shed -1.5.
SCA

Like the other music networks, it was an up and down day for SCA too, except they had more stations improve in Sydney and Melbourne. While 104.9Triple M stayed steady in Sydney on a 6.1 share, 2DayFM managed a modest change in the right direction, +0.2, replicated by the new Breakfast show featuring Dave Hughes, Ed Kavalee and Erin Molan.
In Melbourne, 101.9FOX gave the scorer an upward nudge, +0.8, to get back in the race at a 7.5 share but Triple M, with its new breakfast host Marty Sheargold, scored a 5.5 share overall as a result of a -0.8 drop.
The news wasn't any better for Triple M in Brisbane, plunging -1.1 but better for B105 which gained +0.5.
In Adelaide, both stations bled audience share with 5MMM down -1.4 and SAFM -0.3.
In Perth too, 92.9Triple M lost ground, -0.7 while MIX94.5 put itself back in the running for #1 with a 0.6 gain and within 1.0 of Nova.
Nine Radio and other Talk
Under normal circumstances, a landslide loss of a magnitude of -3.3 share points would be a devastating blow to any station, but not 3AW. The loss merely brought it back to a 16.3 share, considered excellent in any other survey, and a full 5.0 points ahead of nearest rival GOLD104.3 which was the only other station in double figures in Melbourne.
In Sydney, 2GB actually rose +0.6 to reach 14.4 overall, also considered and excellent result for that station in normal times. It had insiders asking, 'Alan who?' as Ben Fordham returned a spectacular 18.1 for his Breakfast show.
News was not so great in Brisbane where 4BC regressed with a drop of -1.2 for an unremarkable 6.7 overall. But in Perth, 6PR was up 0.3 for a respectable 8.2 overall.
In Adelaide, the NovaEnt owned FIVEaa managed to edge into double figures, up +0.2 to reach 10.0 share overall.
ABC Local

Aunty played a blinder in Sydney with a +3.7 gain that led to much head scratching from rival stations and radio pundits. Still, it will make for lively speculation around the water cooler as to the whether the results can be maintained in the next survey and beyond.

In Melbourne though, the local ABC tumbled -2.0 to bring it back to a more terrestrial 8.7 share and 4th place instead of the 2nd it enjoyed during lockdown.

In Brisbane the ABC was +0.8. In Adelaide, -0.4. Same in Perth, -0.4.

triplej

The public broadcaster's youth network was up in every market except Perth where it lost -0.5 in share. Yet with an 8.1 share overall, it remains a major force in that market.

The network's star turn, however, was in Brisbane where 4jjj shot up +2.3 to land on 8.7 overall.

In a rare event, the jjj's in both Sydney and Melbourne rose by +1.0 each… leaving Adelaide with another solid gain of +0.9.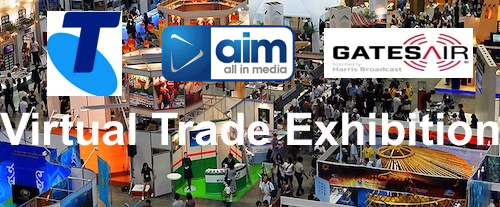 Cities
Click the charts to see the full results table.
Sydney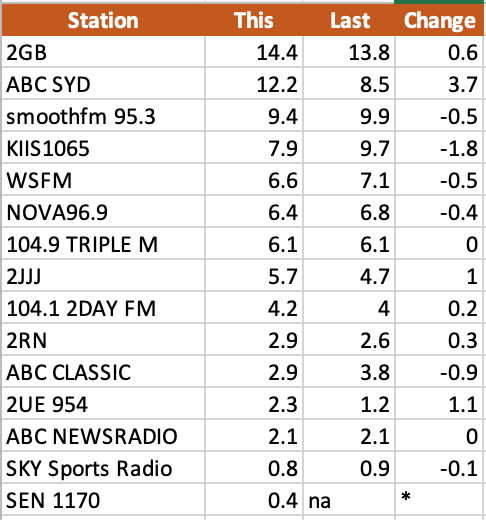 ABC Sydney and 2UE had the biggest gains this survey, while KIIS lost most.
Top station 2GB gained 0.6 share points to 14.4% overall, with notable increases in breakfast and evening
ABC Sydney moved into second place with a rise of 3.7 share points taking it to 12.2%
Smooth dropped into third place, down 0.5 to 9.4%
KIIS dropped to fourth, down 1.8 to 7.9%
WSFM was fifth, down 0.5 to 6.6%
2Day's new breakfast show began well, giving the station a slight lift of 0.2 share points.
Melbourne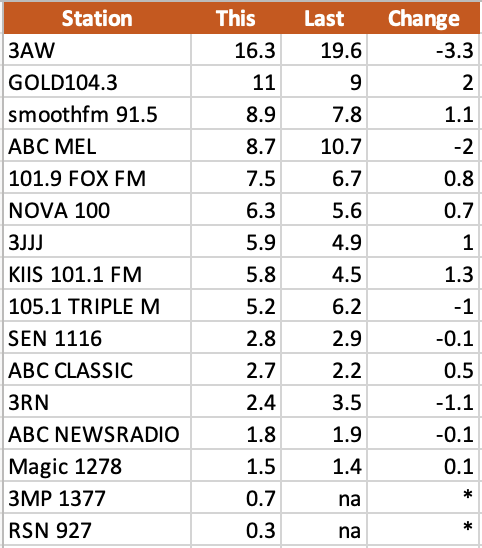 3AW and ABC Melbourne had the biggest falls this survey, while Gold scored the biggest rise. KIIS and smooth also had healthy gains.
3AW was down 3.3 share points from its covid affected high of last survey, scoring 16.3% overall to easily retain top position
Gold jumped into second spot, up 2 share points to 11.0%
smooth moved into third position, up 1.1 to 8.9%
ABC Melbourne dropped into fourth place, down 2 share points to 8.7%
Fifth placed Fox gained 0.8 to 7.5%
Notably, the iconic 3MP callsign re-entered the market this survey after being bought by Ace Radio, debuting at 0.7% on AM and DAB+.
Triple M, which has a new breakfast show, lost ground, falling one share point overall to 5.2%
Brisbane

Triple j had the biggest gain this survey, while 4BC, Triple M and Nova all fell.
Nova suffered a drop of 1.1 share points, but still held the top position with 11.4%
B105 moved into second spot, up 0.5 to 10.2%
97.3FM and Triple M tied for third position on 9.9%, with 97.3 gaining 1.1 and Triple M losing 1.1 share points
Fourth placed 4KQ slipped 0.4 to 9.0%
triple j jumped into fifth position, up 2.3 to 8.7%, beating stablemate ABC Brisbane, which gained 0.8 to score 8.4%
Adelaide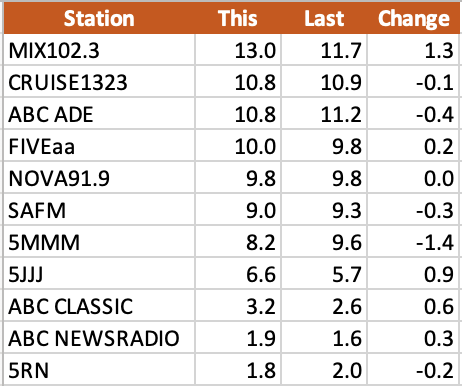 Mix had the largest gain while Triple M had the biggest fall this survey.
Top station Mix consolidated its lead with a 1.3 share point rise to 13%
Fractional movements for Cruise and ABC Adelaide saw both stations tie on 10.8%, with ABC Adelaide losing 0.4 and Cruise dipping by 0.1
FIVEaa moved into third place, up 0.2 to 10%
Fourth placed Nova was steady on 9.8%
Fifth placed SAFM dipped 0.3 to 9%
Perth
96fm had the biggest fall this survey, as it prepares to change it's breakfast show next week, with Fred Botica planning to retire. The former signwriter turned announcer has had a 50 year career in radio.
Nova held on to the top position despite a fall of 0.7 to 13.6%
Second placed Mix gained 0.6 to 12.6% after SCA's network format tweek
Third placed 96fm lost 1.5 share points to score 9.8% overall
Triple j was fourth, up 0.5 to 8.6%, aided by the Hottest 100 effect in this and other markets
Fifth placed 6PR gained 0.3 to 8.2%
In other notable market developments, 92.9, which is now Triple M and has a new breakfast show, slipped by 0.7, but, considering the format and name change, held well to its audience numbers.
---
Subscribe to the radioinfo podcast on these platforms: Acast, Apple iTunes Podcasts, Podtail, Spotify, Google Podcasts, TuneIn, or wherever you get your podcasts.