Our analysis of the networks and cities.

Raw results here, Trend Graphs here, Spin here.
Networks
Southern Cross Austereo
HIT Network content director Gemma Fordham has a dilemma on her hands with 2Day. The good news is that the station has compounded its gains from last time with another ↑0.4 gain to land on a 5.6 average (All ppl 10+ Mon-Sun). But while Breakfast had a satisfying gain with a ↑0.5 improvement it's star, Em Rusciano has made it clear she doesn't want to be there.
In Melbourne, after a stunning start to the year FOX dropped ↓0.9. Not only that, it lost its FM crown to GOLD104.3 which now leads by just 0.1 on a 10.6 share.
Brisbane's HIT105 enjoyed an uptick, ↑0.4 to place it third outright on the ladder. But Adelaide's HIT107 dropped by the same amount leaving it on an 8.0 share and 7th in the market. Perth's HIT92.9 also lost ground ↓0.9.
The Triple M branded stations were remarkably steady with Sydney ↑0.2; Melbourne 0.0; Brisbane and Brisbane and Adelaide each ↓0.4 while MIX94.5 in Perth took a big hit ↓1.4 but still remains comfortably at the top of the ratings on a 14.2 share.

Nova Entertainment
At the smooth network it was a case of the survey gods giveth and they taketh away. A nice steady result for 95.3 in Sydney,↑0.2 fell in a heap for 91.5 in Melbourne ↓1.2 leaving the station on what is still a highly respectable 8.9 share while 95.3 is on 8.7.
It was a relatively steady result for NOVA too with the biggest gain ↑0.9 (and standout result) in Brisbane where 106.9 grabbed a share of first place with ARN's 97.3 in a market where the lead has been constantly changing over the last couple of years.
IN Sydney, NOVA 96.9 shed an inconsequential ↓0.2; Melbourne much the same ↓0.3 while Adelaide was rock solid on 0.0 and Perth was up ↑0.6.
NOVA's national Drive show with
Kate, Tim & Marty
narrowly retained its # 1 network spot with an 11.4 share from the HIT network's
Carrie & Tommy
and
Hughesy & Kate
on 11.3.
ARN
Christmas has come early for ARN, at least in Sydney where their stations are number one and two FM or two and three outright behind 2GB. And their Pure Gold brand is #1 FM in both Sydney and Melbourne.
While WSFM has clinched top FM (#2 outright) spot in in Sydney with a 9.7 share leaving KIIS in next place on 8.8, Kyle and Jackie O remain clear breakfast FM leaders on 11.9 with Jonesy & Amanda on 9.4.
In Melbourne, the GOLD104.3 result (↑0.6 to a 10.6 share) which tipped FOX off it's perch at the FM lead was no doubt welcomed by management but it will mean that new recruit Christian O'Connell will have his work cut out for him to improve on those results.
Over at KIIS101.1, the other great experiment of plucking Jase & PJ out of NZ and plonking them in Melbourne has yet to fire. The station is still languishing on a 5.5 share and the Breakfast shift was down ↓0.2 and is on a 4.8.
It was bittersweet result in Brisbane where 97.3 FM has remained #1 in the market but now has to share it with Nova. Still, the Pure Gold brand marches on with the venerable 4KQ ↑0.9 and is on a 9.0 share. In Adelaide both MIX102.3 and CRUISE1323 each were ↓0.9 but Mix is still #1 in the market.
In Perth, 96FM bounced back a little from past losses ↑0.5 but with its 8.0 share overall still lags behind the competition.
Macquarie and other Talk
Both the big guns for Macquarie Media enjoyed good increases to further entrench themselves in the outright lead in Sydney and Melbourne. 2GB has put in a blinder, ↑1.2 with big gains in every shift none larger than on Weekends which now host refugees from sister station Macquarie Sports Radio, George and Paul.
3AW was ↑0.7 on the back of an incredible 20.0 share for the Ross and John Breakfast show.
The results were steady in the other cities. Brisbane's 4BC ↓0.7; Adelaide's NovEnt owned FIVEaa ↓0.1 and Perth's 6PR ↑0.6.
If you look at Brisbane and Melbourne, Macquarie Sports Radio did well staying steady in the former and even gaining in the latter ↑0.1 compared to the ill-fated Talking Lifestyle it replaced before the previous survey. But in Sydney which was hitherto the only one in the network with a reasonable listenership shed almost half the audience it had ↓1.6 since the new format was introduced.
ABC
Apart from ABC Brisbane where the station eased just ↓0.2, all the outlets in the other metro markets gained ground. Sydney ↑0.2; Melbourne ↑0.4; Adelaide↑0.7 and Perth ↑0.3.
JJJ
The ABC youth network lost ground in all five markets. Sydney ↓0.7; Melbourne ↓0.3; Brisbane ↓0.4; Adelaide ↓0.5 and Perth ↓0.1.
ABC Kids Listen
The newly launched ABC Kids Listen DAB Channel has launched strongly around all five capital cities, with its first rated survey adding 132,000 listeners to the ABC's audience. Sydney had the biggest audience for ABC Kids Listen. The new station did not appear to take very much audience away from the other kids radio channel Kinderling, which held steady in most cities.
Cities
Sydney
2GB and WSFM scored the biggest gains of the survey, while Macquarie Sport 954 dropped most.
Top station 2GB jumped 1.2 to 12.7%, well ahead of the rest of the Sydney pack.
WSFM sprang into second place with a strong gain of 1.3 share points to 9.7%, pushing ARN stablemate KIIS 1065 into third place on 8.8%, down 0.7.
Fourth placed smooth fm gained 0.2 to 8,7% overall, just ahead of ABC Sydney, up 0.2 to 8.6%.
In other notable movements:
2Day has been slowing building back its audience and has now scored more than it had after it was decimated after Kyle and Jackie defected to KIIS. 2Day rose 0.4 to 5.6%, with a strong lift in drive hosted by Tommy & Carrie and Hughesy and Kate across the timeslot. Em, Ed and Grant's breakfast shift continued its slow rise, as did the afternoon timeslot.
Macquarie Sport 954 (previously Talking Lifestyle, previously 2UE), dropped 1.6 to 1.9%, equal last in the ratings with Radio National and NewsRadio, as it sheds the lifestyle audience it had previously and attempts to gain a new sport audience. The other sports stations in the market are Sky Sports Radio (down 0.1 to 0.7%) and ABC Grandstand Digital (up by 23,000 listeners). ABC Sydney and Triple M also carry sport at various times of the week, so Sports will be hotly contested format in this market for the rest of the year.
2GB won breakfast, ahead of KIIS and WSFM. Mornings was won by 2GB and WSFM won the afternoon shift. KIIS' new Will and Woody show won drive, 2GB won evenings and weekends.
KIIS won the 10-17 and 25-39 demographics, Nova won 18-24s, WSFM won 40-54s and 2GB dominated the over 65s.
Melbourne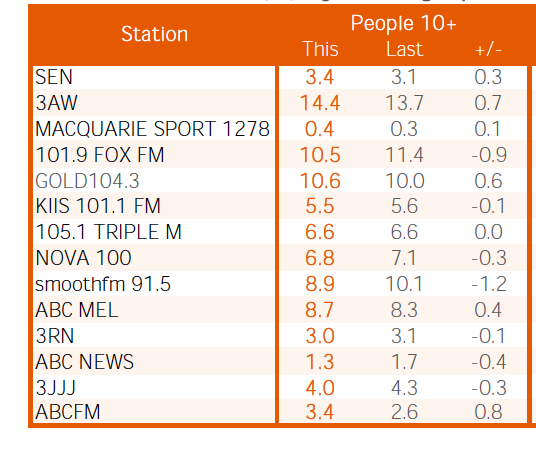 3AW had the biggest rise of the survey and smooth suffered the biggest loss.
Top station 3AW rose by 0.7 to 14.4%.
Gold 104.3, which this week finally got it's new breakfast host on air, moved up to second place, gaining 0.6 share points to 10.6%.
Fox FM slipped into third place, down 0.9 to 10.5%.
Smooth fm dropped into fourth place after losing 1.2 share points to 8.9%, followed by ABC Melbourne, up 0.4 to 8.7%.
Macquarie Sport 1278 gained 0.1 to 0.4%. SEN gained 0.3 to 3.4%. ABC FM had a strong gain of 0.8 to 3.4%.
3AW continued to dominate breakfast, up one more share point in that timeslot, with 20% of radio listeners in the market tuning in to Ross and John, double its nearest competition, ABC Melbourne on 9.6% in that timeslot.
3AW won mornings and Gold won afternoons. Fox (Carrie/Tom & Hughesy/Kate) won drive while 3AW won evenings and weekends.
Fox won all the under 40 demographics, Gold won 40-54s, 3AW won the over 55s.
Brisbane
Two stations tied for top status in the Brisbane market, with Nova 106.9 jumping 0.9 to 13% and previous leader FM973 gaining 0.1 to also score 13%.
RN and 4BC slipped most, while 4KQ and Nova gained most, although all movement this survey was under one share point.
Second placed Hit105 gained 0.4 to 11.6%.
Third placed Triple M dipped 0.4 to 10.6%, followed by 4KQ, up 0.9 to 9.0%.
Triple j was in fifth place, down 0.4 to 6.5%, followed by ABC Brisbane, down 0.2 to 6.2%.
Breakfast was a tightly fought race, with 0.3 share points separating the top three stations. Nova was top station with 12.6% in that timeslot, followed by Hit on 12.5% then 973FM on 12.3%. 973FM's Terry Hansen just announced this morning that he is leaving the breakfast show after suffering fatigue.
973FM won mornings, Nova won afternoons, drive and evenings, 973FM won weekends.
Nova won 10-17s and 25-39s, Hit won 18-24s, Triple M won 40-54s, 973FM won 55-64s and 4BC won the over 65s.
Adelaide
All movement this survey was below one share point. Cruise and Mix lost most and ABC Adelaide gained most.
Top station Mix 102.3 lost 0.9 to 14.8%.
ABC Adelaide moved back into second place with a gain of 0.7 bringing it up to 11.4%.
Third placed Triple M was steady on 10.9%, followed by FIVEaa, down 0.1 to 10.4%.
Fifth placed Nova 91.9 was steady on 9.8%.
ABC Adelaide regained its top ranking in the breakfast timeslot from Mix with a rise of 1.9 share points for Ali Clarke's breakfast show. FIVEaa and Triple M tied for dominance of the morning shift. Mix won afternoons, Nova won drive, FIVEaa won evenings and Mix won weekends.
Mix won the 10-17 demographic, Nova won 18-24s, Hit won 25-39s, Triple M won 40-54s, Mix won 55-64s and ABC Adelaide own the over 65s.
Perth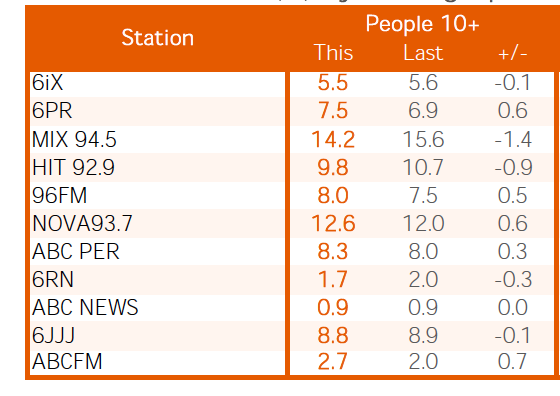 Mix 94.5 had the biggest drop this survey, while ABC Classic FM rose most.
Mix 94.5 easily held its top postion, despite a drop of 1.4 to 14.2%.
Second placed Nova 93.7 gained 0.6 to 12.6%.
Hit 92.9 remained in third place, down 0.9 to 9.8%.
Triple j came in fourth, down 0.1 to 8.8%, followed by ABC Perth, up 0.3 to 8.3%.
Mix won breakfast ahead of Nova. Mix also won all weekday shifts. Weekends was won by Nova.
Nova won 10-17s and 25-39s, Hit won 18-24s, Mix won 40-64s, ABC Perth won the over 65s.