Our analysis of the networks and cities for Radio Ratings Survey 4.
Refresh this page during the day to see the latest updates.
Networks
Southern Cross Austereo
It was a pretty good survey for SCA – a programmers' delight one might say. No wild swings that are unlikely to be sustained with steady gains or even from eight out of 10 SCA stations.
Most pleasing for the management would be the fact that, in Sydney, both 2Day and Triple M enjoyed solid gains. While in Melbourne, FOX consolidated its place at the top of the FM rankings having edged up by +0.1 to land on a 9.9 share overall.
Triple M in Melbourne also gained (+0.3) giving SCA 4 out 4 stations on the rise in Australia's two biggest markets. The bean counters will be pleased.
In Brisbane, HIT 107 was up a tad but Triple M was down by a similar tad, nothing to worry about either way. Adelaide delivered SCA its best result, HIT 107 up by +1.1 and Triple M by +0.7.
In Perth HIT92.9 was rock steady on 11.0 giving the HIT brand a no loss report card for Survey 4 while MIX94.5 was the only station that might tarnish the day having lost it's number one spot to NOVA.
Nova Entertainment
smoothfm
After a spectacular 11.3 share and just 0.1 behind Sydney's market leader 2GB in Survey 3, smoothfm could be forgiven for entertaining wicked thoughts of taking the lead this time around. No such luck. In Survey 4, it has relinquished all of its gains and then some to be brought back to earth on a 9.1 share. But hey, it's still #1 FM and #3 overall in the market.
Meantime in Melbourne, smooth edged upwards (+0.1) returning a very solid 9.4.
NOVA
It was a pretty good day for the NOVA brand topped by the news that its Perth franchise had knocked off Mix94.5 for first place.
Although a less spectacular result but just as pleasing to management would be the modest 0.4 gain enjoyed by NOVA96.9 in Sydney which took them to a rare 8.0 share overall on the back of its hard working Breakfast crew, Fitzy and Wippa who gained +0.9 in share to land on 7.8, their best yet, if memory serves.
Melbourne returned a nice little uptick (+0.3) to put Nova100 on a 7.9 share.
In Brisbane, although NOVA plummeted -1.7, it was coming off a huge +2.0 last time and it retained the lead in that market.
Adelaide saw flat result for Nova.
Australian Radio Network
Head of content, Duncan Campbell is used to mixed bags for his networks so today's results won't come as a surprise.
In Sydney, WSFM went up by a solid +0.9 to land on an 8.6 share overall, ahead of sister KIIS106.5 on an 8.1 which shed -0.3 – despite Kyle and Jackie Odelivering an uptick and a 10.0 share in breakfast.
It was an up and down affair in Melbourne too with the Pure Gold stream delivering the best result (up +0.8 to 8.9) for GOLD 104.3 while KIIS 101.1 fell -0.7 to land on 6.6.
In Brisbane, 97.3FM gained a huge +1.2 while it's arch rival NOVA 106.9 shed an even bigger -1.7. Yet, this monumental swing wasn't enough to wrest the #1 spot away from the latter. The venerable 4KQ lost some of the ground it gained last time to land on a respectable 7.4 share.
There was some better news from Adelaide where MIX 102.3 managed to regain the lead from FIVEaa with a similar but more modest swing that that experienced in Brisbane. Cruise1323, though dropped -1.6 for an 8.3 result.
In Perth, 96fm seems to be making a comeback, up +0.5 to a 9.4 share overall.
Macquarie and other Talk
It was a solid result for MacRadio's main talk stations. 2GB regained some lost ground with a 0.5 rise to reaffirm it's #1 status in Sydney on an 11.9 share.
Even though it shed -1.1 in share from its dizzying heights in Survey 3, 3AW also reaffirmed its #1 status simply by demonstrating that it can drop by so much but still be a monumental 4.5 ahead of #2 placed FOX.
The Brisbane outlet, 4BC, much maligned for carrying so much Sydney content had a nice +0.9 jump for a 5.9 result while Perth's 6PR returned a 6.8 share.
The NovEnt owned talker in Adelaide, FIVEaa, which briefly and surprisingly grabbed #1 last time, gave back the lead to Mix but no matter, the station is still #2 with an impressive 11.7 share.
Talking Lifestyle
The news is not good for the 'advertorial experiment' unless you want to count the +0.1 gain in Melbourne as a win. But even that only took the entire station to a 0.6 share overall.
Brisbane only shed 0.2 but off a very low base to now be 1.2 overall.
In Sydney, Talking Lifestyle has been steadily losing share since its conversion from 2UE and is now down to just 2.9.
ABC Local Radio
As Australia's most enduring radio brand the ABC offered up no wild swings. Sydney was up +0.6 to 9.5 overall and #2.
Melbourne was a steady 0.0 on 9.2 and the #4 position which is unusually low for them.
Brisbane was down -0.3 to an 8.5 and #5 in the market. Adelaide was down -0.6 to 10.5 and #4 while Perth had the biggest swing, a gain of +0.8 to end on a 8.6 share and # 6 place.
When adding up all the gains and losses across the five metro markets the result is +0.5 gain for the network.
Adding up the plusses and minuses for triple j in the five metro markets returns an excellent 2.2 share gain overall.
triple j went up every where except Pert where it shed just -0.3. Its biggest gain was in Melbourne where it was up +0.9.
Cities
Sydney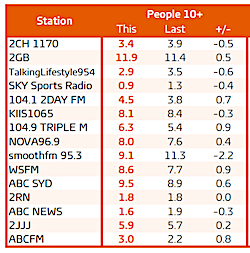 The shine came off smoothfm this survey, with the station suffering the biggest drop of the Sydney market, down 2.2 share points to 9.1%. Triple M and WSFM had the biggest gains.
Market leader 2GB increased its lead, up 0.5 to 11.9%.
ABC Sydney moved into second place with a gain of 0.6 taking it to 9.5% overall.
Last survey smooth was in a close second place, just 0.1 behind 2GB. The gap widened this survey and smooth dropped to third place on 9.1%.
Fourth placed WSFM gained 0.9 to 8.6%, followed by Nova969 on 8.0, up 0.4.
2GB remains in top place at breakfast with 13.9% in that timeslot, ABC Sydney is second in breakfast with 11.9% and KIIS is third overall in the timeslot, and the top FM breakfast show.
Nova has the number one drive show, with Kate, Tim and Marty at 11.7% in that timeslot, followed by Smooth, ABC Sydney then 2GB.
Nova won the 10-39 age groups, WSFM won 40-54s and 2GB won the over 55 demographics.
Melbourne
Top station 3AW suffered the biggest fall of the survey, down 1.1 to 14.4% overall, still streets ahead of its nearest rivals.
Fox retained second place, up 0.1 to 9.9% overall.
Smooth fm came in at third place, up 0.1 to 9.4%, just ahead of ABC Melbourne, steady in fourth place on 9.2%.
Gold FM was fifth with 8.9%, up 0.8.
Triple J had the biggest gain of the survey in this market, rising 0.9 to 5.1%.
3AW won the breakfast timeslot, ahead of ABC Melbourne then Fox, which was number one FM breakfast. 3AW won drive, followed by Hamish and Andy on Fox FM.
Fox won all the 10-39 age demographics, Gold won 40-54s, 3AW won the over 55s.
Brisbane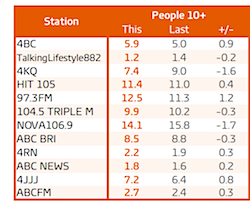 There was quite a lot of movement in the Brisbane market this survey, with 4KQ and Nova experiencing falls, while 97.3, 4BC and triple j all rose significantly.
Nova 1069 retained top spot with 14.1%, despite falling 1.7 share points overall.
Second placed 97.3FM gained 1.2 to 12.5%.
Hit105 was third, up 0.4 to 11.4%.
ABC Brisbane came in fourth, down 0.3 to 8.5%, overtaking 4KQ, which dropped to fifth place, down 1.6 to 7.4%.
97.3 won breakfast, just head of Nova, then Hit105 and ABC Brisbane coming in at number 1 AM station at breakfast.
Nova won drive, followed by 97.3 and Hit.
Nova won the 10-39 demographics, 97.3 won 40-54s, 4KQ won 55-64s and ABC Brisbane won the over 65 age group.
Adelaide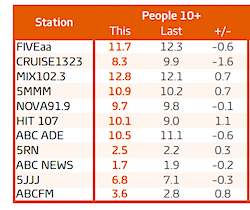 FIVEaa slipped from its number one position after a fall of 0.6 this survey. Cruise1323 suffered the biggest fall o fthe surveyh, down 1.6 share points, while Hit107 had the biggest rise, gaining 1.1 share points overall.
Mix 102.3 regained top position, up 0.7 to 12.8%, followed by FIVEaa, down 0.6 to 11.7%.
Third placed Triple M gained 0.7 to 10.9%.
ABC Adelaide was in fourth place, down 0.6 to 10.5%, followed by Hit 107 on 10.1%.
ABC Adelaide won breakfast, ahead of FIVEaa then Mix, which was number one FM in the breakfast timeslot.
Nova won drive, ahead of Mix and Hit. ABC Adelaide had the number one AM drive shift.
Nova won the 10-17 demographic, Hit won 18-39s, Mix won 40-54s, ABC Adelaide won 55-64s and FIVEaa won the over 65s.
Perth
Mix 94.5 suffered the biggest fall of the survey, losing 1.0 and dropping from top position. ABC Perth had the biggest gain, up 0.8, while the rest of the market was fairly stable.
Nova937 jumped into top spot on 14.1%, with a gain of 0.4 share points overall.
Mix dropped to second spot on 13.7, down 1.0.
Hit 92.9 was third, steady on 11.0%.
Fourth placed 96fm gained 0.5 to 9.4%.
Triple j was in fifth place on 8.7%, up 0.6, just ahead of local stablemate ABC Perth on 8.6%, a gain of 0.8.
Nova won breakfast, ahead of Hit, Mix and ABC Perth (number 1 AM). Nova won drive.
The 10-17 demographic was won by Nova. Hit won 18-24s, Nova won 25-39s, Mix won 40-54s and ABC Perth won the over 55s.