Our analysis of networks and cities.
Refresh this page regularly to see the latest additions.
Raw results here. See also: Spin, Analysis, Cumes, Digital stations
Networks
Southern Cross Austereo

HIT Network
There was lots to cheer about at the HIT network with strong results in Brisbane and Adelaide where the brand rose by +1.5 in both markets. HIT was up in Perth (+0.3) and, having given up on finding a Breakfast team, the problem child in Sydney, 2DayFM gained 0.4 on the back of music.
The only downside was FOX losing its FM crown in Melbourne as it slid down (-0.8) to land on a 9.4 share, only to see GOLD104.3 rocket past with a +2.2 gain placing it on a 12.0 share to be #1 FM.
Triple M Network
It was a steady, solid result for Triple M across the nation with mostly slight variances and mostly upwards. Sydney was up +0.2. Melbourne down -0.2. Brisbane up +0.2. Adelaide had the biggest gain of the network, +0.8 while Perth's MIX94.5 had the biggest loss -0.8 to be relegated to third place in the market.
Nova Entertainment

Smoothfm
Dare we say it is "smooth sailing for smoothfm?" No, we dare not! But it was steady as she goes. With a +0.1 gain in Sydney and -0.2 recline in Melbourne both stations are in lockstep with a 9.2 share of each market.
Nova
Again, a very steady result all around, mostly edging upwards. In Sydney, 96.9 gained +0.4. In Melbourne 100 was rock steady returning a 7.2 share. Brisbane's 106.9 was up +0.3 while Adelaide's 91.9 gained +0.4. In Perth, though, 93.7 dropped -0.9 in a turbulent market disrupted by a resurgent 96FM.
ARN
Survey 6 produced spectacular results for ARN that has champagne corks popping all over. The first was the massive +2.2 gain in Melbourne for GOLD104.3 and the +1.5 gain for British import, Christian O'Connell in Breakfast. As a result the station shot past FOX to snare the top FM position on a 12.0 share, the highest it's been since anyone can remember.
The other huge result is the apparent resurrection of 96fm since Gary Roberts took the reins and re-instated Frank Botica. The station gained +2.0, the second big rise in as many surveys to reach a 12.7 share and sneaking into second place behind Nova on 14.0 but ahead of the once dominant MIX94.5, now relegated to third place on 10.9.
For the KIIS network, there was good news in Sydney with a nice +0.9 gain for 106.5 and an 11.6 share for Kyle and Jackie O in Breakfast. But the news was not so good in Melbourne where 101.1 gave up most of its gains from last time. Nor in Brisbane, where 97.3FM lost a -0.9 chunk of audience but still managed to retain second place behind Nova.
The result in Adelaide was similar with MIX102.3 giving up -1.0 share of audience and still hang on to first place.
On the Pure Gold front WSFM in Sydney was steady enough with a small loss of -0.2. In Brisbane the venerable 4KQ shed a mere -0.3 in share while in Adelaide, the equally venerable CRUISE1323 lost just -0.1.
Macquarie Radio and other Talk
It wasn't a great survey for talk stations. 2GB remained steady overall with a market leading 13.4 share but Steve Price's move from nights to afternoons has resulted in an increase of +1.1for the former and a decrease of -1.1 for the latter.
Melbourne's market leader, 3AW retained its position despite a -1.3 tumble. Brisbane's 4BC dropped -0.8 while Perth's 6PR bucked the trend to rise by +0.6
The NovaEnt owned FIVEaa in Adelaide went from an 11.0 share to a 10.0.

Macquarie Sports
The sports network produced a remarkably steady result with stations in both Sydney and Brisbane returning a 0.0 while Melbourne gained +0.1
ABC

Local Radio

ABC Sydney gave up much of the gains it made last time plunging 1.1 to rank 4th overall while sinking 1.3 in breakfast. All the other metro markets enjoyed an increase. Melbourne +0.6: Brisbane +0.2; Adelaide +0.9 and Perth +0.1.

triple j

Caught in the disruption caused by 96fm in Perth, the normally reliable triple j plummeted -2.5 to land on an unaccustomed 6.8 share.

The j's did better in other markets. Sydney +0.2; Melbourne -0.4; Brisbane -0.2; Adelaide +0.3.

Cities
Sydney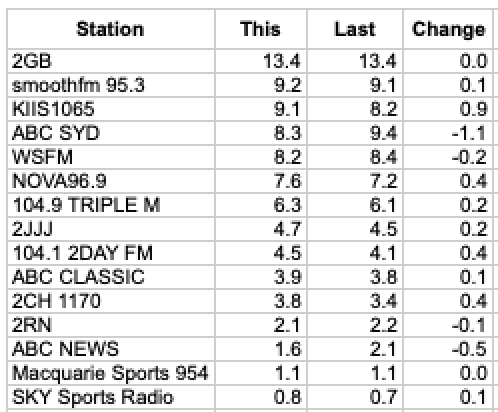 KIIS had the biggest rise, while ABC Sydney suffered the biggest fall this survey. The rest of the market was fairly stable.
2GB retained top position, rock steady on 13.4%, which will please the new owners, Nine Entertainment
smooth remained in second position, up a fraction, 0.1 to 9.2% overall
KIIS pushed out ABC Sydney from third place, up 0.9 to 9.1%
ABC Sydney slipped into fourth place, down 1.1 share points to 8.3%
Fifth placed WSFM lost 0.2 to score 8.2% overall
2GB won breakfast ahead of KIIS and ABC Sydney. 2GB won mornings and tied with WSFM for afternoons. KIIS and Nova won drive, 2GB won evenings and weekends.
KIIS won 10-17s just ahead of Nova. Nova won 18-24s, KIIS won 25-39s, Triple M won 40-54s, 2GB won the over 55s.
Melbourne
3AW fell the most this survey, while Gold and ABC Classic gained strongly.
3AW retained top spot, despite dropping 1.3 share points to 13.9% overall
Gold jumped into second place with a rise of 2.2 share points bringing it to 12%
Fox dropped into third place, down 0.8 to 9.4%
Fourth placed smooth lost 0.2 to score 9.2%
Fifth placed ABC Melbourne gained 0.6 to 8.6%
3AW won breakfast, followed by ABC Melbourne and Fox. 3AW won mornings, Gold won afternoons and drive. 3AW won evenings and weekends.
Nova won 10-17s, Fox won 18-39s, Gold won 40-54s, 3AW won the over 55s.
Brisbane
Hit made the biggest gain this survey in Brisbane, while 97.3 had the biggest fall.
Nova consolidated its market lead with a rise of 0.3 taking it to 12.8%
Second placed 97.3FM fell by 0.9 to score 11.4% overall
Third placed Triple M gained 0.2 to 11.0%
Fourth placed Hit scored a strong rise, up 1.5 share points to 10.9%
Fifth placed 4KQ lost 0.3 to 8.4%
Nova won breakfast ahead of Hit105. Triple M won mornings and afternoons, Nova won drive and evenings, Nova won weekends.
Nova won 10-17s, Hit won 18-24s, Nova won 25-39s, Triple M won 40-54s, 4KQ won the over 55s.
Adelaide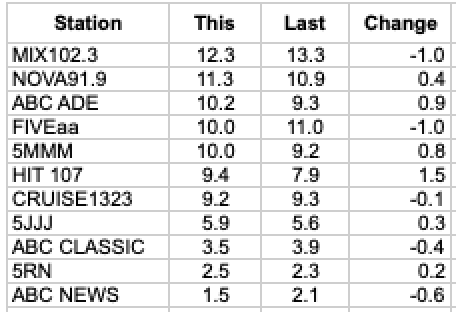 Mix and FIVEaa fell most while Hit and ABC Adelaide had the biggest gains this survey.
Mix lost 1 share point but retained its top position with 12.3%
Second placed Nova gained 0.4 to score 11.3% overall
ABC Adelaide moved into third place with a rise of 0.9 bringing it to 10.2%
FIVEaa lost 1 share point falling into fourth place with 10%, tied with Triple M, which gained 0.8 to also score 10%
Fifth placed Hit had the biggest rise this survey, up 1.5 share points to 9.4%
ABC Adelaide won breakfast ahead of FIVEaa. Mix won mornings and afternoons, Nova won drive, FIVEaa won evenings, Mix won weekends.

Nova won 10-24s, Hit won 25-39s, Triple M won 40-54s, Cruise won 55-64s and ABC Adelaide won the over 65s.
Perth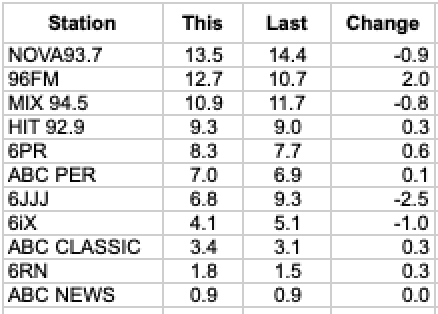 Triple J and 6PR suffered the biggest falls, while 96fm had the biggest rise.
First placed Nova lost 0.9 share points to 13.5% overall
96fm jumped into second position with a strong gain of 2.0 share points taking it to 12.7%
Mix lost 0.8, dropping to third place on 10.9%
Fourth placed 6PR gained 0.6 to 8.3%
Fifth placed ABC Perth picked up 0.1 to score 7.0%
Triple j dropped into sixth place after losing 2.5 share points and falling to 6.8%
Nova won breakfast ahead of 6PR. 96fm won mornings, 96fm won afternoons, Nova won drive, ABC Perth won evenings and 96fm won weekends.
Nova won 10-17s, Hit won 18-24s, Nova won 25-39s, 96fm won 40-54s, Mix won 55-64s and ABC Perth won the over 65s.