The former broadcaster has developed new tech for reporting from the field.
Former radio broadcaster Andy Grace has developed a new system for recording, editing and filing audio and video news stories from the field.

Last week he was in Singapore at Broadcast Asia, demonstrating the technology to news media organisations from the Asia Pacific region.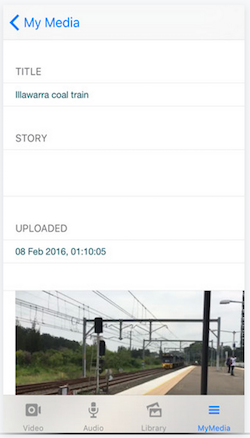 Many media organisations in Australia are already using the Andy Grace Media app for their news gathering, including Fairfax Media, AAP and a range of sporting organisations who have begun their own channels.

The system is fast and has unlimited server scalability. Users can store, search and retrieve their entire content library or keep it securely locked away using AES256 encryption.

Andy grace told radioinfo he has developed a really simple user interface "so non-professional users can gather the best quality content." It delivers directly into tv and radio automation systems.
"Sky Racing have been using it for hostings out of Hong Kong. The aim has been to make it as simple as possible on the content gathering side, but super powerful in the cloud."

The app boasts smooth, stabilised 1080p video capture and dropout free delivery in the background which is faster than real time, while still continuing to record.

News Editors can view live locations of all staff and auto-SMS the closest reporter to a breaking news story to cover it. The system also facilitates easy delivery to a range of social media platforms.

Andy Grace was in Singapore at Broadcast Asia, then travelled on to Bangkok, showcasing the product as part of a Victorian Government backed trade delegation to the two major broadcast technical conferences in the region.

"Years of hard work is now paying off," Eloise Grace, Andy's wife and business partner told radioinfo at the conclusion of the trade mission.
More info at: https://andygrace.com/