At the CBAA Conference Abe Killian and Ian Gunn introduced the Collaborative News Network for community broadcasters.
The new system, funded by a special government grant, will link community radio stations with newsrooms together to share content, and will offer the combined content of the community sector's news activities to smaller stations which do not have the resrouces to make their own bulletins.
"If we share our work we can use the slim resources we have to make better bulletins and increase your audience," said Killian.
"Each station will be able to create their own bulletins independently, will also be able to work together to improve their content, or can just continue to take the current National Radio News feed. You will have more choices."
A system titled Build a Bulletin has been developed, using Burli Newsroom software to allow stations to create their own bulletins. Stations will also be able to take the usual NRN networked bulletins when they do not have the resources to make their own bulletin.
Ian Gunn (pictured below), the general manager of Burli, came to the conference from Canada to demonstrate the new system. A former Radio Canada and BBC News correspondent, Gunn said commercial and national broadcasters around the world are contracting and merging, as they are in Australia, so the community broadcasting initiative will help compensate for the decreasing amount of local news and the consolidation of news services into fewer voices.
The system has been built to allow local community stations to integrate their local news with national and international content so that they can fill the gap as other services close their local newsrooms, especially in regional Australia.
Small stations that do not have many resources, can access all the shared content from larger stations through a simple web browser, choose stories that are relevant for their audience, then read the text copy any audio that is available (pic below).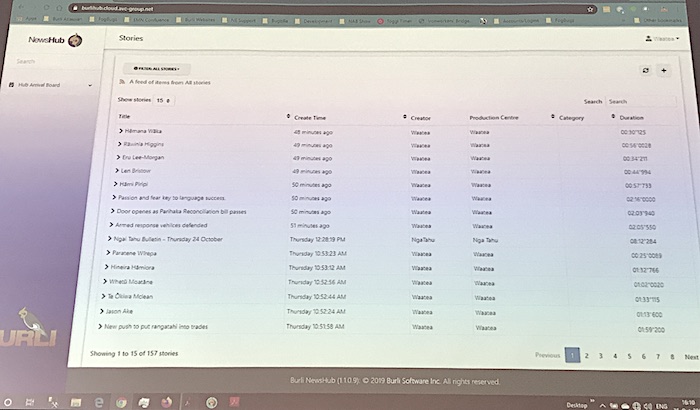 In the session, Abe Killian also broke the news that the Collaborative News Network has hired its first Canberra press gallery correspondent, Amanda Copp, who will join the community broadcasting sector from SBS.
Killian said:
I'm very pleased to formally announce the appointment of the new National Radio News Canberra Journalist, Amanda Copp.

Amanda comes to us from SBS and was previously their Political Producer at Parliament House in Canberra as well as working across a number of their platforms including NITV and Insight as a Producer.

Also possessing print experience, Amanda worked for Fairfax Media in Queanbeyan and has worked at the ABC, the Canberra Times and originally cut her teeth as Producer and Presenter at 2SER on the Razor's Edge.

This is a really exciting addition to the National Radio News team, and the sector as a whole. Generally only the large talk and News networks or the Public Broadcasters have this sort of access and this sort of experience to bring the important issues of the day to their audience and in turn take the concerns of the audience to the corridors of power.

Amanda will be producing News content for NRN starting next week.
Having access to stories from other community stations will also strengthen the content of the NRN audio bulletins read from the Bathurst CSU Campus newsroom, giving them the ability to take first hand reports and audio from any of the participating local stations, putting to air local voices of people directly involved in any story. There are over 400 community radio stations around the country, particularly in regional and indigenous parts of Australia.
The goal is to encourage more reporting from local areas that are losing local media – community journalists will live and work in the communities they report on and this will affect how and what they report.
The new initiative also aims to find community journalists from a range of socioeconomic backgrounds, designed to reflect the rich diversity of the local communities they'll serve.
Stations will have the choice of how to mix and match the enhanced content from the new collaborative service:
No change, continue to take National Radio News audio bulletins on the hour
Take NRN audio bulletins when there are no local resources, but at peak times read their own bulletins using the text and audio content supplied through the Burli system
Read all local bulletins, mixing local content gathered by local news volunteers or staff with national and international content supplied through the new system
Supplement the national news bulletins by reading local news, sport and weather after the NRN audio bulletin
Another of the aims of the collaborative service is to empower stations with the confidence to do more with news, with the Community Media Training Organisation also planning to roll out news training in conjunction with the new service.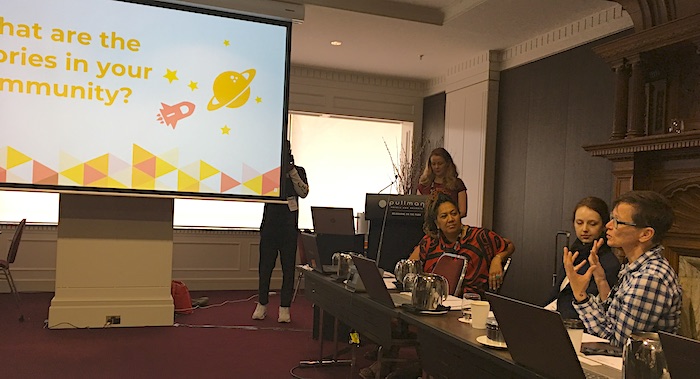 In another session, producer of The Wire, Sarah Martin (pictured above) ran a workshop to improve the skills of current affairs reporters.

She discussed the difference between news current affairs: News is happening today but Current Affairs extends the story.
Examples of stories that have legs and can be explored more deeply to make a current affairs story were generated through discussion with the participants. Topics included: Emergency Services, Building codes, availability of water, evacuation plans, climate change and more.
"Talk to your community, what have they done? One thing opens up many conversations. Take the time to reflect on that and see if there is a story in it."
Sarah went around the room asking participants to share their local stories. One example was how reporting about a man's house that was going to be reposessed and demolished allowed him to remain in his home. "Our little media story managed to stop the bulldozing."
When preparing a report for The Wire, ask yourself this question: Who is the person at the frontline and how do we best tell their story?
The Wire has been around for 15 years as a national community radio current affairs program, run by a consortium of stations.
"Editorial policy is that every second story is international, we will also tell a first nations story, and what else is happening during the day."
Cultural stories are Sarah's favourite and she enjoys telling the human story.
She works with volunteers who produce many of the reports. They are usually journalism students. "Young reporters don't like talking on the phone so we provide them with a walk through script when they forst begin to work with us. Voices matter we work in radio!" she said.
Her tips for producing a good current affairs story are:
Understand your story really quickly, then get on the phone, find the person you want to interview and keep them to your line of questioning.
Write 5 bullet points or questions.
Listen carefully
Develop trust with the interviewee
Know your audience because that's how you develop trust with them
Always send story link to the person you interviewed