APN News & Media has recorded an Overall Net Profit of $15.2m in financial results released today, for the 2014 calendar year.
APN is the parent company of NZME and ARN, both of which improved their revenue from 2013.
While the Australian radio market grew 3% in 2014, ARN revenue grew 18% to $180.9m and EBITDA grew 14% to $66.5m. Its agency revenue grew 32% to $109.6m, reflecting improved 2014 ratings.
NZME Radio experienced 5% growth in revenue to $116.8m and 7% in EBITDA growth, which sits at $23.1m.
In 2014, APN continued to evolve thorugh its "continued strategy of investing in growth assets and identifying synergies maintaining focus on cash flow generation and cost."
APN's Integration initiatives have made "positive progress," with diversification of products introduced across the businesses, "within areas of core competencies."
Digital revenues grew 11% to $59m and now make up 7% of ARN's total revenue.
Radio Segments
The chart below shows ARN's spectacular revenue growth from Quarter 1 in the past financial year (before rebranding as KISS), to the final quarter, which showed a 35% increase in revenue growth.
While revenue was up, costs were also significantly up, by $20 million, but the Australian Radio Network still made $10 million more profit (EBITDA) than it did in the previous financial year, an increase of 14%.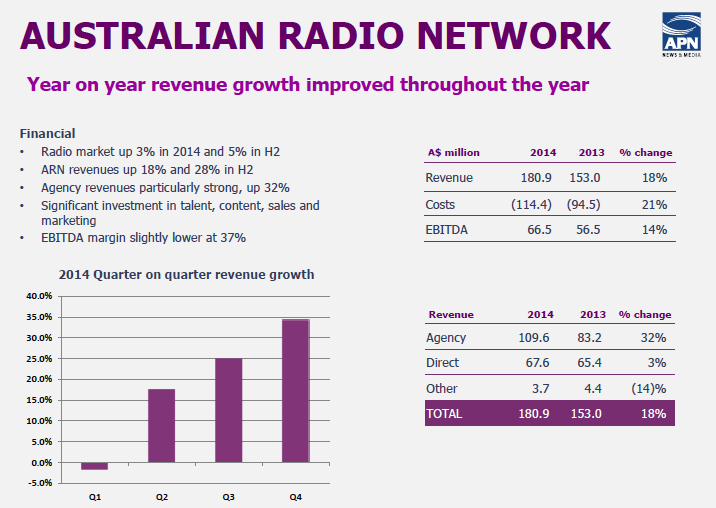 Overall company highlights
In the past year APN made a number of significant transactions as it streamlined its business:
• Divested brandsExclusive and APN Outdoor
• Acquired the 50% in ARN and The Radio Network (TRN) we did not already own
• Announced the acquisition of 96FM which gives ARN the largest audience of any metropolitan radio group in the country
• Acquired the 50% of Hong Kong businesses Cody & Buspak we did not already own
Other operating activity highlights included:
• Adshel is well positioned in growing outdoor sector
• Revenue diversification underway for ARM
• Launched NZME. which brought together our three NZ businesses – APN NZ Publishing, TRN and GrabOne
No dividend has been issued, with the results statement saying: "Continuing APN's commitment to reducing debt, and improving the balance sheet, a dividend will not be paid at this time."
On the results, APN CEO Michael Miller said:
"During 2014, our focus was on delivering enhanced earnings through investing in our growth assets of radio and outdoor, identifying synergies, generating cash flow and managing costs across all APN businesses.
We also continued with the integration of our businesses and diversification of our revenue streams, with a particular focus on digital revenues.
The full acquisition of ARN, TRN and our Hong Kong Outdoor businesses, as well as our acquisition of 96FM, reflect our confidence in outdoor and radio as growth mediums and our belief in the leadership of our business units to further maximise these now wholly owned companies.
This approach has proved fruitful with these businesses recording strong revenue and EBITDA growth year on year.
Under the leadership of Ciaran Davis, ARN has significantly increased its market share, and now has the largest audience of any metropolitan radio group in the country.
Through the formation of NZME, we have identified significant new revenue and cost saving opportunities. We are encouraged by the progress NZME's newly installed management team, led by Jane Hastings, has made and are confident in its ability to accelerate the benefits from this integration process."
See the full results presentation here.
APN has had a positive start to 2015, according to the report:
"While the first weeks of the year are generally not a long term indicator, January trading was similar to trends observed towards the end of 2014. Revenue is ahead of prior year in New Zealand, while the Australian Radio Network (ARN) continues to perform well. Moderation of revenue decline continues in Australian Regional Media (ARM). Overall, revenue is ahead of last year on a constant currency basis. While costs are up, in line with our strategy of investing for growth, EBITDA is slightly ahead of the same point in 2014."
APN chairman Peter Cosgrove said: "This is an encouraging result for APN, and a continuation of the progress made during the first half of 2014. Just over 60 per cent of APN's proportionate earnings are now in growth media compared to 40 per cent 12 months ago. It is also pleasing to see the growth in shareholder value commensurate with the positive performance of the business, something we have been working hard to achieve."