The 2022 Edelman Trust Barometer reveals sharp declines in trust across all Australian institutions, eroding the record-high levels of public trust recorded in 2021.
Most worryingly for broadcasters, Media, which saw a notable surge in trust in 2021, fell by 8 points to 43%, making it the only institution in Australia distrusted by a majority of the population.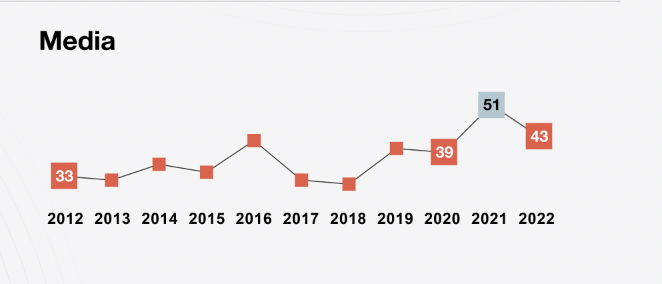 Trust in all media sources has fallen, with traditional media only trusted by 48% of Australians (-5 points), search engines by 47% (-4 points), owned media by 33% (-5 points) and social media by only 24% of Australians (-8 points).
Richard Edelman says, "Traditional media is at a crisis point…(and) Fake News is the core problem. This is a universal dilemma for news organisations and, the extent to which social media has polluted the bloodstream is evident by this concern about Fake News."
The data also reveals Australians see media and government as more divisive than unifying for society, whereas business and NGOs are more likely to be seen as unifying than divisive with more than half of Australians seeing media (55%) and government (52%) as divisive.
Moreover, a majority of Australians believe that journalists (65%), government leaders (61%) and business leaders (61%) are actively trying to mislead them by saying things they know are false or grossly exaggerated.
Not surprisingly, Australians' concerns about disinformation and fake news remain high with 73% worried about false information or fake news being used as a weapon.