hit92.9's Heidi Anderson, from Heidi, Will & Woody, has joined forces with Bianca Dye, host of 92.5 Gold FM Drive show, to tackle the big issues around mental health in a new podcast launching next week, Bianca & Heidi get mental-er.

Breaking down taboo's around these invisible illnesses one step at a time, both women have battled mental health issues in the past (or continue to do so) and have given sufferers a voice, fighting to prove that it is OK to talk and your life doesn't have to BE your mental health illness.

Let's take a quick look at hit92.9's own Heidi Anderson.

Diagnosed with anxiety in 2009 upon returning to Australia after a stint living in the UK, Heidi continued to climb the media ladder. She appeared in Big Brother in 2013, whilst dealing with her anxiety, and went from being a
radio announcer in Bunbury to one third of hit92.9's Breakfast show with co-hosts Will & Woody.

Heidi began lowering her guard and speaking out about her issues in 2012 when she first spoke of her body image battles, creating the 'Love Yourself' campaign which quickly went viral, earning her a national award from Southern Cross Austereo.

Now in 2016, the Perth Now columnist and Mamamia contributor braved the BIG ONE with a public announcement of her anxiety diagnosis and the true extent of its hindrance. The video, depicting an emotional Heidi, quickly went viral, resulting in over one million views worldwide and over 1,000 emails of support and thanks from viewers.

It was this video that contributed to Heidi being nominated as Cosmopolitan's Fun Fearless Female of the Year, a nomination that she is very proud of.
On to Bianca Dye from 92.5 Gold FM.

Bianca, a regular contributor of Mamamia and iVillage, has suffered from anxiety and panic attacks since 2003 but she refuses to suffer in silence. The national ambassador for RUOK? Day and face of Nivea's 2015 Real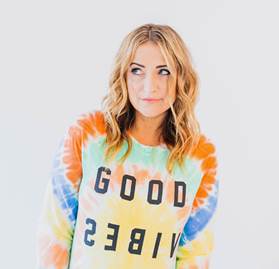 Women online campaign has provided true accounts of her own battles, reaching over 25,000 sufferers.

Never one to quieten a voice, Bianca speaks out about all formerly hushed topics including her mental health, fertility issues, IVF treatments and relationship problems to over 55,000 followers across her various social media platform, including her Instagram.

She has co-hosted the national mental health show 'Press Pause' with Jules Lund and holds the record for the only female to win back to back, ACRA'S 'Best Radio Personality in Australia' award.

Bianca & Heidi get mental-er will host a range of guests including Rob Mills, Tom Ballard, Edwina Barthlomew, Constance Hall and psychologist Rochelle Masters, all of whom will be openly discussing their own battles with mental health, more raw and honestly than ever.

Catch their first EP, launching Monday 9th October to coincide with Mental Health Week. Bianca & Heidi get mental-er will be available on iTunes but watch this space, link coming next week.