Triple R has a new addition to the breakfast teams with Bobby Macumber joining Sarah Smith and Daniel Burt as Triple R's newest Breakfaster.

Bobby has been a regular "Wednesday Wisecracker" on Breakfasters over the past year and has filled in on the show several times, too.

She says she is, "…extremely excited about working with Smithie and Daniel! These two are long-time Triple R presenters and extremely talented, so I can't wait to work alongside them and learn from the best.
Oh, and work functions! I imagine they'll be next-level fun.

A stand-up comedian, MC and cricket commentator, Bobby's career highlight so far, however, was playing an inmate on Wentworth in season eight and nine.
She has also commentated the Women's Big Bash League the last three years, Captained the Victorian Under 19 Girls Cricket Team, represented Victoria in AFL on four occasions, was the Gumboot Throwing Champion at the Blackwood Woodchop & Easter Carnival for five years in a row (aged 10–14) and is also a middle child, so look out.
Bobby replaces Geraldine Hickey, who recently decided to finish up on Breakfasters in order to spend more time on her comedy career.

When reminded that becoming a Breakfaster means getting up super-early, Bobby says she is prepared, saying, "I am a massive planner and super-organised, so have already planned the following routine:
Sunday Night
9.00pm: Bed.
11.30pm: Still wide-awake, in bed, thinking about my alarm.
Monday Morning
1.30am: Dream about sleeping in and missing the show. Stay wide-awake just in case.
3.00am: Finally fall asleep.
4.30am. Lie awake waiting for my alarm.
5.00am: Alarm, shower, pack breakfast snacks, water bottle, laptop.
5.15am: Drive to studios.
5.35am: Arrive at studios.
5.40am: Make coffee!
5.45am: Set up and prep for show.
Monday Afternoon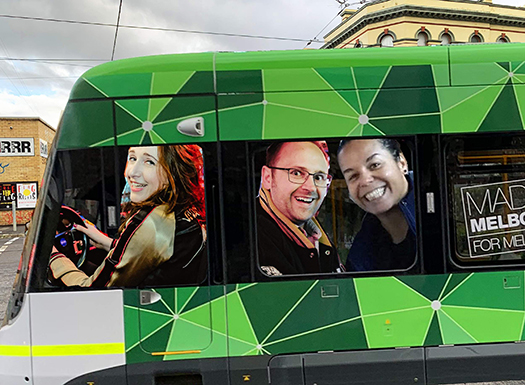 Original portrait photos of Sarah Smith and Daniel Burt by Naomi Lee Beveridge.
---
Subscribe to the radioinfo podcast on these platforms: Acast, Apple iTunes Podcasts, Podtail, Spotify, Google Podcasts, TuneIn, or wherever you get your podcasts.