Chart Highlights – March 10, 2022
Heating Up: Camila Cabello's 'Bam Bam' garners 346 first-week spins
Chart Milestone: Ed Sheeran holds five spots in the Top 40
Big Mover: 'Toxic Pony' doubles its spins, catapults to No. 10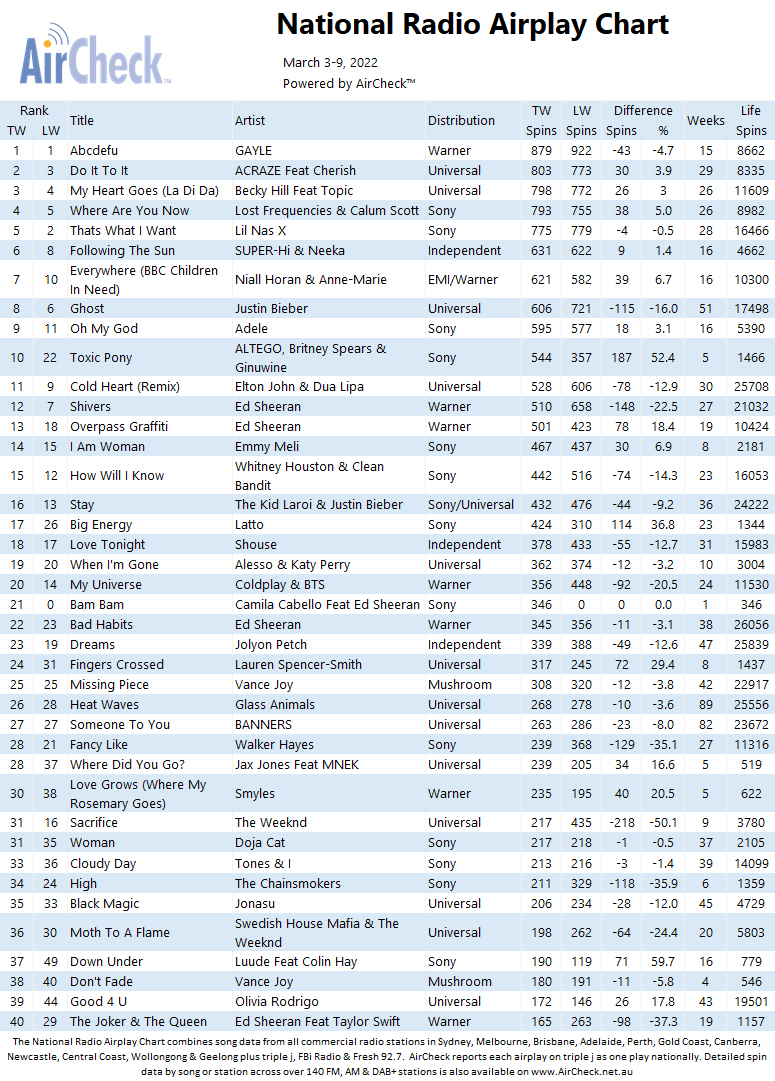 Camila Cabello is off to a red hot start to the year with new single 'Bam Bam' feat. Ed Sheeran debuting at No. 21 on the latest AirCheck National Radio Airplay Chart. Nova and KIIS were at the forefront of the action, collectively accounting for over 70% of the song's overall spin tally.
Sheeran now has five singles in the chart's Top 40 ('Shivers' No. 12, 'Overpass Graffiti' No. 13, 'Bam Bam' No. 21, 'Bad Habits' No. 22, 'The Joker & The Queen' No. 40). The UK singer's presence on commercial radio is unparalleled, featuring in 11.4% of all spins for Top 40 songs this week.
ALTEGO, Britney Spears & Ginuwine's 'Toxic Pony' posts a new peak at No. 10 this week. The mashup scored an additional 179 spins (+49.04%) thanks to an increase in rotation across 18 stations, most notably the Hit Network, Wave FM and K rock.