Nearly 100,000 (97,177) new vehicles have been sold with a DAB+ digital radio, and digital radio listening is at an all time high with 21.4% or almost 2.8 million people tuning in each week in the five metropolitan capital cities alone. The latest figures are from official data released by Commercial Radio Australia today in the 2014 Digital Radio Report.

The report shows extensive growth of digital radio in vehicles, with 16 different Australian vehicle brands now offering DAB+ as either standard or an option. The number of vehicle brands has doubled in Australia since 2013 when only eight manufacturers supported DAB+ digital radio, and progress is expected to continue with 26 vehicle manufacturers internationally offering DAB+.

In the five years since the launch of DAB+ digital radio in metropolitan Australia, research shows consumer awareness and sales continue to outperform expectations. Nearly 1.7 million (1.677 million) digital radio devices have been sold and when combined with the 100,000 vehicles with DAB+ and the 2.8 million** people listening each week, PwC have reforecast digital radio household penetration to 23.3%.***

The commercial radio industry continues to drive awareness of digital radio in the five cities with the launch of an extensive outdoor billboard and bus side campaign, plus a series of three new Father's Day radio ads playing on 42 metropolitan radio stations.

Commercial Radio Australia chief executive officer, Joan Warner said: "Five years on Australians are embracing digital radio. Listening to live, local radio in the car is important to our listeners and the number of vehicles sold with a DAB+ digital radio is an outstanding result, showing great support from the automotive industry in Australia."

The 2014 Digital Radio Industry Report is the fifth report compiled by CRA and includes data from the official radio industry audience measurement survey provider, GfK, plus information from GfK's consumer electronics market research division, market research organisation the Hoop Group, and updated tracking of household penetration forecast from PwC.

The report includes sections on why broadcast digital radio is important, consumer attitudes, progress on integration into mobile phones and an update on uptake internationally. The key findings are:

Nearly 100,000 vehicles sold with DAB+ and now available in 16 Australian vehicle brands.

2.8 million people or 21.4% are listening to DAB+ digital radio each week in the five state capital cities.
Nearly 1.2 million more people listen to DAB+ digital radio than radio on internet.
1.8 million digital radio devices sold (includes the 100,000 vehicles).
Australian household penetration of DAB+ is tracking ahead of forecast at 23.3%

Ms Warner said: "All the radio industry – commercial and ABC and SBS – support digital radio and listeners are embracing the technology. We are currently approaching the Federal Government to discuss commencing planning for the rollout of digital radio into regional Australia so that all Australians can receive the many benefits of digital radio."

The new Father's Day radio ads produced by radio specialists Eardrum, offer 30% off all Bush DAB+ digital radios at Dick Smith, plus highlight digital radio is free-to-air and includes at least 20 extra digital radio stations available in each city. Listen to the ads here.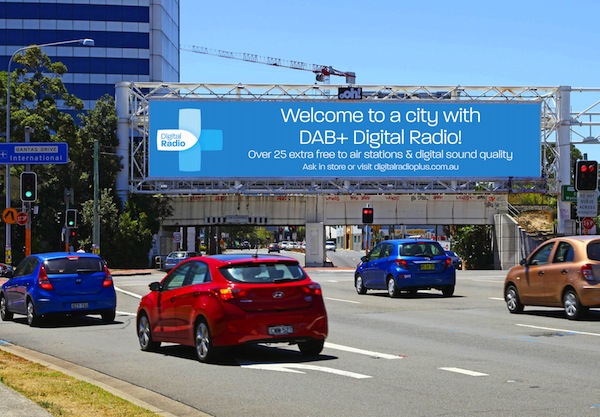 Click here for the 2014 Digital Radio Industry Report or downloaded from either the CRA website or www.digitalradioplus.com.au.