The Community Broadcasting Foundation has released its annual report for 2015 which outlines 2014/2015 spending.
In the past year the CBF allocated $17,607,547 to support 236 broadcasting organisations.
The CBF funds: support program and content production, the distribution and exchange of content, station infrastructure and operational support, training, national infrastructure development projects, sector coordination and research.
The CBF supported the production of 69,498 hours of radio programming in 101 languages for 127 ethnic communities across Australia.
75% of all grant applications submitted were successful. Highlights of some of the grants distributed include:
Ethnic grants totalling $3,645,121 were allocated. $3,194,381 of which was distributed across 727 program groups at 65 stations to produce and broadcast local ethnic programs.
General grants totalling $1,090,796 were allocated. $279,606 of which was distributed across 35 stations for broadcasting equipment and station staff salary subsidies.
Indigenous TV Content grants totalling $109,200 were allocated to 8 organisations to support: documentaries, 1 short drama series, 1 poetry reading series and an Excellence in Community Television Award.
Indigenous grants totalling $1,153,250 were allocated with $380,600 going to 23 stations and Indigenous community radio program groups to support 32 programs and $326,300 allocated to 32 remote Indigenous broadcast services to support 32 programs.
Transmission Support grants totalling $2,093,386 were allocated with $1,198,446 going to 147 organisations to support the transmission costs of 153 services.
Content Development grants totalling $1,467,401 were allocated with $1,131,383 going to 30 stations and organisations to produce 49 local and national programs.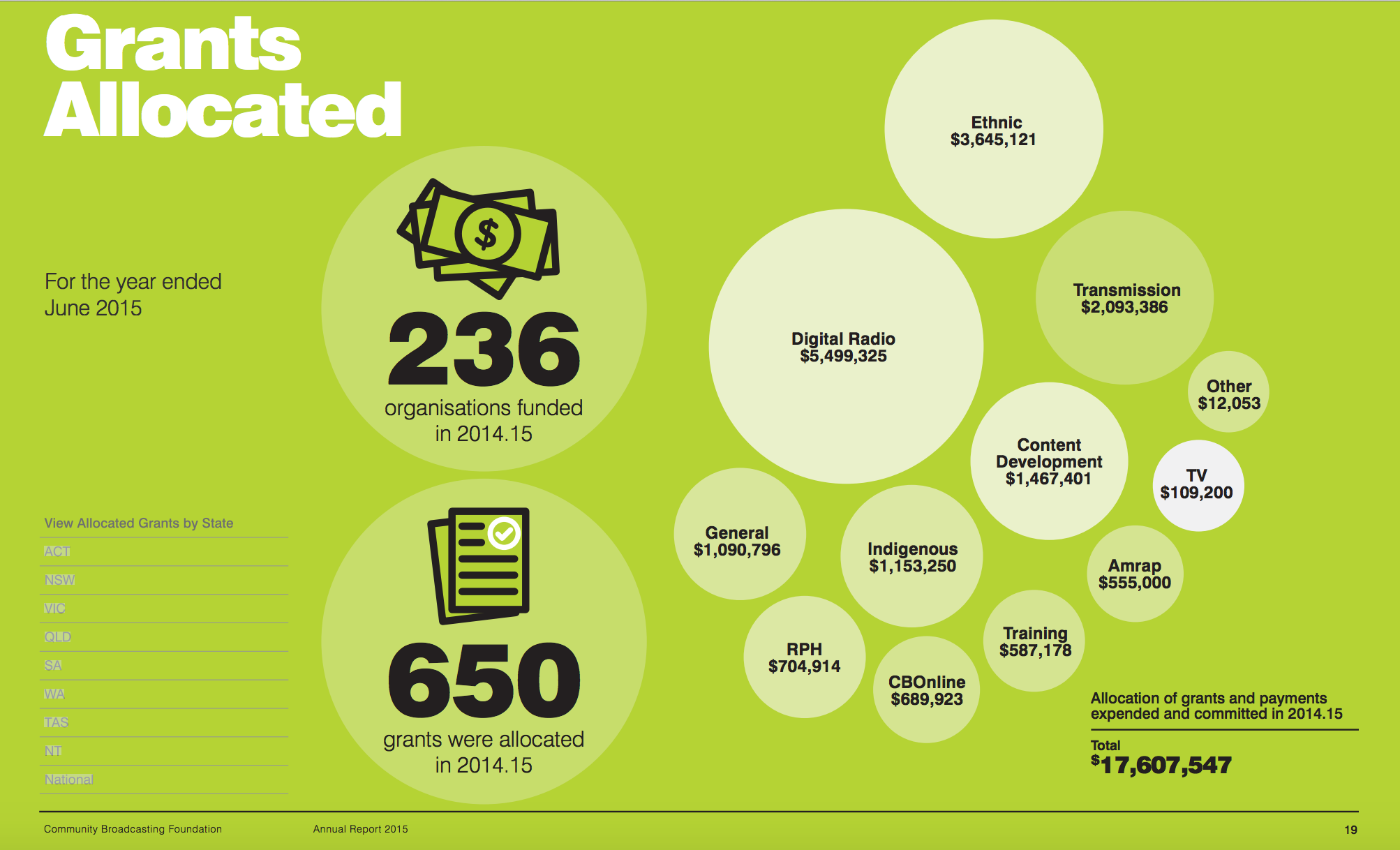 The allocations were generous and allowed many community stations across the sector to rejuvenate elements of their station.
For 4ZZZ in Brisbane their general station grant meant a new broadcast console after 15 years with the same studio equipment. Since installation, around 100 4ZZZ volunteers have presented programs from a new studio facility, and 20 new trainees have used it.
4ZZZ presenter Ray Morgan said:
"It can't be overstated just how broken the old studio was. Not being able to adjust the mic faders while on air without causing crackle or dropouts meant that we had to awkwardly and furiously use hand gestures. Combined with mics with dodgy connectors and rusty microphone arms, there were so many landmines that every announcer had to dodge each session that it was impossible to disguise this on air."
For The Central Australian Aboriginal Media Association (CAAMA), Alice Springs the CBF Indigenous Special Projects grant allowed them to showcase Indigenous artists at the Tamworth Country Music Festival. A team of broadcasters had the chance to travel from Alice Springs to the Tamworth and broadcast interviews and live-to-air performances to a large network of remote listeners around the country.
The broadcast provided an unparalleled training opportunity for broadcasters from Central Australia who would not otherwise have the opportunity to engage with a broad spectrum of talent from young buskers to international artists.
CAAMA said:
"It gave Indigenous media the opportunity to cover the event from our own perspective, giving Indigenous musicians recognition that is often marginalised by mainstream media."
With 650 grants allocated to community media organisations across the country CBF President, Peter Batchelor and Executive Director, Ian Stanistreet were proud of their contribution to the sector this year. They had this to say in their report:
"The projects we fund range in size and scope: from nation-wide projects that enhance the impact of community broadcasting, to grants for equipment or capacity building on a local level."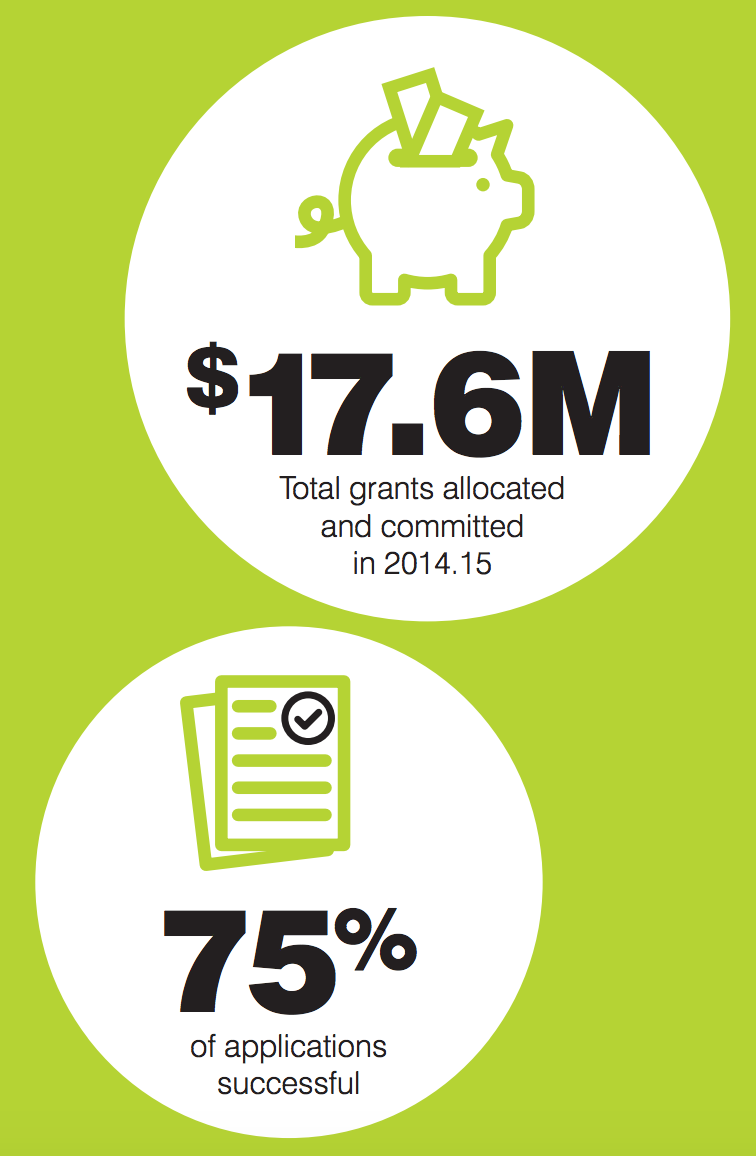 "Many of the projects we fund support the production of content that is shared with audiences on air or on demand – programs, series and segments that share information in community languages, foster discussions about issues and raise the profile of musicians, artists and story-tellers."
"The structures, practices and values of community broadcasting are increasingly important to Australian society, particularly given the disruptive impact on all media of the digital revolution and globalisation.
Recognising this, the Foundation is open to broad operational change to ensure that our funding processes can assist the community broadcasting sector to adapt and thrive within a rapidly evolving media landscape."
"Our funding decisions use peer review processes: the voluntary involvement of experienced community broadcasters and industry experts is at the heart of how we operate. Our thanks to the 40 volunteers who make the Foundation's operation possible through many hours of work on our grants advisory committees and on the CBF Board."