Radio Tomorrow with James Cridland
I've just spent a hugely enjoyable few days in Milan at Radiodays Europe, the world's largest radio conference.
As Radiodays Europe continues to grow, it's interesting to see more international visitors going to the event – by "international", of course, I mean from outside of the European Union. It was great to see folk from all over the world, and particularly good to see some from the US.

The most-repeated piece of feedback I had from people in the US was simple, yet quite surprising: "Wow, it's so positive here."

Hold that positive thought for a minute.

In 2009, I went to my first NAB Show in Las Vegas. I was staying at the Riviera Hotel – which I used to give as a great tip for people who go to conferences there, since it's pretty cheap and within a short walk across a car park to the convention centre; and has an English pub in the gaming floor.

I was utterly unprepared for the negativity.

On the show floor, I'd put an FM and Internet radio out on the stand of the project I was working on. One device, that coped with FM and Internet radio – with a fancy colour screen. Before long, a small round man wearing a white cowboy hat stopped, pointed at the radio and spat "What's that?"

"It's a radio that gets both FM and internet radio," I said, in my best Queen's English.

"The internet isn't proper radio. You shouldn't be selling this," he said (we weren't, actually, selling it) and stormed off in a huff.

He wasn't the only one: and the NAB Show isn't the only place it happens. Companies promoting internet devices slag off broadcast. Broadcasters slag off the internet. Conference sessions talk about threats, not opportunities. US consultants are vitriolic in the things they don't personally like – whether it's HD Radio, the NextRadio app, a radio that gets the internet, or even just podcasts.

It's not enough to disagree: new technology has to be spat on, defiled, ground into the floor with a heel. New ideas need to be stamped out, not taken advantage of. Fear, uncertainty and negativity is something that seems the US radio way.

Radiodays Europe felt more positive not because we're not suffering the same challenges to our business in Europe, but because we recognise that radio's amazingly popular, incredibly successful, and still in amazing health. We celebrate what radio's capable of, as well as keep an eye on opportunities in the future. Apple hasn't just nicked one of the US's biggest radio stars – they've reserved that honour for the UK's Zane Lowe; but we note this as a concern for the future of talent acquisition, and not as another reason that we're all doomed.

As I pointed out in a speech in Birmingham England last week, radio's massively more popular than Facebook, Twitter, or even the internet as a whole, and has reinvented itself amazingly well through the years. There's plenty of reasons to be positive about radio – and plenty of opportunities ahead. We should make the most of them, and respect and congratulate those who are trying their best to improve radio's experience.

By all means, have a proper discourse about radio's problems, but not in the full glare of our listeners and the people who pay our bills, and let's not over-exaggerate some of radio's issues just to get ourselves another consulting gig. If the US industry is so negative about radio, what are US radio's advertisers supposed to think?

Back in Las Vegas, the Rivera Hotel is getting demolished later this year: smashing a dull and depressing place into the ground. Let's see if we can do that with the doom-monger talk too.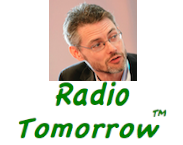 James Cridland is a radio futurologist, and is Managing Director of media.info, a companion website to radioinfo and AsiaRadioToday.
He has served as a judge for a number of industry awards including the Australian ABC Local Radio Awards, the UK Student Radio Awards, and the UK's Radio Academy Awards, where he has also served on the committee. He was a founder of the hybrid radio technology association RadioDNS.
James is one of the organisers of nextrad.io, the radio ideas conference each September, and is also on the committee of RadioDays Europe. He writes for publications including his own media.info, Radio World International and RAIN News.
James lives in North London with his partner and a two year-old radio-loving toddler. He very, very much likes beer.
Radio Tomorrow is a trade mark of Radioinfo Pty Ltd