Saxon in the afterglow of the ACRAs after parties
You couldn't make up a story to yield that much alliteration for a headline but last Saturday night, after the last ACRA had been handed out, the after parties came to life and radioinfo was honoured to attend not one but two.
As long-time readers to this once a year column on the topic of post ACRA parties would know, your correspondent seems perennially unlucky, let down badly by a postal service that fails to deliver invitations to such events in time – and at times, not at all.
As ever, I put my faith in radioinfo's Wendy Whalley, who could charm the part out of Donald Trump's hair, to secure a couple of those rare paper bracelets required for entry into the sanctums of revelry where only the hippest and grooviest are admitted – apart from those, of course, who happen to be employed by the host network. As ever, Wendy came through with emerald green wrist bands to ARN's private gathering at a local hot spot called LOVE.
Then, just as we were about to leave the ACRA auditorium, I bumped into SCA's Dave Cameron who quite unexpectedly invited me, personally, to his organisation's own gathering back at Jupiters. Was he drunk, did he mistake me for someone else? Either way, I now had invitations to two after parties in one night! One at a venue with a promise of LOVE and another with the chance of an out of this world experience on Jupiter. What a night!
One after another, executives and announcers alike entered the circle for a chance to dance with the boss.
So, off to LOVE I go with Wendy in tow (left). A lengthy queue is formed behind a velvet cordon replete with young girls in impossibly high stilettos that could pass for circus quality stilts. These accentuate already long limbs atop which are worn short skirts that remind me of the line from Absolutely Fabulous delivered by Patsy: "…so short, the whole world's your gynaecologist."
Happily, we were not forced to stand in line. Security had spotted us immediately and assumed we were with "the radio crowd." How did they guess? We made our way down to the bowels of LOVE where we were ushered into a private area which might be described as the small intestine.
Here were the groovers of ARN, the sales, marketing and promotions teams who dominated the ACRAS in those metro categories. Here too were the ever affable Jonesy and Amanda and the lovely Laurel Edwards of 4KQ Brisbane Breakfast fame.
ENTER THE STAR! No, not Kyle Sandilands – Ciaran Davis, (left) the CEO credited, more than anyone, with turning ARN's fortunes around over the past five years. His efforts have been recently rewarded by his elevation from ARN's local Tribal Chieftan to all-powerful Warlord status at APN.
The club proper was in full swing, the music mix was loud and up tempo. The drinks were spiked with still more drink and a circle began to form in the ARN room with Mr Davis at its centre prepared to take on all comers. One after another, executives and announcers alike entered the circle for a chance to dance with the boss. I have no idea what you'd call it. It seemed to be a cross between Hasapo-Serviko from a Greek wedding and a Haka from an All Blacks game with a hint of mechanical bull thrown in. In any event, it required great stamina to remain in the circle for any length of time with the ultra fit Mr Davis.
From my comfortable vantage point outside the circle I stood observing this arcane ritual as one after another entered to challenge the great warrior. I watched in awe as one by one they were ejected like spent sumo and wondered how long Mr Davis could keep this up. It was like watching one of those kung fu movies where the hero is fighting off 20 ninja as they come up one at time while the others stay in the background posing and waiting their turn. I couldn't help thinking: if only you'd all jump him it once, you might beat the crap out of him.
He cocked his finger beckoning me to enter the ring as if to say, "Come here little man. You're next."
Suddenly, Mr Davis was alone in the ring standing undefeated. From on-air staff through to production, sales and creative he'd danced with them all and seen them off in quick succession. He had nothing left to prove. He stood indisputably the capo di tutti capi of APN. Still, he seemed unsatisfied.
Then he looked over to me. Who me?
He cocked his finger beckoning me to enter the ring as if to say, "Come here little man. You're next." If my luck had turned, it was certainly for the worse.
I should say at this point that I don't dance, don't ask me. I have an acute lack of both ability and desire. According to my wife's Top 40 on which she charts my failings, my attitude to dancing is in the top three with a bullet.
Still, that finger kept beckoning to "have a go you mug." By this time the crowd had got into it, baying for blood, mine. I was the Christian, he was the Lion. With nowhere to hide, and finding that the attendant Ms Whalley had defected to the other side, I entered the ring and after a few disjointed gyrations was despatched to the outer with the rest of them – unfit and unworthy.
It was time to leave. Ms Whalley had regained her senses and followed me out on the journey to Jupiter's and the hospitality of SCA.
On arrival we found that the bar had been divided into two after-parties. One for Grant Broadcasters, where we were greeted by Alison Cameron for a brief chat, the other for SCA.
Thankfully, there was no evidence of dancing to be seen. Just people sitting around drinking and talking. Much more my speed. Here was the effervescent and charming Fifi Box (left), Michael "Sideshow" Anderson with yet another top award for imaging as well as the aforementioned Head of the hit network, Dave Cameron who was deep in conversation with Dan Debuf.
I didn't get to speak to Dan that night about what's in store for he and Maz Compton with Rove bumping them from the 2Day Breakfast show. But I did manage a chat with Maz at the airport next day. I can tell you the woman's no fool and understands that radio stardom is a risky business – but worth the risk if your goal is fame and fortune on the big stage. She's taking the whole situation in a positive frame and insists that the company is going out of its way to look after her and Dan.
Guy Dobson who has worn many titles over recent years was last week rebranded yet again. Under the new Blackley regime he is SCA's first CCO or Chief Creative Officer. Perhaps first in the world. In the back bar of Jupiters, though, he had blended in with the SCA crowd. I pulled up some floor space beside him. He bought me a drink.
I'm breaking the unwritten rule: What's said and done at an after-party, stays at the after-party.
As is often the case when we meet, he offers me advice about radioinfo which I always take on board in good faith. This night he suggested we add a feature called Off The Record where we write stuff that people don't want us to write. I suspect what he meant was that he'd love to read goss about his competitors. I'm not so sure he'd love it if the goss was directed towards him and SCA.
Nonetheless in the spirit of risk taking we should give it a go. So as a test case, let's see if I get a nasty phone call from Dobbo for this inside scoop about his personal life. In doing so, I'm also breaking the unwritten rule: What's said and done at an after-party, stays at the after-party.
We've known each other for years but it's been mostly business. I know very little of citizen Dobbo. Tonight, though, our normally keen desire to talk shop was exhausted. Instead we embarked on that verbal dance casual acquaintances employ to figure out what, if anything, they had in common.
After a couple of tentative pokes into politics, I steered the conversation to safer ground – travel. We both like Europe and have been to the U.S. so often that it may as well be interstate. But New Orleans is still cool. He's travelled extensively through South America. I haven't. But I've been to Japan. And we both agreed that Vietnam is a standout.
I can't recall exactly how the topic moved to dogs. I think I was showing Fifi a picture of mine on my phone when Dobbo glanced over and asked, "What are they?" They're poodles, I replied proudly. "Poodles? Why don't you get proper dogs?" or words to that effect.
I asked him what "proper" dogs he had, expecting Rottweilers or German Shepherds. "Pugs" was his reply. To a Poodle fancier like me, Pugs are the warthogs of the canine world. They snort and hiss their way through life at a minimum of 20 decibels.
Apart from two pugs named Herbie (left) and Poppy (centre), Dobbo has an Australian Bulldog called Morris (right) – perhaps named after his good friend and business partner Rex Morris – or perhaps not.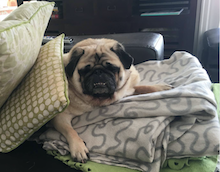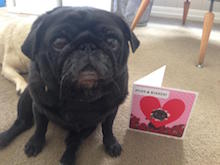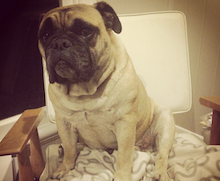 And just to show he's not prejudiced, he owns a pair of cats too.
Let's face it, there's something intrinsically wrong with people who don't like dogs.
Dobbo absolutely adores dogs – a fact he reinforced to me the next morning in the hotel lobby. In this he is similar to Simon Cowell who is known to be a sucker for a dog act. In recent years, two dog acts have won Britain's Got Talent and several more have made the quarter finals.
Let's face it, there's something intrinsically wrong with people who don't like dogs. Not that they are all serial killers but they tend to lack both empathy and humour.
Then there are those of us who value the unconditional love and loyalty that only a dog can provide. Each day as they greet us, never in a bad mood, they bring us down to earth by making our complex issues seem petty. All they want from life is to eat, play and sleep – with you. They are great team players who want you to lead. They are happiest when you dispense praise with a pat or a treat (preferably both) when they do well. All they want is to please you. They have no ego of their own.
That's why dogs are among my favourite people. I guess Dobbo's too.
P.S. I was only joking about Pugs. They are one of the happiest little breeds going. I suppose since I didn't actually gain anyone's permission to publish their photos, I should've pixelated their faces. Sue me. No, don't.
Below, the Saxon family Poodles. Peanut (foreground) and Poochini – he answers to Pooch, sometimes when he feels like it.
We have a perfectly good kennel downstairs with air con, jacuzzi and Foxtel. I'm getting quite used to it now.

Peter the Poodle poo picker upper