The fourth edition of Deloitte's Media Consumer Survey provides a current snapshot of how Australians are consuming different media and entertainment, using technology and devices, interacting with social networks and responding to advertising.
Deloitte's survey reveals attitudes and behaviours, reporting on how they have changed over the past four years and considers the future.
Some of the survey's main points include:
This year, using the internet has joined watching television as our preferred source of entertainment
Time spent watching TV and video content has increasedto 17.2 hours per week in 2015
Consumers begin to embrace the idea of monthly, low-cost subscriptions across multiple forms of entertainment, whether this is video streaming (12% of households), music streaming (10% of households) or the emergence of 'lifestyle' bundles for news and magazines subscriptions
The next tech trend lies in wearables – after just over two years in the market, fitness bands are already at the same levels of adoption as tablets were in 2012 (owned by 13% of households)
80% of Australian survey respondents use social media, up from 65% in 2012. Fifty ninepercent use social media on a daily basis
Magazine subscriptions continue to fall
News providers continue to fight an uphill battle – most of us (89% of survey respondents) are still not willing to pay for online news, buts ocial media sites are emerging as a popular method for accessing news
Sponsored search is still the most influential on purchase decisions
The survey explors whether listening to radio is considered a 'digital activity' by respondents, saying:
"Below the top spot, our survey also indicates some resurgence in the popularity of activities that can solely or also be performed non-digitally. Listening to music, reading books and attending live performances have all increased in popularity this year (with 36%, 33%, 23% and placing them in their top three entertainment activities respectively). There is a resurgence in the popularity of activities that can solely or largely be performed non-digitally.
"Is this a sign we are reaching our digital saturation point? Or has our increased ability to consume digital (wherever and whenever) resulted in us fitting more activities into our week overall, including the offline ones? Or, have the lines have blurred still further – is listening to the radio for a Millennial something that they would consider part of what they do on the internet, for social or personal interests?"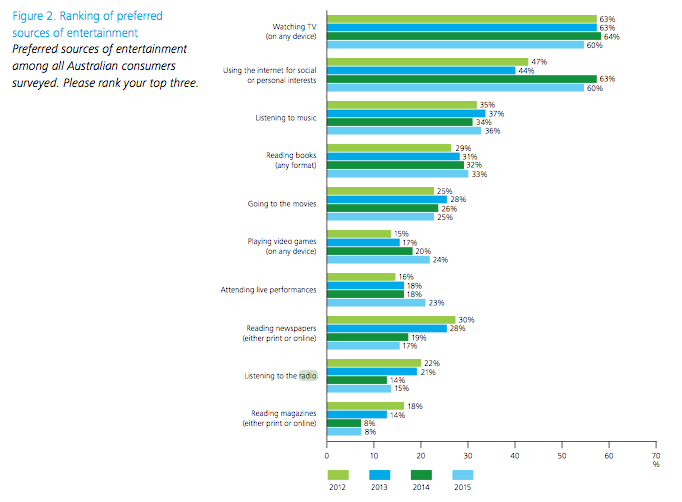 Television is still the most frequently used mechanism for getting news, with Radio being our fifth news choice.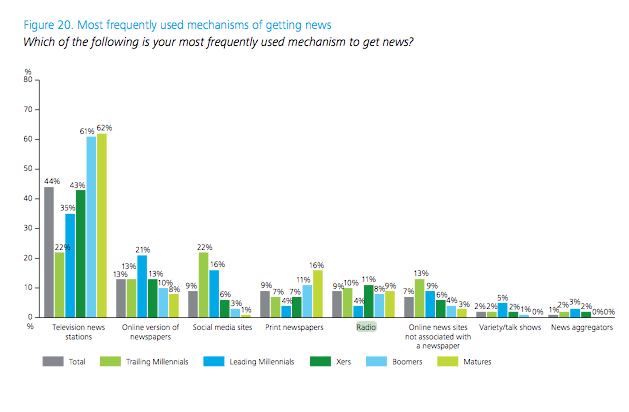 Take a look at the survey here.