Southern Cross Austereo's Digital Radio Content Director Jaime Chaux is pretty pleased with the performance of the network's digital only radio stations in today's DAB+ ratings figures.

While all stations are heard on digital radio, this report gives figures only for stations that are on air through DAB+ transmissions only, but not also broadcasting on AM or FM.

SCA has the largest stable of digital properties, with 7 stations on air across various demographic targets and still room for more in some cities.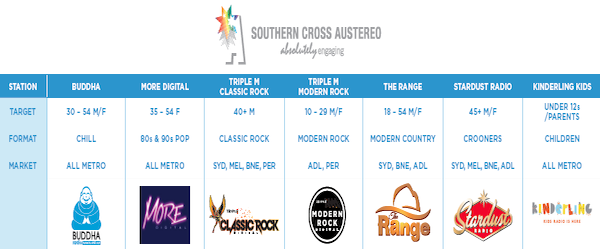 "Digital radio gives the industry a chance to create extra listening… it's an opportunity for us to grow listenership," Chaux told radioinfo.

The AM and FM bands are full, but the extra space available for niche formats on digital radio means that radio companies can target new listeners who are not fully served by existing analog stations. SCA's strategy is to exploit that opportunity to "compliment our big brands and find other audience segments," according to Chaux, who spoke to radioinfo from Melbourne.

Just as the figures came in, he was visiting Hamish and Andy's production office and he says they asked the inevitable question that all broadcasters ask about DAB+… 'how is it affecting us, is it taking away our audience?' The answer he gave Hamish and Andy is 'no, SCA's strategy aims to grow the audience, not cannibalise the company's existing mainstream listeners.'

"Most people are still listening to their favourite stations, but these figures also show that they have an appetite for new types of radio content, which we can give them on digital."

He gives the example of Classic Rock, which does not just play music, it also includes interviews, features and 'rock mythology.' "These artists left a heritage of music and brilliant stories, we tell those stories on Classic Rock."

It's not just history either. Chaux points out that artists played on the station such as Richard Clapton and Jimmy Page are also current and in the charts at the moment. For example, Page has an album of remastered Led Zepplin tracks out and Clapton is currently touring Australia. The Classic Rock station is featuring specials about both these artists this month.

On SCA's More station, singer turned radio presenter Kim Wilde presents a show which has "fantastic storytelling about being a performer, about her friends and all the touring," according to Chaux, who says SCA found the Kim Wilde show from ads on our radioinfo website.

"Current artists refer to the artists of the 80s and 90s for their inspiration, so the More network is relevant not just for those who remember the past, but also for those who are making music right now," says Chaux.
The Kids channel Kinderling is another experiment that holds potential for both growing new audience segments and making money. It was not part of the current survey, because it was launched very recently, but Chaux expects that it will score well in future surveys: "My two young kids love it, Evan has done a fantastic job with this channel, it has a well thought out format… some parents don't want their kids to just sit in front of tv, they want them to play and use their imagination, this station is more than just a babysitter."

What's the future for digital radio? Chaux sees further growth as more people get digital radios in cars. "Every day people drive out of car yards with a DAB+ radio in their cars, many don't realise they have it until they find out that they can not just hear their favourite channels more clearly, but they can also get so many new channels… this is how people will get to understand what digital radio has to offer."

Two of SCA's formats score well in traffic says Chaux. They are Buddha for those who want to chill out while sitting in heavy traffic, and the More stations, for those who want to sing to the music while sitting in their cars.

Will digital radio be an important factor in combating streaming services like Pandora? Chaux thinks so, because the targeted channels he has developed are capable of challenging the music that streaming services offer. The digital radio stations also have an advantage over streaming services according to Chaux: "There is a sense of curation in our formats that makes it different from those services… Many listeners contact us and ask for the Buddha playlist, that's how much of an impact it makes."

"My personal opinion is that people will not really differentiate between one platform or the other, they will be drawn to different services for different reasons… there will eventually be coexistence between these platforms… the listeners don't care where it comes from, what they want is compelling entertainment content," says Chaux.

SCA's strategy is to "deliberately build a diverse portfolio to deliver new audiences to our company… we have to try doing things in a new way," he says.

Southern Cross Austereo boss, Guy Dobson is "passionate about wanting me to do things differently," which inspires Chaux and his small team to push the boundaries. He and Jackie Kussulke are responsible for most of the channels, along with David Burton in Toowoomba, who programs country music for The Range, and Evan Kaldor and his team, who have developed the Kinderling format.

The chart below shows all the digital only stations currently on air across the capital cities which are broadcasting DAB+ services.
Sales of DAB+ devices have reached more than 1.9 million. Twenty seven vehicle manufacturers in Australia are now including DAB+ digital radio and 276,822 vehicles with DAB+ have been sold. With the addition of the number of vehicles sold with DAB+, it brings the total number of DAB+ devices in the market to over 2.2 million.

Commercial radio will join the ABC, SBS and community radio on the recently announced Digital Radio Planning Committee for Regional Australia to plan the rollout of DAB+ to regional Australia.