The ABC has been moving ahead with its redundancy process, with the final change proposals sent to staff on 21 July.
With the expressions of interest in redundancy process now complete, and positions identified for redundancy, the national broadcaster is currently consulting on the proposals with employees and their representatives.
People are expected to be walking out the door in the next couple of months, although some may go sooner by mutual agreement. Some targeted for redundancy have already effectively left the building by taking leave as they wait for the final axe to fall (See Job Ads here).
The redundancies are part of a painful process necessitated by the freezing of budget indexation for the national broadcaster.
PM Scott Morrison and Communications Minister Paul Fletcher have both denied that the ABC is being cut. ABC Managing Director David Anderson and Chair Ita Buttrose have both said there are cuts.
They are both right.
In dollar terms the ABC has more money than it had in previous years. But in real value terms, taking into account salary increases and the rising costs of delivery, there will not be enough money to pay all the bills, so cuts need to be made to staff numbers and services.
Last month two important documents were released that give us insights into how the national broadcaster will cope with the politics and the realities of managing the organisation within the budget that is allocated. If it was a normal year, that would be difficult enough, but given the extra expenditure on bushfire coverage and now the Covid pandemic, it is even harder.
EFFICIENCY REVIEW
The efficiency review of ABC and SBS was completed in December 2018, but was not released until last month.
While critics of the review have been clambering for its public release since 2018, the government has always maintained that the proper process was to let the national broadcasters study the review and respond to it first before releasing it. When the ABC released its 5 Year Plan last month, the Minister finally also made the Review public.
Many points in the efficiency review were tacitly addressed in the ABC's 5 Year Plan. If you read through it you will see the words "efficient" and "efficiency" mentioned in several key sections. Some of the suggestions in the review are also noticeable in other areas of the plan.
Key points from the efficiency review include:
Confirmation of the high level of trust in the national broadcasters: "The significant role of these institutions is reflected in both their wide audience reach and the extremely high level of trust placed in them by Australians."
Discussion of structural change in the media industry: "All participants in the Australian media sector are under immense pressure. In recent years, the sector has fundamentally changed as audiences embrace new, often more compelling ways to consume a proliferation of media content… The national broadcasters face particular challenges in responding to this changing environment."
Staying relevant to changing audience consumption habits: "To remain relevant to Australian audiences they must invest in new delivery channels, but they must do so while maintaining their valued, trusted position with existing audiences. Importantly, they must maintain their strong position in areas such as agenda-setting journalism, regional coverage and Australian drama while operating within constrained government funding."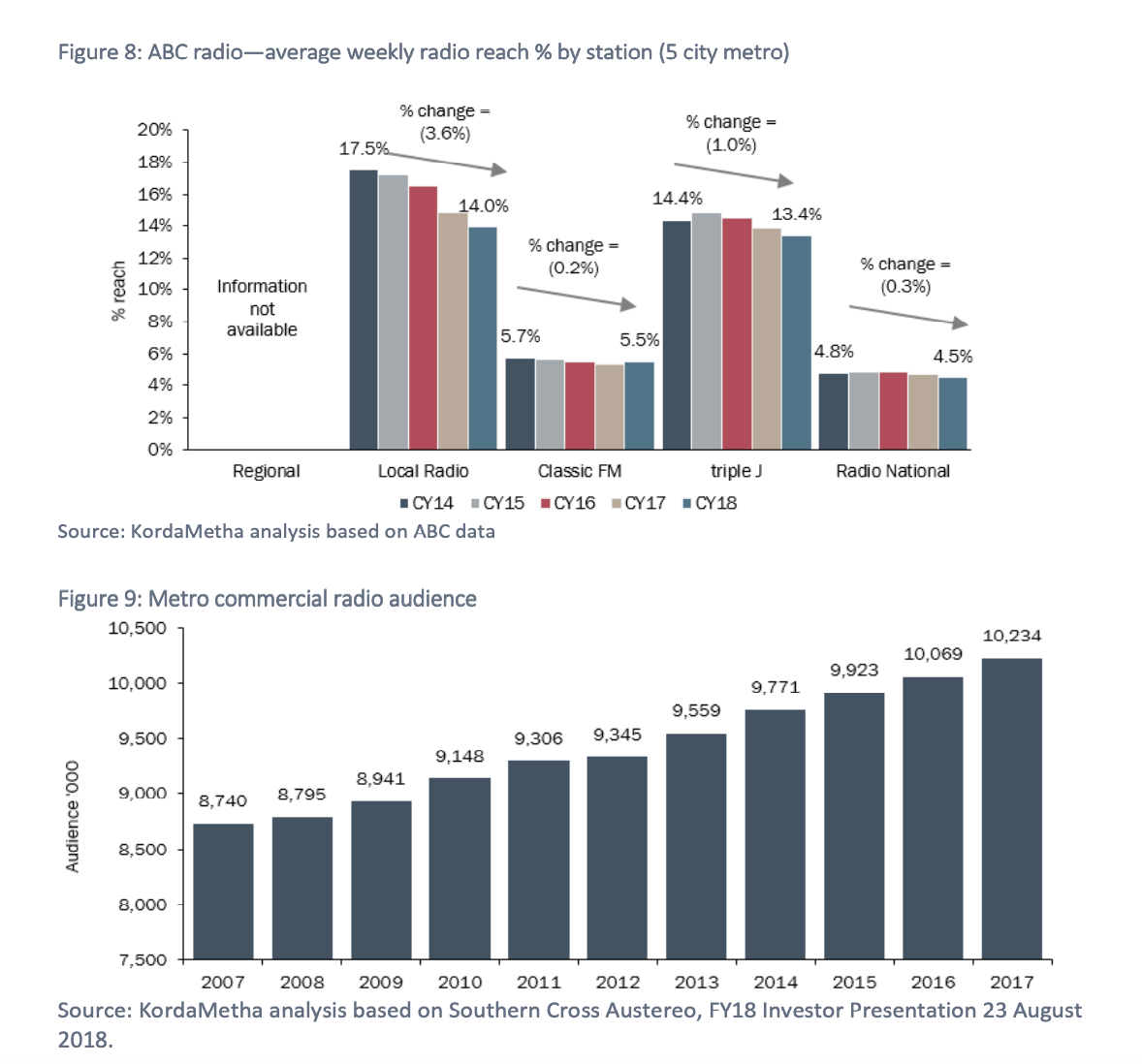 Notably, the efficiency review neglected to include the figures for the ABC's new digital radio channels in metro markets, skewing the chart wrongly to show that the ABC Radio audience is decreasing. The chart does not include Double J, ABC Grandstand, ABC Jazz, ABC Country or other digital stations.
Significantly, the efficiency review found that the national broadcasters had cut just about all the fat they could, so would now have to trim staff and output if budgets did not increase and would find it difficult to expand further into new platforms without more money: "Both the ABC and SBS are focused on improving the efficiency of their operations in order to maximise resources devoted to the creation and acquisition of content and to facilitate the investment required in new content models and new delivery channels. However, assuming ongoing funding constraints, it is unlikely that incremental efficiency improvements will be sufficient to achieve their objectives—more profound changes are required. In the case of the ABC this is likely to include significant investment in digital platforms—investment that is unlikely to be possible without additional short-term funding support."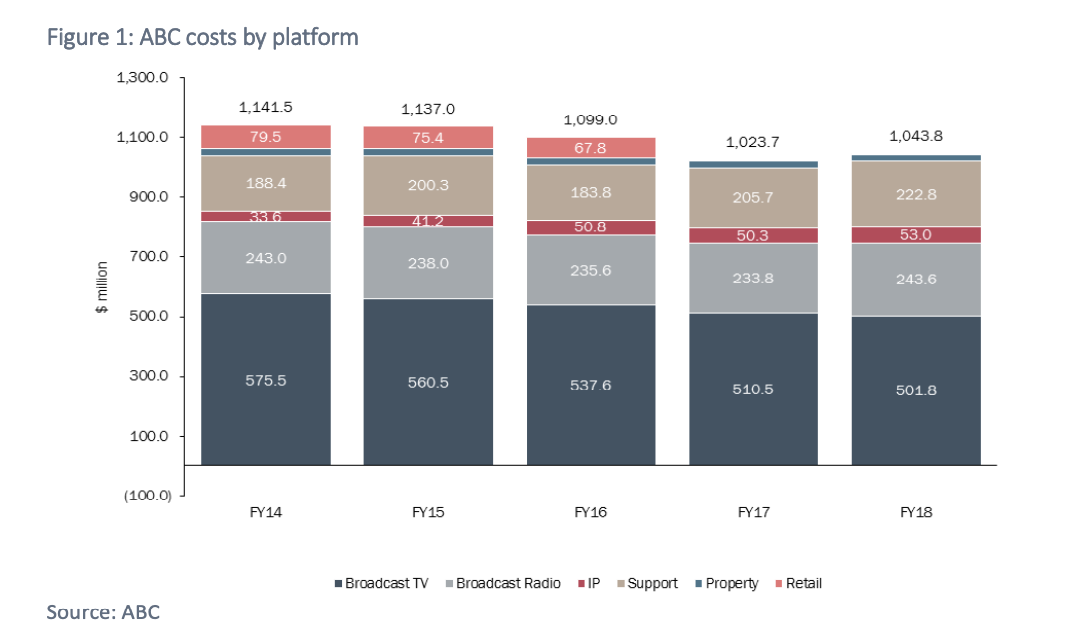 The review proposed three sets of initiatives to support the required changes:
Taking a longer-term perspective on planning and funding, with greater transparency and accountability for performance.
Delivering a series of efficiency measures to drive short and medium-term cost savings for reinvestment by: (a) focusing on the core (b) modernising work practices, and (c) increasing collaboration and sharing.
Investing in two key enablers of transformational change: technology and culture.
Collaboration rather than merging ABC and SBS was recommended by the efficiency review. Both organisatoins have increased thier output significantly in the past three decades.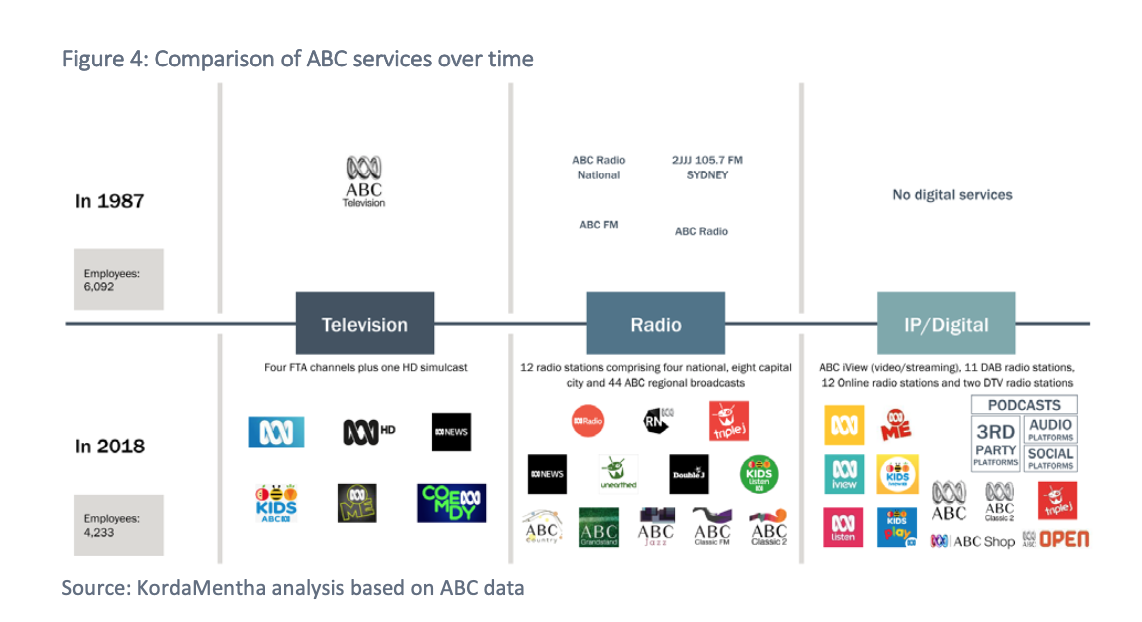 ABC FIVE YEAR PLAN
Examination of The ABC's 5 Year Plan shows it has responded to many of the issues raised in the efficiency review (See our earlier report here and an interview with Gaven Morris here)
Some key sections from the ABC's plan are:
Audience Trends: Listening
Up until the end of 2019, live radio was the dominant form of audio listening in Australia, accounting (at that time) for more than 60% of all audio listening and reaching 80% of the population each week. Growth in digital listening largely offset the decline in analogue, with overall radio reach remaining steady over a five-year period.
However, time spent listening declined over the same period as increased listening options led to audience fragmentation. Podcasts will continue to gain listeners, but at a slower rate and in a more crowded market. In this environment, the ABC faces the challenge of maintaining broadcast services while continuing to build streaming and on-demand services.
It should be noted that the COVID-19 crisis, and the bushfire crisis before it, resulted in large spikes in audio consumption. While audiences for live audio declined after these events peaked and the need for news and community information subsided, some of the gains around listening via streaming were maintained.
Audiences for podcasts were, initially, an exception during the crises, declining in response to changes in daily habits, such as commuting or going to the gym, and the greater demand for live news.
Both the fires and the pandemic underscored the need for the ABC to offer comprehensive digital services and maintain reliable broadcast services. Both platforms are needed to reach audiences and provide critical information.
Broadcast transmission also provides critical redundancy when internet-based services are unreliable or lost altogether, as happened during the 2019–20 bushfires.
Audience Trends: Watching
Broadcast TV remains a highly popular medium, with more than 75% of Australians still watching every week (OzTAM, 2019), and it will remain significant over the next five years and beyond. Despite this, and despite a resurgence during the COVID-19 crisis, broadcast TV reach and time spent viewing have been trending down for some time.
Audiences are embracing new ways of watching, including video-on-demand (VOD) services accessed on smart TVs, tablets, and mobile devices.
The VOD market is crowded, highly competitive, and growing, with domestic and global platforms vying for audience attention and, in the process, driving up audience expectations and the costs of making content.
In this environment, the ABC faces three challenges: drawing the attention of audiences in a crowded market, continuing to find ways to make high-quality and distinctive programs in a market with inflationary pressures, and maintaining its broadcast platforms and services in its role as the national broadcaster.
The Work Environment
Technology continues to drive workplace change in most industries along with economic factors, such as property prices, and social factors, such as an increased demand for workplace flexibility in response to changing lifestyles.
In the area of skills and training, the ABC will require staff with new skills that are in high demand, especially in information technology. At the same time, it must retain some operational skills in broadcast production that will become increasingly rare. Continuous training will be necessary in every role as staff are required to adapt to new technologies and processes. This, in turn, will place greater demand on the need for effective and ongoing change management.
Ways of working will change alongside skills as technologies enable greater flexibility and mobility in many areas of the workforce… the ABC will need to strengthen its ability to attract and retain talented staff who can deliver the content and [the organisation's] strategic objectives… These efforts will require increased flexibility in hiring, an investment in training to improve digital capabilities, and initiatives to reinforce the ABC's positive workplace culture. At the same time, the Corporation must continue to strengthen diversity in its workforce to better reflect the broader community.
Trust in Media
Although the ABC remains one of Australia's most trusted organisations, trust in the media as a whole has been trending down. The 2019 Ipsos Trust in the Media report found that Australians' trust in the media had declined, with more survey respondents stating that their trust in newspapers, broadcast media, and online news had decreased over the past five years.
The annual Edelman Trust Barometer Global Report 2020 showed that, while trust in media in Australia had improved in the previous year, it remained low by global standards.
The August 2019 Roy Morgan State of the Nation report recognised the ABC as the most trusted media corporation in Australia. On a Net Trust score, where the key drivers of trust are impartiality, balance and accuracy, the ABC was also the leading media brand.
This trend has the potential to affect news consumption and the perceived value of news organisations, to the detriment of democracy. By maintaining its role as a trusted source of news and information, the ABC will continue to resist this trend.
Access to Public Interest Journalism
Stories and interviews that hold governments and other decision-makers to account, or that explore and explain important issues, play a critical role in democratic societies. However, changes in technology, disruption from global digital platforms, and consolidation in the media are raising concerns about the sustainability of, and people's exposure to, public interest journalism…
National security laws that may criminalise investigative reporting complicate the issue. Restrictions on press freedoms, tighter controls on access to government information, and weak protections for whistle-blowers have the potential to dampen the incentives to produce public interest journalism.
The ABC's skills and capabilities around investigative journalism are arguably the strongest in Australia, and its investigations have a significant impact on society. Constraints on this activity will weaken public interest journalism, with implications for the health of Australian democracy and civil society…
Media Diversity
Media diversity across the national, local and regional levels has historically been considered synonymous with a healthy media ecosystem. Legislative restrictions have been used to preserve a minimum level of media ownership diversity in Australia.
However, the majority of these safeguards were relaxed by the Australian Government in 2017, in part, to better position Australian media companies to compete with large online media outlets.
On several measures, media ownership in Australia has become more concentrated since the 2017 reforms as a result of cross-media mergers and acquisitions.
The most visible impact of the shifting dynamics in the media sector has been a loss of media diversity at the local news level.
As mentioned above, the loss of media diversity may have implications for the ABC as a provider of local news. Beyond this however, fewer Australian news providers also means less Australian news more generally, and this may lead to further community polarisation and a narrowing of public debates.
Further decline in, and consolidation of, traditional media outlets may be mitigated to some extent by government regulation that forces search and social media companies to share revenue with them. However, the ABC will need to maintain its efforts to keep its coverage as broad and diverse as possible.
With these factors in mind the ABC has set out a strategy that articulates the purpose and vision for the ABC over the next five years. It provides a decision-making framework based on five pillars and identifies six strategic priorities where the ABC will focus its efforts.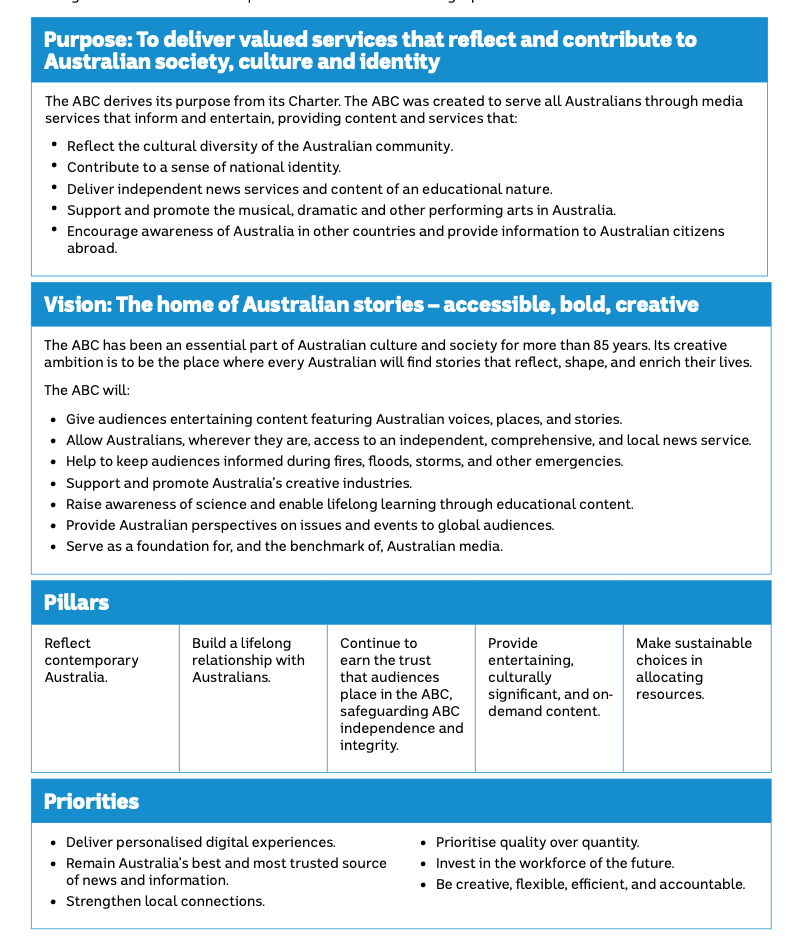 Within the framework of its five pillars, the ABC will focus on six strategic priorities to address the changes the ABC needs to make and the areas where it needs to focus its efforts and resources. The six priorities are to:
1. Deliver personalised digital experiences
2. Remain Australia's best and most trusted source of news and information
3. Strengthen local connections
4. Prioritise quality over quantity
5. Invest in the workforce of the future
6. Creative, flexible, efficient, and accountable

It remains to be seen whether the ABC's workforce, which will now decrease further by about 250 staff, will be able to achieve those plans.
Related reports
Free job ads on radioinfo during August
How to get radioinfo Job Alert emails
---
Subscribe to the radioinfo daily flash briefing podcast on these platforms: Acast, Apple iTunes Podcasts, Podtail, Spotify, Google Podcasts, TuneIn, or wherever you get your podcasts.