Imagine you're about to record an ad for a horror movie.

Your lips are almost touching the sanitised mic and in your deepest, most sonorous voice you read…

In a world, turned upside down…

Where the top radio station in Melbourne is Fox FM. And 3AW is number six…

A bizarro world, where 2Day has more listeners than 2GB and Nova 969 is # 1 in Sydney.

It's the Attack of the Cumes – a film shot on location in an alternative reality where share of listening is held hostage to cumulative audience.
Be afraid! Be very afraid! Cumes have already arrived at a Survey near you.
SFX: Much screaming and gnashing of teeth

It's been a long running debate with no end in sight. In Australia, we've always stuck by audience share as the yardstick by which we rank stations. In other parts of the world, such as the UK, they count cumulative audience as the benchmark.

If you'd like a refresher on the meaning of terms such as: share, cume and TSL and how they work, then scroll down for the official explanation from GfK as well as our prosaic description.

The debate has evolved somewhat since, almost a decade ago, UK import, Nova Entertainment's Paul Jackson, first questioned Australia's reliance on share as the measure of a station's success.

Some Content Directors are keen to keep the status quo, others swear by cumes and some straddle the middle. We asked four of the network content heavyweights where they currently stand on cumes v share.

Greg Byrnes – Nine Radio

Well, it's all about share, which is made up of cume and TSL. And coupled together it gets the result that has 3AW in Melbourne, as the dominant number one. The cume (for other stations) may be bigger, but how long are they sticking around for?

Dave Cameron – SCA

I'm a big fan of looking at station cumes. I think that is your audience, and that is your potential to turn them into longer listeners. It really starts with cumes. You can't grow TSL and you can't grow share if you don't have the audience.

FOX is a great cume story. It was often the only station that was achieving a million plus cume. I think that that's changed a little bit and several stations now deliver a million plus cumes.

Different formats do different things. We've always found HIT formats, with high repetition, deliver higher cumulative audience. Naturally, more people come in for a shorter time. But then we have our Triple M formats that are more TSL driven. They have more of a segmented audience or more of a niche format offering. But you get them for longer. You get them listening for the eight hours of a tradie on a building site workday. You may not get as many, but you get the ones you have for longer.

Duncan Campbell – ARN

Radio works on a combination of listeners and time spent listening, which produces a share of listening. So, in this country we've always based on share. That's the metric that we use.

From an advertiser's point of view, there's not much point having a whole lot of listeners who only listen for five minutes a day. To get the messaging and advertising out there, you need some frequency and that requires people to be listening longer so they can hear it. That's how it's always been with radio.

Paul Jackson – Nova Entertainment.

They're both important. But at the end of the day cume is how many people are knocking on your door, how many people are coming into your place to spend time with you. How many people being actively interested and engaged with your radio station. When you're trying to measure Time Spent Listening (TSL) then you're measuring how long your listeners listen for.

So, it's apples and pears, because you get a 25-year-old who loves Nova but is only able to listen to the radio in small increments here and there. Also, as the world has changed, they'll want to spend some time streaming, some time on TikTok, some time to listen to a podcast or something else as well.

You get a better expectation of how many people want to listen to your radio station through cumes across a week. But I don't say that share isn't important as well. Absolutely. But you get better ebb and flow by looking at your cumes. And you can see when your cumes are way off. You can read quite quickly if you've got an issue that people aren't bothering to listen to you anymore as well.

Therefore, cumes give you a very strong reflection of just how well plugged into the marketplace your station is, how much of it cut through, and the engagement that you have.
Here's our prosaic analogy…
Imagine, say, that JB-HiFi is holding a sale in which each store is open from 5:30am to midnight for a week, Monday to Sunday. They place a person at the door equipped with a hand held counter. This person is charged with clicking the counter each time a shopper enters the store over the period of the sale. If an individual shopper leaves and then returns at any time during that week, they're not counted again. So, Cume is very simple, it tells the management how many different or unduplicated people came through their store over a specific period of time.

Average audience is measured this way: Another person is given a camera that can take a photo of everyone who is in the store in a single shot. They're tasked with taking a shot at regular 15 minute intervals throughout the sale and counting the number of customers in the store in each shot. This time though, if a person was counted in one 15 minute period and is still there when the next count is taken 15 minutes later, they are counted again. And again for as many 15 minute periods that they remain in-store – and again, no matter how many times they leave and return during the week.

Unlike our fictitous JB HiFi sale analogy, radio really does measure listeners between 5:30am and midnight for each surveyed week. By adding up the numbers recorded each quarter hour between 5:30 and midnight over 7 days and dividing that by the number of quarter hours (490) in that period, an average quarter hour produced which represents a share of the available audience for each station.

Below is a page from GfK's Radio Tool Kit that provides a more scientifically acurate explanation.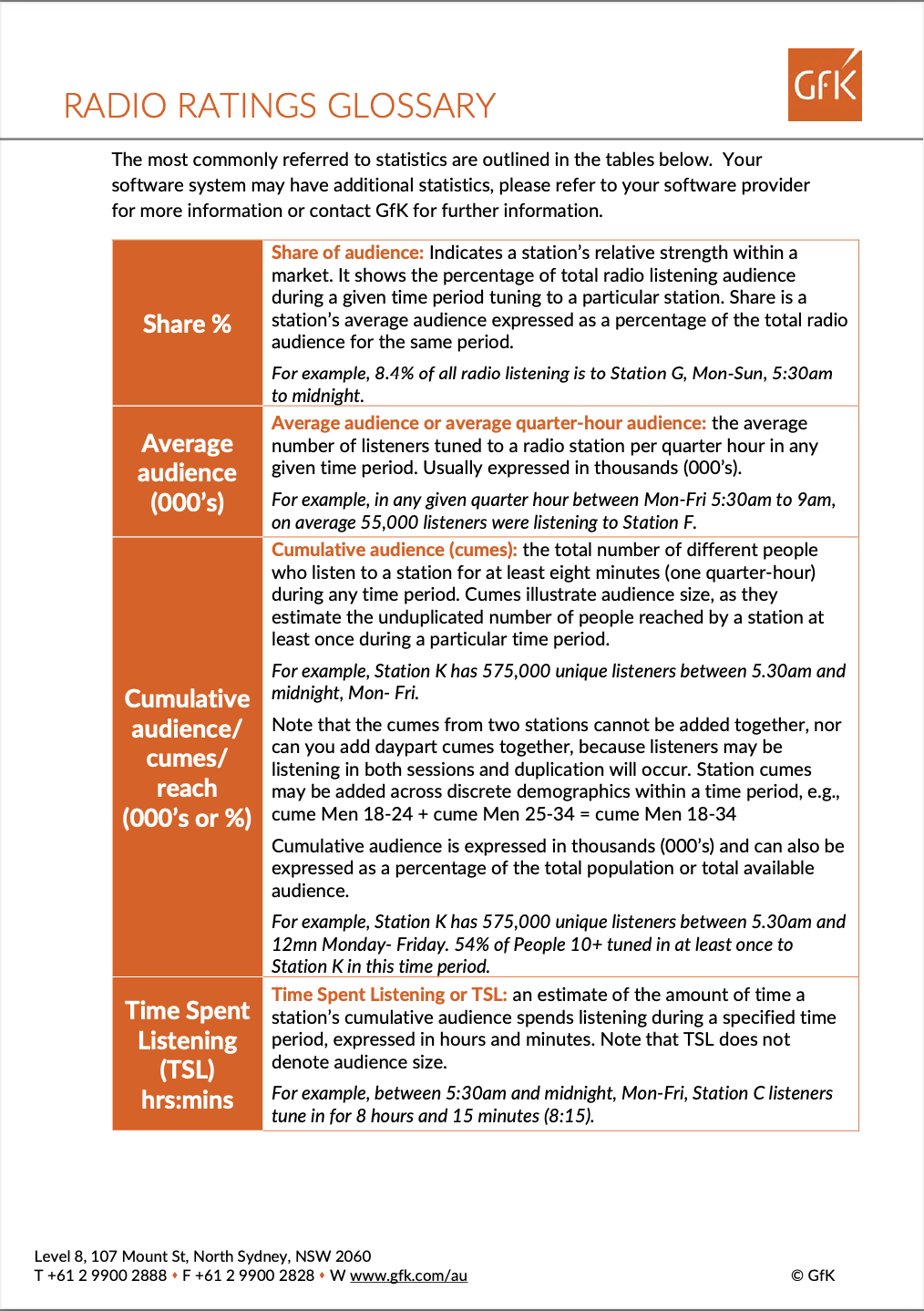 Peter Saxon

---
Subscribe to the radioinfo podcast on these platforms: Acast, Apple iTunes Podcasts, Podtail, Spotify, Google Podcasts, TuneIn, or wherever you get your podcasts.