Full year results announcement: Fairfax Media's revenue dropped by 6% to $2.3 billion, and the company made a loss of $2.7 billion after significant 'impairment' charges.
Fairfax Radio revenue dropped nearly 13%, down from $111 million to $97 million. Costs were slightly up, to $83 million. Profit (EBITDA) for the company's broadcasting business was significantly down to $13 million, a drop of 48% on the previous year.
"The performance of Fairfax Radio was undermined by a disruptive sale process and management changes… Regional Radio was divested in October 2011. Adam Lang was appointed the CEO and is leading the turnaround of the business. The performance of all stations is now recovering and we anticipate a much improved performance in the 2013 financial year," said CEO Greg Hywood.
The focus for Fairfax Radio will now be on "broadening the product and audience for all news talk stations, driving greater collaboration across the radio network and greater integration with the broader Fairfax group." Money from the sale of the regional radio stations contributed to the reduction of overall debt.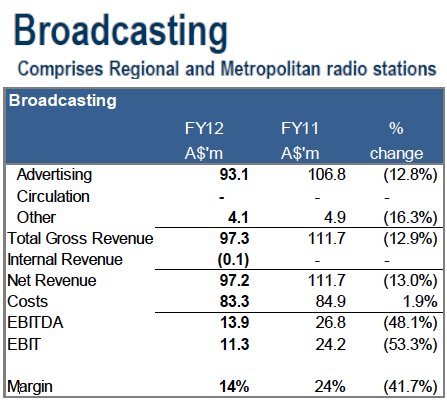 For the first time the company has broken out the digital elements of its business, reporting allocated editorial costs and revenue for the digital businesses together. Fairfax has also reported performance in two specific, newspaper focused, revenue categories, showing 'Advertising' and 'Circulation' as different figures. While this is not significant for radio, it is more useful to the newspaper businesses as they undergo structural change.
The Company reported underlying earnings before interest, tax, depreciation and amortisation (EBITDA) of $506 million, excluding significant items and intangible adjustments, down 16.7% on last year. Fairfax generated overall revenue of $2,328 million, 6% lower than last year, with a net loss after tax of $2,732 million, including a non-cash impairment charge of $2,798 million and other significant items totalling $140 million.
The bottom line was affected by writedowns on the value of various business and the repayment of $574 million in debt. Without those abnormals, the situation is not so bad for Fairfax, but results are still significantly down on last year.
Profit after tax (NPAT) is $205 million, down 26% on last year.
Chief Executive and Managing Director Greg Hywood told investors:
"Fairfax Media has a sound and diversified business, as shown in the underlying results we have reported today. These results reflect a challenging trading environment. We continue to drive significant change through the business, consistent with our strategy, and we are responding to a stressed economic environment.
"The cyclical downturn worsened during the 2012 financial year, while continuing structural change is affecting our Metro Media division. Fairfax has worked hard to respond to these conditions. At the half year we formally announced the Fairfax of the Future program to transform our business. We subsequently expanded and accelerated that process.
"Despite the tough times, Fairfax is a company that is committed to growth and committed to innovation. We are investing across our digital businesses, which grew revenue by 20 per cent this year. Digital advertising yields grew strongly as advertisers recognise the value of target demographics – the demographics that Fairfax sites attract.
"Why are these businesses growing? They are growing because Fairfax has built the largest and most engaged audience of any news media business in Australia. We are actively building our revenue by accessing this digital audience."
The company continues its process of structural change to try and position it for the future (see our earlier commentary on that process).
Fairfax Media paid a dividend of 1 cent per share.