Due to the growth of digital radio listening, Sydney community station FBi is dropping its Click format from the DAB+ band and will now simulcast its main service on both FM and DAB.
The station, targeted at youth, has noticed significant growth in DAB+ listening. By late 2016, almost 23% of 10-17 year olds and 17.5% of 18-24 year olds were listening to the new digital band.
In a statement on the FBi website it's been announced that on June 5, 94.5 will return to digital radio (DAB+) replacing FBi Click.
Effectively, the two will become one.
"We know that DAB+ listening is increasing across the board, and this trend has been reflected in our own recent listener surveys. Our audience have told us that they want to hear our main offering FBi 94.5fm on DAB+," Managing Director Clare Holland has told radioinfo.
"At the same time, FBi has long been a champion for new and diverse forms of electronic music and FBi Click has allowed us to represent some exciting local voices. It was a no brainer to bring some of the most popular FBi Click broadcasters across to our 94.5 program grid.

"Our recent listener survey indicated that over 1/3 of our current audience would listen to FBi 94.5fm regularly if it were on DAB+,"
she says.
Click listeners will not miss out on their favourite shows however, with a range of Click programs joining the regular programming on the main FBi channel. "You'll hear Body Promise, Motorik, Picnic, Purple Sneakers and Bare Necessities each week on FM, digital radio and online," says FBi.
The move comes in the same week as an announcement funding to the community broadcasting sector will be increased by $6.1m over two years.
$3.9m in digital radio funding will be restored for two years, securing community radio's participation in the digital roll-out in regional Australia over that period. The announcement also includes a one-off contribution of an additional $2.2m to cover the cost of spectrum reallocation of the 803-960 MHz radio frequency band which has impacted a number of stations across the country.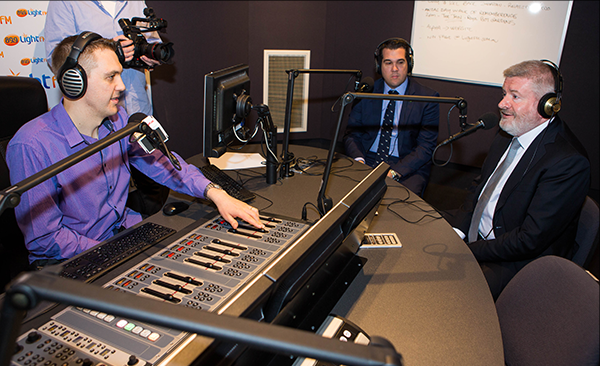 Senator Mitch Fifield announcing additional funding for community digital radio on Light FM