Recent research by Pandora on in-car audio listening revealed that
"40% of commuters connect their phones to their cars regularly in order to hear what they want. Because of this habit, 59% of commuters who plan to buy a car in the next year called connected dashboards an important factor in their decision."
And the Holden Spark is taking it right to those consumers.

A review by the Motor Report on the 2016 model kicks off like this:

"…first, it's a joy to drive, and second, its killer app – Android Auto and Apple CarPlay smartphone mirroring."

Then there is the advertising, like this appearing on bus shelters in major cities around Australia.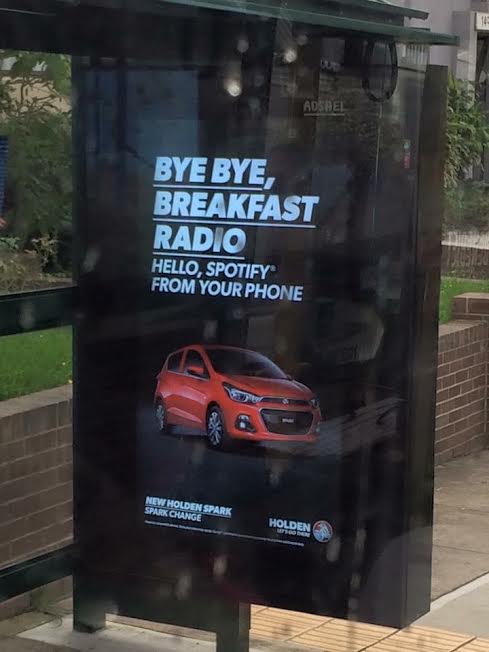 "Bye, Bye Breakfast Radio…" ?

Spotify allows you to create and listen to your playlists for free or subscribe to Premium for on-demand access at the highest audio quality – with zero ads.

Edison Research, in their paper on in-car listening uncovered commercials were the top reason for channel-flipping, followed by a dislike of songs.

ABC's Director of Radio Michael Mason has recently weighed into a debate on radioinfo following an article from John Patkin on AM/FM/DAB+ becoming an endangered radio species.

"From an ABC perspective, I think it's becoming apparent that Radio doesn't have a content challenge as much as it has a distribution challenge," says Michael Mason.

"Audio streamed to smartphones is something we're incredibly excited about, but we see it as complementary, rather than as a substitute."

Bus shelters are a traditional advertising medium for commercial radio breakfast shows. It looks like Spotify is taking the game up to radio on its home ground.
Let's see how radio responds… Game on !
You can share your opinion on that debate amid the release of the Holden Spark and it's audio features by posting it below, or on Twitter or Facebook. You can also email your comments to us [email protected].

In the meantime, radioinfo has contacted Spotify for comment.