HT&E has reported a strong 2021 with group revenue up 16% to $225m and an underlying EBITDA of $59.8 million, up 21%, with EBIT up 41% to $45.9 million.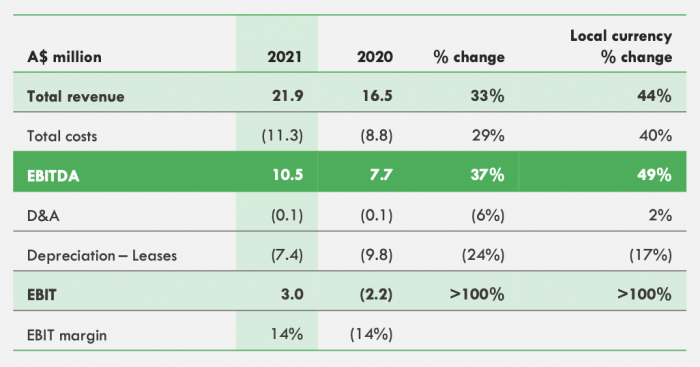 Chairman, Hamish McLennan, made the following comments at the Company's AGM in Sydney today, "2021 was a year of significant milestones for HT&E, delivering a number of key strategic priorities and placing the business in a very strong position to drive continued growth in 2022 and beyond.
"The Radio industry bounced back strongly in 2021, with the role the medium plays for both audiences and advertisers enhancing further. ARN's ratings and commercial success has continued, and the Company remains the best performing audio business in Australia with total listening with our stations now reaching 5.4 million people weekly. We also maintained our place as the #1 podcast publishing network in the country.
CEO, Ciaran Davis, told shareholders, "Our radio operation (ARN) is an incredibly strong cash generating business with cash flow from operating activities of $34.2 million, and the sale of our interests in OML and Luxury Escapes further improved our cash position as we prepared to close the acquisition of Grant Broadcasters."
"ARN…total revenue was up 12% to $196 million and EBITDA up 16% to $53.8 million.
"Radio listenership continues to grow and the resilience and relevance of the medium has been strengthened during the Covid pandemic. Broadcast radio revenues were up 13% to $186 million thanks to market leading ratings results and the solidifying of significant share gains we have made since the start of 2019."
The network finished the year claiming the position as the number 1 metropolitan network, reaching over 5.4 million people.
On the acquisition of Grant Broadcasters presents Davis says, "The acquisition creates a truly national network of 58 stations, 46 DAB stations across 33 markets, and we have more than doubled our broadcast and digital audience footprint to over 8 million.
"In 2021, our ARN Regional business had pro-forma revenues of $105 million driven by exceptionally robust local revenues of $71 million."