Comment from Peter Saxon.
I've done it. After I said I never would. I've gone over to the dark side. I've gone and subscribed to a music streaming service.

Having been a lifelong cheerleader for Radio, I've joined Tidal. I know, many of my readers will see it as a betrayal – like the Chairman of the Miners' Federation driving a Tesla.

I first tried Spotify as well as Apple's equivalent about a decade ago when they were giving away three-month trials. I abandoned both within a week. Partly because their primitive algorithms, back then, made their interface very clunky. But mostly because of their rubbish sound quality.

To be fair, with most households still stuck with dial up and ADSL internet and stingy data allowances, streaming audio in CD quality, with a bit rate of 1,411kbps, was not a viable option. Still, for most people who aren't obsessed like me about sound, MP3 quality at a measly 160kbps was sufficient for their needs. But not mine.

Having accumulated a collection of around 1,000 CDs and years building a sound system around them, I came across something better called Hi-Res Audio. It made my CD collection redundant overnight. Now we're talking music that's mastered at a mammoth bit rate of 9,213kbps, or around seven times that of CDs. Hi-Res Audio also has a sampling rate of 192khz instead of a CD's 44.1khz, and with 24 bit encryption instead of the bog standard 16 bit found in CDs.

Does a Hi-Res music file sound seven times better than a CD? No. Not even close.

And then there are those who say that all of those jaw-dropping specs don't count anyway because they are beyond the capabilities of the human ear – especially ageing ones like mine.

Nonetheless, to me, Hi-Res sounds richer, fuller, sharper, cleaner and with a transparency that lifts every track you play to a level that's more immersive and emotive than the equivalent CD and light years ahead of an MP3 file.

To put that into perspective: imagine an MP3 as equivalent to the picture quality on your old cathode-ray tube TV. It looked pretty good until 720p high-definition flat screens came along. By comparison, Hi-Res audio is up there with a 4K picture on a top-quality, large OLED screen. Even 'visually impaired Freddy' could tell the difference.

So, I've spent the last 10 years replacing my CD collection with Hi-Res music. In the early days one album, which could be a couple of gigabytes, would take hours to download.

Tidal, a comparative minnow in the streaming caper compared to Apple, iHeart and Spotify was launched in 2015 promising superior sound. Just yesterday Tidal's co-founder – rapper Jay-Z, often known as Beyonce's husband – sold his stake in the business for US $350 million.

When I first tried Tidal six years ago, my internet bandwidth was no match for the torrents of information being piped into my MacBookPro. But just last month, having installed a 5G modem, which provides up to 400mbps, I gave Tidal another shot and fell in love.

The interface is no longer clunky but smooth and, for the most part, elegant and functional. The AI that recommends tracks based on your listening patterns is uncanny. But most of all, the sound is spectacular. Through a new lossless Hi-Res, format called Master Quality Authenticated (MQA) that can compress the original master to a size suited to the average internet connection speed and then with an MQA equipped Digital Analogue Converter (DAC) at the other end, can decompress it back to its original size.

I could wax lyrical ad infinitum about Tidal, but enough already.

The real question is: How has it affected my radio listening?

Answer: In terms of TSL, hardly at all.

Really? How can this be, given that according the latest Infinite Dial findings from Edison Research is showing healthy growth trends for steaming services?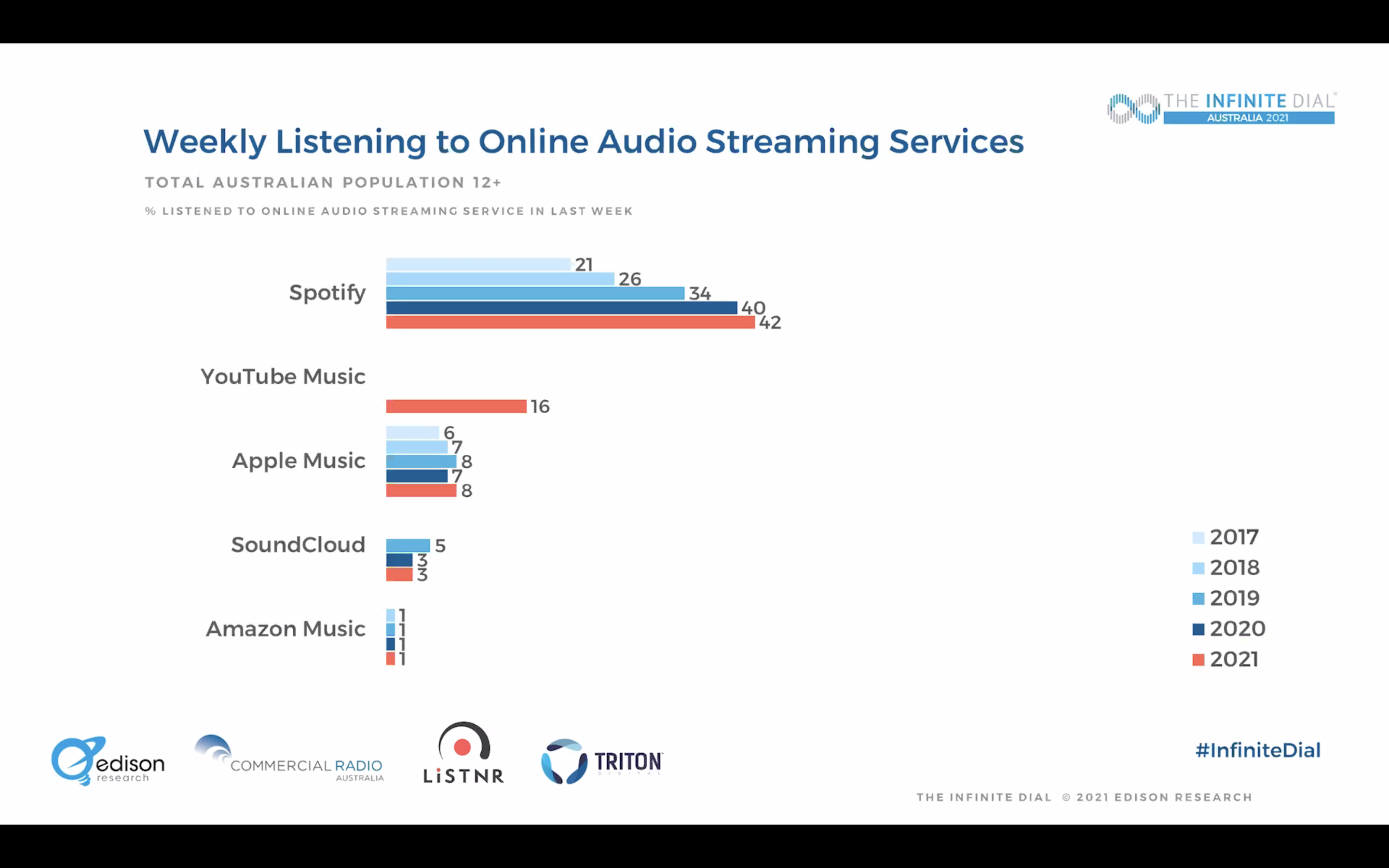 Meanwhile, radio continues to dominate audio listening in its natural habitat, the car dashboard. The real competition is between streaming sevices and owned music.


Radio has always shared 'ears' with owned music. Streaming is just the latest iteration of owned music. By subscribing to Tidal, I haven't given up listening to the radio at all. I've stopped buying Hi-Res music album by album because, now that the sound quality is comaprable, I'd much rather have access to some 70 million tracks.
Ah, but (I hear you say) it's not about TSL so much as share of ad spend. True. But only for a fraction of the streaming services offered. Tidal, for instance, has no free or advertiser driven option. For by far the biggest of the streamers, Spotify, the vast majority of subscribers would rather pay and not listen to ads – which would also suggest that the free subscribers would tend to be in specific demographics and lower income brackets.

None of this is to say that radio doesn't need to adapt to a rapidly changing media landscape. The days of radio being the dominant medium for music discovery are over. But as this graph from Jacobs Media shows (discussed in this article from BPR, radio has more strings to its bow than just music.
---
Subscribe to the radioinfo podcast on these platforms: Acast, Apple iTunes Podcasts, Podtail, Spotify, Google Podcasts, TuneIn, or wherever you get your podcasts.