In what may turn out to be a live audition for a return to 2GB, Ben Fordham today chatted to Jason Morrison.
In 2010, Morrison jumped ship from 2GB to do breakfast on 2UE, up against Alan Jones.
Later, amidst a range of changes at 2UE, Morrison was moved to drive, and, at the end of last year, was not renewed.
Fordham and a range of callers today welcomed him back on air at 2GB, with Fordham forshadowing a regular spot for Morrison in future.
Morrison was in good form after two months out of radio, commenting on government policies on violence and giving insights into the internal workings of state parliament. He currently writes a column for the Daily Telegraph, but otherwise "doesn't have any income at the moment."
Click the pic to listen to the audio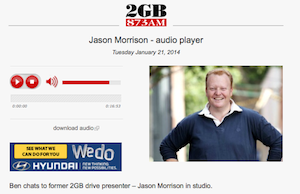 or listen here.