Comment from ​Jen Seyderhelm
Jen Seyderhelm has been working non-stop this last month. Apart from her full-time job as Breakfast co-host with Paul Holmes on 2CA in Canberra, she's been conducting podcasting workshops on weekends.
Yet, she's found time to write this insightful article for us about some of the things she teaches and what she's learnt from her students – Peter Saxon, Managing Editor.

One of my first podcast courses was to an Indigenous group in South Australia. At some point after we'd broken the ice, I set them up to interview each other. One of the men, who I remain in touch with, approached me privately and said, "Jen, let's not call them interviews. We don't do interviews – we yarn or have conversations. Call them conversations from now on."
I did, and that conversation changed how I teach.
Last weekend I taught a group in my hometown of Canberra. It consisted of public servants, historians, three finance industry work colleagues and a joyful young woman who beautifully described herself as "living with a disability which doesn't affect her voice and ears so she wanted to discover how she might use them better."
Day one: I get them to interview each other, pairing up with people they know to immediately build a rapport with. I encourage them to use the interview toward whatever purpose has brought them to the course in the first place. The results are formal, researched and structured.
Day two: I pair them up with someone they haven't interacted much with. I tell them to find common ground and create a ten-minute conversation on that topic.
One of last weekend's group asked me what the point of the exercise was?
I gave him my reply, but the best answer came as we listened back to the conversations, recorded by each of the duos.
Chris is one of the three financial advisors. He was paired with oral historian Mary Anne who had just returned from recording in the Pilbara region of Western Australia. They chose family history as their connecting topic.
Chris spoke of how, in his professional capacity, he has potential clients fill out a questionnaire prior to meeting with them. He'll glance through it and then use his own mental list of what he feels he needs to know to offer to best assist them initially and into the future. He sees people through births, deaths, marriage, home and business ownership, their family histories.
Chris spoke of how he'd recently contacted a husband and wife, who were long established clients of his, after they failed to attend a scheduled appointment. Their daughter answered the phone and said that her father had very suddenly passed away. Chris said he had to take time out of the office that day, so distressed was he at the news.
Despite this conversation going over the time I'd allotted them, Mary Anne knew to let Chris finish telling this particular story. After listening back, we paused a moment and then spontaneously applauded them both.
Chris looked like he'd been pole axed.
I asked him if he felt he'd said too much. We'd talked earlier about privacy, codes and practices applicable to a work-related podcast.
He nodded.
I told him that his story and his personal way of connecting with his clients so that they were more than just a business transaction came out so authentically in this conversation, it was exactly what would make me ring his firm and seek him, Chris the empathetic human being, as my financial advisor.
Last week my breakfast colleague Paul Holmes and I went to visit a business called Endangered Heritage to record a quick interview about an upcoming skills and trades expo where they had an exhibit.
Endangered Heritage is one of the only places in Australia where you can get paintings, glassware, china, tapestries, medals, weapons including swords, photos and more repaired and restored. They represent a dying breed of artisans, hence the expo.
We recorded three minutes of audio but then the good stuff came out.
We heard about a bikie who needed his teddy repaired and was unprepared to stand still lest anyone recognised him through the shop window.
The family who were prepared to pay whatever was necessary to have an Easter Show type prize re-stuffed as it was the only toy that remained belonging to their child who had died from SIDS.
A tapestry that a family put into storage as it was starting to fade who shortly thereafter lost every single other possession in the 2019/2020 bushfires.
The couple, Victoria and Andrew, who run Endangered Heritage have the most unique code of values to how they apply their time and skills. Victoria told me that while bulk of their work is for the national institutions, the rest of their work isn't for the upper class, as you'd expect. Rather it's largely for everyday people, perhaps second-generation Australians or those who have experienced times of great hardship. Because of their lack of a house full of "stuff", what they have, and the provenance attached to it, matters. They are prepared to pay to keep such items alive within their families.
This is what a conversation is all about. I'll remember this conversation long after I play the Endangered Heritage interview "we're doing this event, at this time and place," on my breakfast show.
Commercial radio interviews, depending on where you work, tend to only run for maybe three to up to ten minutes if you are lucky. I don't have time to get to know the person I'm speaking to – or their story.
There will always be a need for the immediacy of a short, sharp, structured interview, but, what I believe has the power to affect change in my experience, attitude and perspective, is a genuine and authentic conversation.
Radio is fun, fast and quickly disposable snippets of where we are right now.
Podcasts allow the time and the space to get to what I feel is the good stuff. The best stuff. The reasons why we work, live and love in the first place.

About the author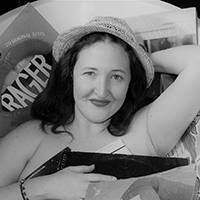 Jen Seyderhelm is an announcer, podcaster, producer, writer, news reader and music historian.
She's Breakfast co-host at 2CA in Canberra.
Jen's podcast, 20/40, celebrates friendship and connection between two women with a 20-year age gap. She is taken her podcast, teaching and storytelling skills on the road as part of an exciting national conversation project.
---
Subscribe to the radioinfo podcast on these platforms: Acast, Apple iTunes Podcasts, Podtail, Spotify, Google Podcasts, TuneIn, or wherever you get your podcasts.