Canberra's Capital Radio Network has moved into a new home.

radioinfo gets the tour.

Talk station 2CC and Gold music station 2CA are the Kevin Blyton owned network's main stations, as well as DAB+ stations Kix Country, Snow and Canberra Digital.

The new studios are located on Bellenden Street off the Barton Highway, a street that has been cut in half by a new bypass road.
This part of Bellenden Street should probably be renamed Radio Avenue, because there are only three buildings here. At the top of the street is the ABC transmitter building, then further along is this new building, right next to the home of Mix and Hit104.7. The road now finishes in a dead end soon after the three station buildings.

The area behind the buildings is open paddocks for the transmitters. Kangaroos graze in and around the studio buildings.

In 2017, just as construction began for the new building, GM Michael Jones told radioinfo about the plans to move from the ageing building in Mitchell to brand new premises. The construction is now complete and staff have been in the building for almost two years.

When radioinfo visited the new building last week, 2CA breakfast co-host Jen Seyderhelm gave us the tour.

A lot of technical planning went into the new building, with the station's technician Stephen Border leading the fitout.

The studios have four seated positions, one announcer facing three guests all with mics.

The announcer has the console immediately in front of them and two screens on mounts either side.

The two left screens have RCS Zetta playout, the third has Bionic Studio phonebox hybrid and the right screen is Internet web browsing and recording into Audacity.




Equipment:
Axia IQ 8 channel console + 6 channel extension console
Axia IQ Core console engine
Electrovoice RE320 broadcast microphones – 1 announcer + 3 guests
Mika microphone arms with on-air indicator light
Axia GPIO controlled studio on-air light
JBL 3 Series MKII dual studio monitors
StudioHub livewire headphone panels
HP touchscreen monitors on 2x dual monitor VESA mounts
Proxime KVM to Zetta computer located in MCR
Dell Optiplex 9020 computer with Axia IP digital audio for phone hybrid and audio recording
Logitech wireless combo silent keyboard/mouse
Bionic Studio Phonebox digital VOIP hybrid software
APC Smart UPS 750 Rackmount
Kogan 65" dual wallmount tv screens for digital signage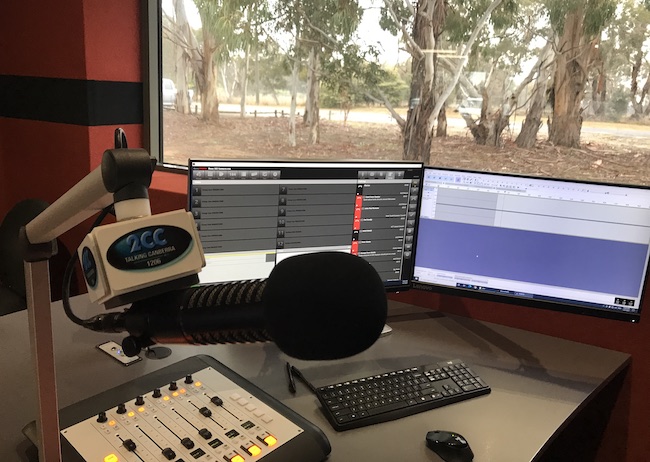 For News there is a single small booth for recording news reads from NewsBoss into Audacity.

Equipment:
Axia DESQ 6-channel console
Axia IQ Core console engine
Dell Optiplex 9020 computer with Axia IP digital audio for recording
Dell 19" monitors on dual monitor VESA mount
APC Backups 650 UPS

The Producer desk has a Dell Optiplex 9020 with Axia IP digital audio for Bionic Studio Phonebox for call screening. There is also an Axia Intercom livewire talkback to each studio and news booth and Audio Technica ATH-BPHS1 broadcast headset for hands free operation

The Audio Production studio has a voice booth attached.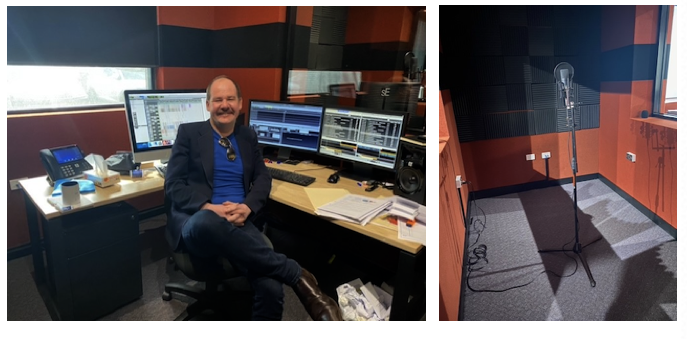 Master control room Equipment:

Cisco 3560G 48-port Gigabit switches for Axia livewire network
Cisco 3560G 48-Port Gigabit POE switches for Business network
Telos Prostream Axia livewire webstream processors
Dell R330 Server for Zetta playout and content store
Dell Optiplex 9020 with Axia IP livewire interfaces
Axia xNode livewire analogue to digital audio converters
Elan RMR-01 off-air receiver monitors
Telos xSelector livewire audio switcher to control room monitors
RVR 400MHz FM STL primary studio to transmitter links
Tieline BridgeIT backup STL analogue audio over IP link
CRL SPP800 stereo audio processors
CRL Amigo FM AGC limiter audio processors
Dell Optiplex 9020 with Axia IP audio interface for iProbe and Pathfinder automation
Dell Optiplex 9020 with Axia iProfiler Server 24-channel digital logger
Dell R330 RCS Zetta server and content store
IDC DVBS2 satellite receivers to external satellite dish
Inovonics 610 Internet Radio Monitors for monitoring web streams
Digitech DAB+ component receivers for off-air DAB monitoring
Tieline Commander G3 codecs for remote broadcast and network station feeds
Eaton 6KVA UPS to power entire control room up to 3 hours in case of generator failure
NBN FTTP both Optus and Telstra with automatic 4G failover
Optus Loop VOIP PABX
---
Subscribe to the radioinfo podcast on these platforms: Acast, Apple iTunes Podcasts, Podtail, Spotify, Google Podcasts, TuneIn, or wherever you get your podcasts.