Comment from Jen Seyderhelm.
I took a mini break (thank you Bridget Jones) to Brisbane the other week to ostensibly catch up with my 20-year-old niece.
There were deeper and more practical reasons too.
I wanted to see the house I still own and rent out. It was our first; where my oldest son was created and born.
Then there's our dream home; the one we tried to hold on to but ended up having to sell when my husband was transferred to Sydney, then Canberra.

I lived nearly a decade in Queensland. Despite being brought up in the house in Western Sydney, moving frequently as an adult and coming up to five years now in Canberra; I think I wanted to know, via this trip, if Brisbane still felt like home.
The day before I was due to leave, Lizzie (my niece) and I were tired and uncharacteristically cranky. I'd been sleeping in her shared Queenslander with my head next to an open window where I could almost touch people walking by. It was unbearably humid and the fan we bought from Kmart didn't work. The house had one toilet and no privacy. I'd come from my Canberra abode filled with my kid's whooping cough and was already running on empty.
This day I drove Lizzie to the Gold Coast for an audition. We planned to go bushwalking afterwards but instead I asked if we could stop past the dream home. Lizzie agreed and introduced me to new artists and music on the way there via her Spotify playlist.
I get the Triple J Hottest 100 CD every year for my birthday. Most of the songs I recognise are due to Lizzie. She knows my tastes but also pushes the envelope. For the record, I DID correctly identify Tones and I, Lizzo and Lewis Capaldi. I didn't know Hockey Dad, Girl in Red or Cub Sport, but I liked them all.
We were using Google maps. Coming down the M1 I asked Lizzie to turn it off as I knew my way "home" from there.
But I didn't.
Everything had changed. New roads and landmarks. Identifying features had vanished. Twice I took the wrong turn, twice Lizzie put the GPS back on and by the third time, driving an unfamiliar car in what felt like apocalyptic terrain, I was overwrought and Lizzie, frustrated.
Finally, we arrived to find the dream home now had a sparkling pool. I went around the block and pulled up in a tinder dry but familiar reserve with a public bathroom. We'd been in the car now, on and off, for several hours. Despite the 35+ heat, no sunscreen, sunglasses or hat, I asked Lizzie to do a walk with me that I had often done from the dream home with my dog. She complied. Even writing this I can feel your empathy toward my beautiful niece as, yet again, I couldn't get my bearings.
Eventually I gave up, stalked back to the car dripping with sweat and allowed Siri to direct us back to the share house.
Lizzie put on music and we were quiet for a while. She apologised for grumping (which, given the situation she was more than entitled to do). I apologised too and said,
"I'm never going to be a Triple J announcer."
I know. WTF?
I'd arrived in Brisbane thinking I could fit right back in where I'd left. Brisbane had moved on without me. While I have absolute confidence that if I up sticks there tomorrow, I could find my feet; I'd have to work BLOODY HARD at it. As it stands, I no longer know Brisbane at all.
I also realised that I really like the creature comforts of my home in Canberra. No more share houses and fridges, flatmates, late night parties and lack of toilet privacy for me.
I remember when one of my work colleagues at 2CC/2CA first called me Mother Jen. I was miffed as I wasn't emotionally prepared to be labelled so. Bizarrely, that colleague was ten years my senior. One of my much younger colleagues cottoned on to my lack of readiness to feel so aged, and instead dubbed me Jen Jen. They still call me that and I like it. Now, I know I'm not the spring chicken in the coop. I am a mum; I do feel a responsibility of care towards those who are younger than me. I don't want to present as mutton dressed as lamb (one of my own Mother Margaret's choice phrases there), nor do I want to fake youth for a radio audience I don't fit anymore.
Equally, I remember the first Saturday I presented on talk station 2CC. I'd spent the evening prior doing research into which political party our ACT Legislative Assembly members belonged to. I was most afraid of incorrectly aligning them on air. Only a couple of months later there was a trivia quiz in the Canberra Times where you had to correctly identify the whole assembly. There are 25 sitting members. I got them 100% and think I probably still could. That's a big change from trawling the socials for celebrity gossip. Even more surprising is how much I've enjoyed that evolution from a music announcer to a talk host and interviewer.
I've a long-standing love affair with Julia Zemiro and Myf Warhurst. Myf has recently announced she is leaving her lunchtime local ABC show saying,
"I've got to tell you….I'm getting a bit croaky, what a wonderful experience this has been."
She is, in my opinion, still at the top of her game. But, reading between the lines of that quote, she'd rather pass the baton before the baton falls from her hands.
Triple J has committed to a massive shake up for 2020, including a female duo on breakfast (yay!). As always there is some resistance to change; but what makes Triple J great is exactly that foresight. They evolve to meet a youth market. Not that I listen anymore. I'm a bit in love with classic hits stations that play the hits of MY youth. I'll also go some early naughties, country, Smooth or rock. And pretend I'm savvy with my Hottest 100 (CD) purchases.
I also know that on air I can no longer speak the language of Triple J. I'm not sure I ever could. I admire announcers and producers who can adapt to different radio genres, styles and audiences. I also admire those who seem to know exactly when to seek new opportunities, rather than have new opportunities forced upon them. Radio seems an unsteady ship at the moment.
My trip up north showed me that, like it or not, I am now at home and established in Canberra. Waltzing back to Brisbane expecting familiarity was like rocking up at an old ex-boyfriend's house and expecting him to love me, my kids, pets and irrevocable habits without question. Forget about his needs, interests and lifestyle – he'd adapt for me (oh, and my husband – I'd better bring him too)!
The assumption of familiarity, and expectation of adaptation and blinkered adoration has done in more than one breakfast team over the last couple of years. You have to work at it, start from zero and build the relationship with your audience from the ground up. Full kudos to Christian O'Connell for his success at this, and from a former UK home and fan base.
Have I got creaky and croaky? Nope. Well, maybe a little. But, as the fairy tale goes, sometimes you kiss a frog and get a prince. Or kiss a bachelor and get a honey badger. Or kiss, and get I was made for loving you baby (sorry).

I'm just being realistic about my ability to adapt, willingness to move and acceptance of being more "Mother Jen" than Triple J. I'll still get the Hottest 100 Vol 27 on CD for my next birthday in February. Yes, I'll ring Lizzie for pronunciation and artist advice before I talk about it to anyone, but you never know, it might also be me who makes the news after crowd surfing at the next Hockey Dad gig.

About the author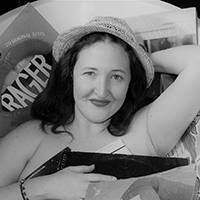 Jen Seyderhelm is an announcer, podcaster, producer, writer, news reader and music historian. She works for 2CC in Canberra.
Jen's podcast, 20/40, celebrates friendship and connection between two women with a 20-year age gap. She is taking her podcast, teaching and storytelling skills on the road in 2020 as part of an exciting national conversation project.