Summer, the time for holidays, the festive season, family vacation and time to throw out your old unwanted radio line-up and fit into something new.

Changes for 2019 include a major shake up for one Sydney breakfast program and wholesale changes for the ABC in Darwin.
Overall the ABC appears to have made the most sweeping changes nationally.
SYDNEY
Despite the rumours, Alan Jones looks set to resume at 2GB, though that could change at any time.
Triple M has made the biggest change, launching Lawrence 'The Moonman' Mooney to take over from the defunct Grill Team and Head of Content Mike Fitzpatrick says that this show will be unlike any other on Sydney radio: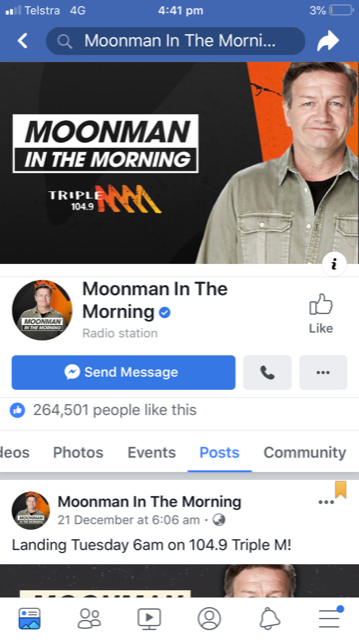 "We can't just re-do the Grill Team. It's time to move on. This will be a real comedy and music show that gives Sydney a unique look at what's happening in the city and plays the biggest rock hits. From Parramatta to Palm Beach, Cronulla to Castle Hill, this will be a show to make Sydney laugh."
Moonman's new show's facebook page has gained over 264,000 followers even before it has started. It is not known if these were organic followers or if the station migrated over its previous listeners to the new social media account.

Ash London moves into a permanent role alongside Grant Denyer and Ed Kavalee at 2DayFM and Hit Network head of content, Gemma Fordham, says, "The chemistry she has with Grant and Ed will only continue to flourish and we are excited about what is ahead for them!"

Behind the scenes Kyle & Jackie O have appointed Sonia Jahshan to the role of Executive Producer.


BRISBANE
With the Moonman landing in Sydney, Triple M Brisbane has added Nick Cody to The Big Breakfast with Marto and Robin Bailey with sporting all-rounder Ben 'Dobbo' Dobbin to present breaking sports news throughout the show.
While not appearing on the Big Breakfast, the Moonman has left his address book behind, meaning the former Prime Minister of Australia, Malcolm Turnbull, Rusty Crowe, Finance Minister Mathias Cormann, Shane Bourne and Prince Charles are likely to make appearances.
At ABC Radio Brisbane, Loretta Ryan joins Craig Zonca for breakfast while Rebecca Levingston moves to mornings.
PERTH
ABC Radio Perth will now feature Early Breakfast(4am-6am) with Barry Nicholls, with a new breakfast show with Russell Woolf & Nadia Mitsopoulos.
GOLD COAST
Luke Bradnam and Margaux Parker will host The Rush Hour, the new Gold Coast Drive show on Gold 92.5.
DARWIN
ABC Radio Darwin has a brand-new line-up across the station with Jo Laverty into Breakfast and Adam Steer moving into Mornings.
Mikaela Simpson gets Afternoons, and Liz Trevaskis will begin Drive in March following Georgia Hitch, who will host the program for the first 2 months of 2019.
Richard Margetson is hosting Evenings with Joel Spry and Jess Ong sharing duties on the weekends, while Ryan McArthur is the stations new Saturday Breakfast host.
HOBART
ABC Radio Hobart will have a new Drive announcer with well-known journalist Lucy Breaden in the chair.
Steph MacFie is the new Anchor/Executive Producer of Hobart Triple M's, Dave Noonan Show with Al Plath.
NEWCASTLE
At 1233 ABC Newcastle, Breakfast gets a facelift with Jenny Marchant and Dan Cox, while former Breakfast host, Aaron Kearny, is back to host Drive.
BENDIGO
Keeshia Pettit (previously Hit 1069 Newcastle) will join Tim Reuben on Hit 91.9 for Breakfast, and Kylie Stevenson moves into breakfast with Bryan 'Cogho' Coghlan on Triple M.
GOSFORD
Shad Wicker moves from Hit 103.5 Cairns to 2GO on the Central Coast and will join Mandy Coolen for Breakfast.