The CEO Magazine is calling for all media leaders to apply for the Media Executive of the Year award in The CEO Magazine's 6th annual Executive of the Year Awards.
The awards recognise the achievements of leaders and professionals over the past year, and the contributions they have made to their companies across industry-specific categories, as well as job-specific and recognition awards, and the major award, CEO of the Year.View the full list of the 2016 winners here.
Previous winners of the Media Executive of the Year Award include Atomic 212 Group CEO Jason Dooris (2016), Dentsu Aegis Network CEO Luke Littlefield (2015), Leo Burnett Managing Director Peter Bosilkovski (2014), REA Group CEO and Managing Director Greg Ellis (2013) and Prime Media Group CEO Ian Audsley (2012).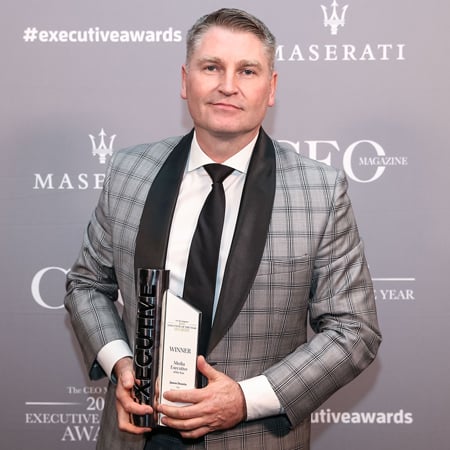 2016 Media Executive of the Year winner Jason Dooris (left) said: "The awards see you pitched not only against the best in your category but also the very best CEOs across Australia. While winning is indeed the highlight, connecting with so many bright minds is a close second."
The awards event will be held at Crown Melbourne on 15 November, hosted by Eddie McGuire who has MC'd the event since the inaugural awards in 2012.
Applications close 9am AEST, Friday 14 July 2017.

INDUSTRY AWARDS
1. Media Executive of the Year
2. Transport & Logistics Executive of the Year
3. IT & Telecommunications Executive of the Year
4. Health & Pharmaceutical Executive of the Year
5. Hospitality & Tourism Executive of the Year
6. Energy & Resources Executive of the Year
7. Building & Construction Executive of the Year 8. Manufacturing Executive of the Year
9. Retail Executive of the Year
10. Financial Services Executive of the Year
11. Professional Services Executive of the Year
12. Sports & Recreation Executive of the Year
RECOGNITION AWARDS
13. Executive Assistant of the Year
14. Young Executive of the Year
15. Not-for-profit Executive of the Year
16. Start-up Executive of the Year
JOB-SPECIFIC AWARDS
17. Marketing Executive of the Year
18. Sales Executive of the Year
19. HR Executive of the Year
20. CIO of the Year
21. CFO of the Year
22. Chairperson of the Year
23. Managing Director of the Year
MAJOR AWARD:
24. CEO of the Year