Keith McGowan's portrait of a voice from Melbourne. For more than 50 years Lennie Holmes entertained Melbourne from the Stage, on Radio and Television.
In the 50's one of Melbourne's most popular venues was the Galleon Coffee Lounge in St Kilda and it was here that 3KZ made recordings of the performances and broadcast them as "The Oxford Show." Lennie Holmes was one of the Galleon's most popular acts. He drummed, sang, and cracked gags that made people laugh, as he wrote his name in his city's show business history.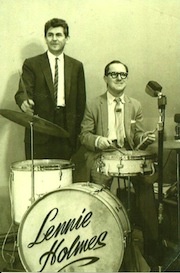 In the 1950's Lennie Holmes and Jim Berenson presented the Breakfast Program on 3AK, the daylight only radio station above a furniture store in the same suburb as the Galleon. Holmes could never imagined that a daughter, to be born years later in 1960 would present the same program on the same call sign.
Lennie Holmes died in 2005, not living quite long enough to see Jane leave 3MP and return to 3AW where she originally started work in 1979.
Educated at the prestigious Lowther Hall Anglican Grammar School in Essendon, Jane says "I did pretty well at school, read a lot, and originally thought I'd like to be a teacher. But when I was 16, I started thinking about a career in radio. So I did a couple of weeks with Clark Sinclair's Radio School and enjoyed that very much.
"Two years later, in 1979 after I qualified to go to Uni, I decided to take a job at 3AW and that was the start of it," says Jane.
Jane's first position was doing office work, research, production and news reading and lasted for six years. 1985 saw Jane at 3DB researching and producing with Bill Tuckey, a broadcaster better known as a motoring expert and author. At the suggestion of Colin Denovan, the then 3XY News Editor, Jane became part of the successful 3XY Zoo with Richard and Peter Stubbs, Peter O'Callaghan, Ian Nicholls and Rick Mc Kenna. Of Denovan Jane says, "He was wonderful, a lovely man, he helped me so much, and 3XY then was so much fun."
Another to leave a memorable mark on Jane was Fox FM's Barry Bissell with whom she shared the morning program for three years from 1988. "Working with Barry was amazing," she says "his knowledge of music was unbelievable….he was the Rock and Roll guru."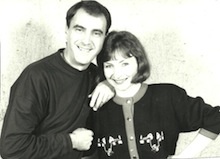 From Fox-FM to TTFM (now Mix) for three not so good years, firstly with Darren James and then her first team up with Kevin John, (left) reunited currently on Magic's breakfast show. A couple of years away from radio and Jane is travelling around the world for the 9 Network TV show, "Talk To the Animals." She recalls, "I got to travel the world to do stories about animals and I just adored it, and I remember my first story was based in Antarctica and about Whales and Penguins, it was like I had died and gone to heaven."
After the TV years, Jane returned to radio and Gold-FM for a while and 3MP for eight years. Jane says, "Those days at 3MP were the dark days, budget was tight, ratings low and there were lots of difficulties. So, when I was offered the chance to return to 3AW in 2007, I grabbed it."
Jane's opportunity to return to her original station came about with the illness of Rosemary Margan. As Rosemary had long been and idol of Jane's she considered it, "an honour to replace her reading the live ads and doing other things on the Neil Mitchell program."
There are not too many spare hours in the day for Jane Holmes. It's out of bed early for the Breakfast Show with Kevin John on Magic, then up the corridor to 3AW to the Mitchell program. Add to the mix the fact that Jane is also one of the Telstra Voices and is constantly required for recording. You'll hear her most times you use a telephone.
Jane has a house, and a car, but no wedding ring, having never married. However she is in a long term relationship with Peter Acfield, the son of Bill Acfield who is well remembered for his "Acky and Jacky" (Jacky Clancy) morning programs on 3UZ and 3XY, then as a news reader on the ABC.
Sadly Bill Acfield was killed in a car accident in 1975. Peter Acfield has worked for a number of call signs and was a popular presenter of the weather on ABC TV.
Jane Holmes spent more than an hour with me at my home discussing her career. After Jane left I thought it odd she hadn't mentioned her year in 2003 doing breakfast on 3AK with Sam Kekovich, an ex-champion North Melbourne footballer, who is the Lambassador for Australian sheep meat producers. After all 3AK was the brand she shared with her dad, Lennie Holmes.
Keith McGowan