Australia's advertising market is now moving decisively out of the COVID-induced gloom according to the Standard Media Index
It's reporting another record level of year-on-year growth in May with total ad spend soaring an incredible 70.8% off the bottom of the COVID market last May.

The phenomenal growth has seen the Australian ad market move above pre-COVID levels for the first time, with the SMI data showing the May 2021 total represent a 4.5% (or $30.7 million) increase in May 2019 ad spend.

That result is based on data that's been normalised to account for the Federal election that occurred in May 2019 by removing Political Party category ad spend from both reporting periods.

SMI AU/NZ Managing Director Jane Ractliffe says the May data represented the fourth consecutive month of ad spend growth in Australia, with the May 2021 total the highest May total seen since 2016.

"This level of growth is clearly unprecedented and it's safe to say that none of us will ever see such extraordinary levels of growth again with SMI showing there was about $300 million in extra media investment coming into the market compared to May last year," she says.

"And we're now seeing all major media reporting growth in May – with TV and Digital back to pre-COVID levels – so it's really quite a remarkable turnaround given the disastrous results reported at this time last year."

And Ractliffe says the stronger ad demand will continue in June with SMI's Forward Placings data showing the value of confirmed June ad spend (ex Digital) is already 36.4% above that reported in June 2021.

"This month we've seen Outdoor lead the recovery by reporting a 198% increase in year-on-year growth and that trend is continuing into June as we can already see Outdoor's ad spend is 90% above that reported in June 2020," Ractliffe says.

"In Australia the total May Outdoor ad spend is just $6 million below the pre-COVID May 2019 totals, while in NZ the Outdoor media has already exceeded its May 2019 total."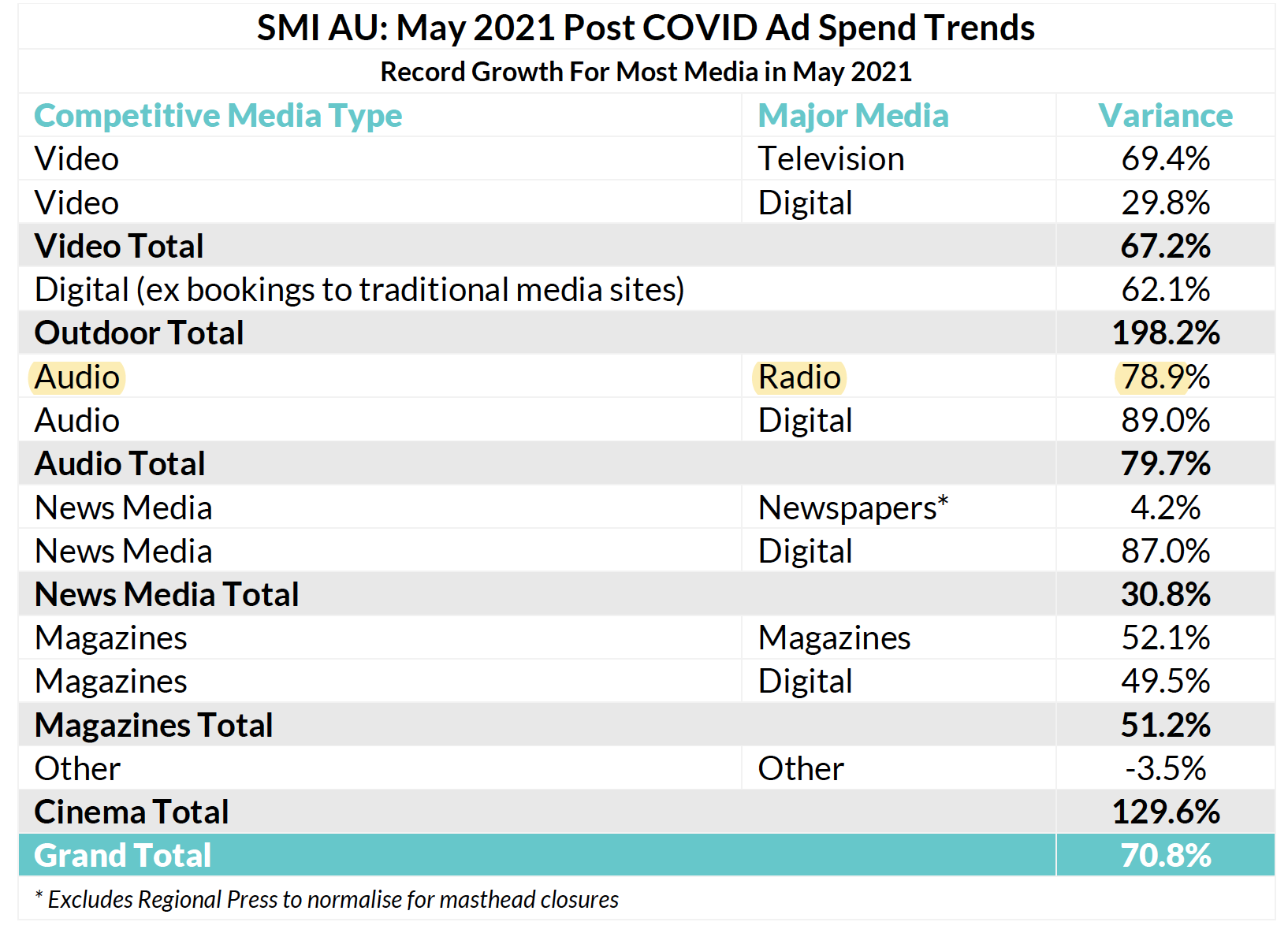 SMI's data shows there are many Product Categories also reporting levels of media investment well beyond that seen in May 2019, with for example the key Retail, Food/Produce/Dairy, Insurance and Restaurants categories all growing their media budgets above May 2019 levels.

But Ractliffe believed one of the most encouraging signs was the fact the Travel category emerged as the fastest growing in May, with total Travel bookings jumping by $31.3 million from May 2020 levels.

"The media investment by Travel advertisers went from $4 million in May 2020 to $36.3 million this month, and that total is not far off from the $44 million spent in May 2019 so you can see the category's ad spend is quickly recovering to the point where it's been restored as the market's sixth largest category this month, "she says.

Among other key SMI ad spend trends for May was the emergence of the Social Media sector as Digital's second largest for the first time, while in Outdoor the Programmatic Outdoor sector broke through the $1 million/month revenue mark for the first time.

The stronger May results have now pushed Australian ad spend this calendar year up 20.1% on last year while the financial year-to-date results have now also turned positive, up 2.9%.
---
Subscribe to the radioinfo podcast on these platforms: Acast, Apple iTunes Podcasts, Podtail, Spotify, Google Podcasts, TuneIn, or wherever you get your podcasts.