The results for the last Newcastle survey of the year have been released.
Top station KO FM was steady at 15.3%, followed by ABC1233 in second place, up 0.8 to 11.9%.
NXFM jumped into third place with a rise of 1.9 share points to 11.6% overall.
New FM rose to fourth place with 10.0%, after gaining 0.7 share points.
triple j dropped to fifth place on 9.9%, with the biggest fall of the survey, down 0.9 share points. 2HD was sixth with 9.8% after a fall of 0.5.
NXFM won 10-17s, triple j won the 18-39 demographics, KOFM won 40-64s and 2HD won the over 65s.
KOFM's Tanya and Steve won breakfast, just ahead of ABC1233. 2HD's John Laws won mornings, KO won afternoons and drive. ABC1233 won evenings and weekends was won by KOFM.
The survey was conducted for CRA between Sun May 4 to Sat Jun 21, Sun Jun 29 to Sat July 5 and Sun Aug 17 to Sat Aug 23, Sun Aug 31 to Sept 20, Sun Sept 28 to Sat Oct 25, 2014.
Click the chart to enlarge it.
Refresh this report during the day for the latest updates.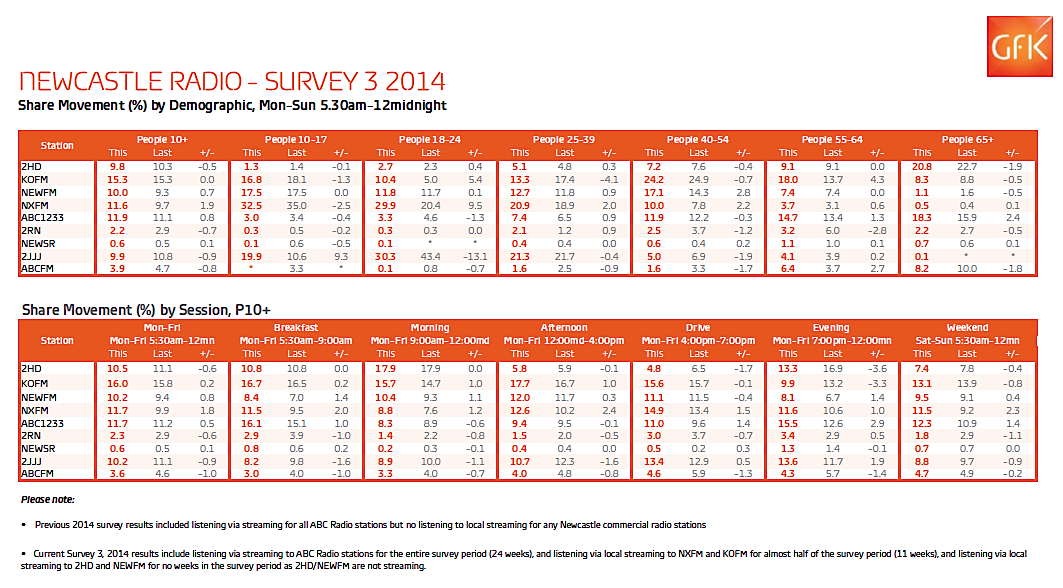 Spin Cycle…