Chart Highlights – 28 November 2019
Biggest Mover: Guy Sebastian rises 62 frames to No.25 with 'Let Me Drink'​
New No.1: Maroon 5 moves into the top spot as 'Memories' gains 56 spins​
New Music: Arizona Zervas in at No.37 with 'Roxanne' receiving 183 spins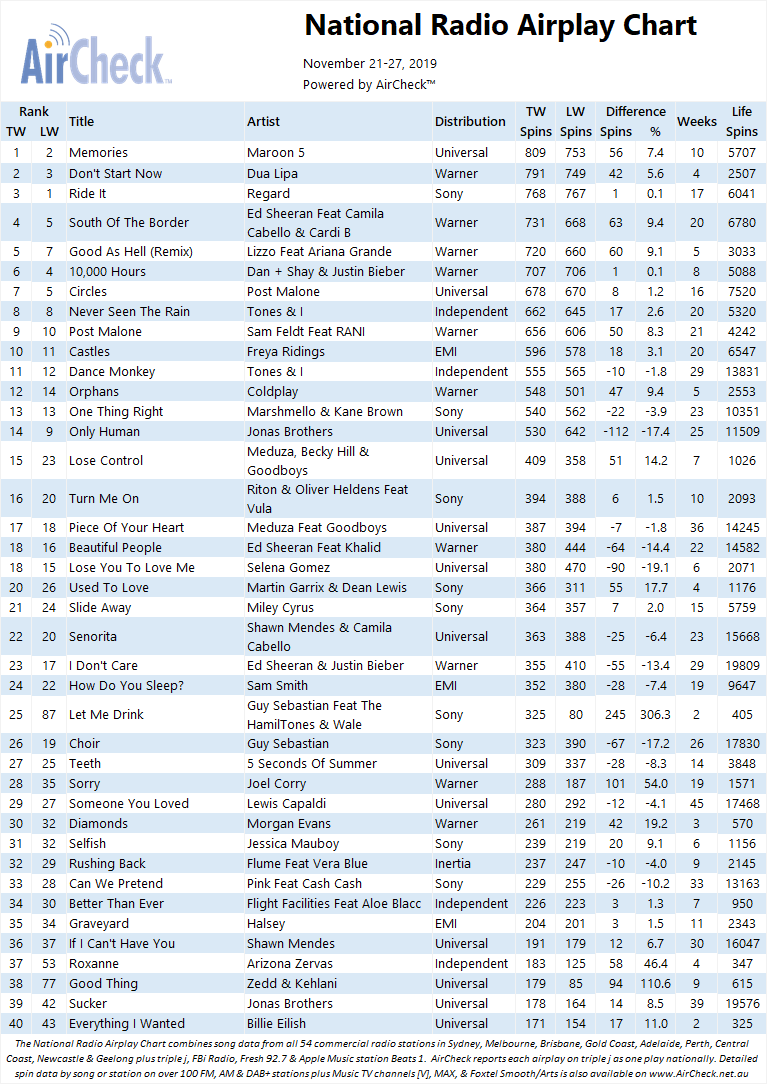 This week Guy Sebastian's 'Let Me Drink' was the biggest mover on the AirCheck National Radio Airplay Chart, up 245 spins to No.25. The track earned 325 plays across 18 stations, with Nova919 Adelaide out in front adding 37 instances. Sebastian collected two ARIAs at the award ceremony last night, taking out Song and Video of the Year for 'Choir'.

Fellow Aussie Tones & I was in at No.8 and No.11 with 'Never Seen The Rain' and 'Dance Monkey'. She also had a successful night at the ARIAs, taking home four trophies for Best Female Artist, Best Pop Release, Best Independent Release and Breakthrough Artist.

Maroon 5 gained 56 spins, launching 'Memories' into the No.1 spot with a total of 809 spins. Nova969 Sydney was the track's top spinner, followed by Hit92.9 Perth, each adding 45 and 44 spins respectively, while 27 stations in total played the track.

American rapper Arizona Zervas entered the chart at No.37 with 'Roxanne'. The track earned 183 spins across 15 stations with Sydney's The Edge out in front contributing a massive 52 instances. The track recently topped Billboard's Streaming Songs chart.