Chart Highlights – December 2, 2021
Heating Up: Niall Horan & Anne-Marie score No. 25 debut
Big Movers: NEIKED, Dean Lewis, Becky Hill hit new peaks
Chart Milestone: Elton John & Dua Lipa make it 10 in a row at No. 1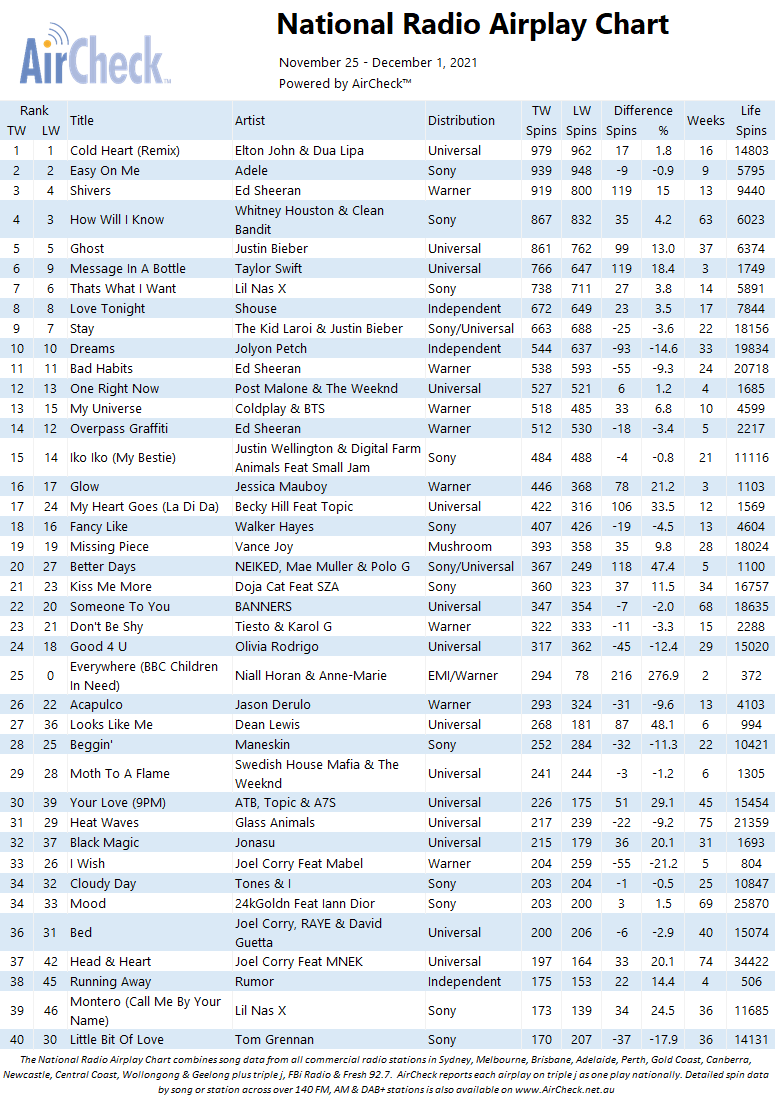 Niall Horan & Anne-Marie band together to debut at No. 25 on the AirCheck National Radio Airplay Chart with charity single 'Everywhere'. The dance-pop banger is one of two Fleetwood Mac covers to feature on the current chart, the other being 'Dreams' by Jolyon Petch (No. 10).
KIIS 1065 offered up the most spins for 'Everywhere' with 39, while the Nova network (165 spins across five stations) and Wollongong's i98 (21 spins) were among the top supporters this week. Niall & Anne-Marie's previous collab – 'Our Song' – peaked at No. 37 on the airplay chart in June.
A number of songs worked their way up the chart this week. 'Better Days' by NEIKED, Mae Muller & Polo G is peaking at No. 20 after a spin increase of +47.4%, as is Dean Lewis' 'Looks Like Me' at No. 27 (+48.1%) and Becky Hill's 'My Heart Goes (La Di Da) ft. Topic (No. 17, +33.5%).
Elton John & Dua Lipa's 'Cold Heart (Remix)' notches its tenth consecutive week atop the airplay chart. It also becomes the first song in 2021 to hit double digits for weeks spent at No.1. Released back in August, the smash hit is still receiving strong airplay across the Hit Network, Edge, Nova and smoothfm.