For the first time, radioinfo is covering the results of a tv company.
But Nine Entertainment Co is no longer just a tv station. With the Fairfax merger Nine now owns newspapers, digital assets and the largest share of Macquarie Media.
The company delivered its first half year report today, for the six months to December 2018.
On a Statutory basis, Nine reported a Net Profit After Tax of $172m, down 1% on the previous corresponding period.
On a Pro Forma, Continuing Business and pre Specific Item basis, Nine reported Group EBITDA growth of 6% to $252m, on Revenue of $1,204m (-3%) and Net Profit After Tax and Minority Interests of $126m (+5%).
Highlights include:
Strong FTA share and double digit cost reduction, offsetting weakness in the FTA market
39% growth in Digital & Publishing EBITDA underpinned by >50% growth in both Metro Media and 9Now
Broadly flat contribution from Domain (ex Consumer Solutions businesses) in a cyclical housing market
About 1.5m active subscribers at Stan, growth of more than 60% over the 12 months, with Stan expected to move into profit from Q4
CEO Hugh Marks said: "The merger with Fairfax has created Australia's pre-eminent media company, with a diverse suite of assets that now reach more Australians each week than those of any other local media company.
"This half year result is a testimony to the new Nine. With around 55% of our revenue coming from a stable base of broadcasting and 45% coming from businesses that are in strong long term growth markets. Meaning we've been able to grow EBITDA through a more demanding operating environment, at the same time investing for the future of our business.
Nine is now uniquely positioned through the combination of the operating strength of our traditional media assets as well as an increasing exposure to the continued transition of the market towards digital media assets."
Commenting on Macquarie Radio, Marks said:
"Macquarie Media (ASX: MRN) reported its H1 FY19 results on 15 February. Reported revenue was broadly flat at $68m – the Group's News Talk network continuing to outperform the overall radio market, with 4% revenue growth, offset by the short-term revenue impact of the launch of Macquarie Sports Radio. EBITDA, before Specific Items of $15.4m, was down around 5% on previous corresponding period."
Nine's share in Macquarie Radio contributed about 10% of broadcast revenue and a tiny fraction to the total group revenue bottom line, according to figures in the half year report.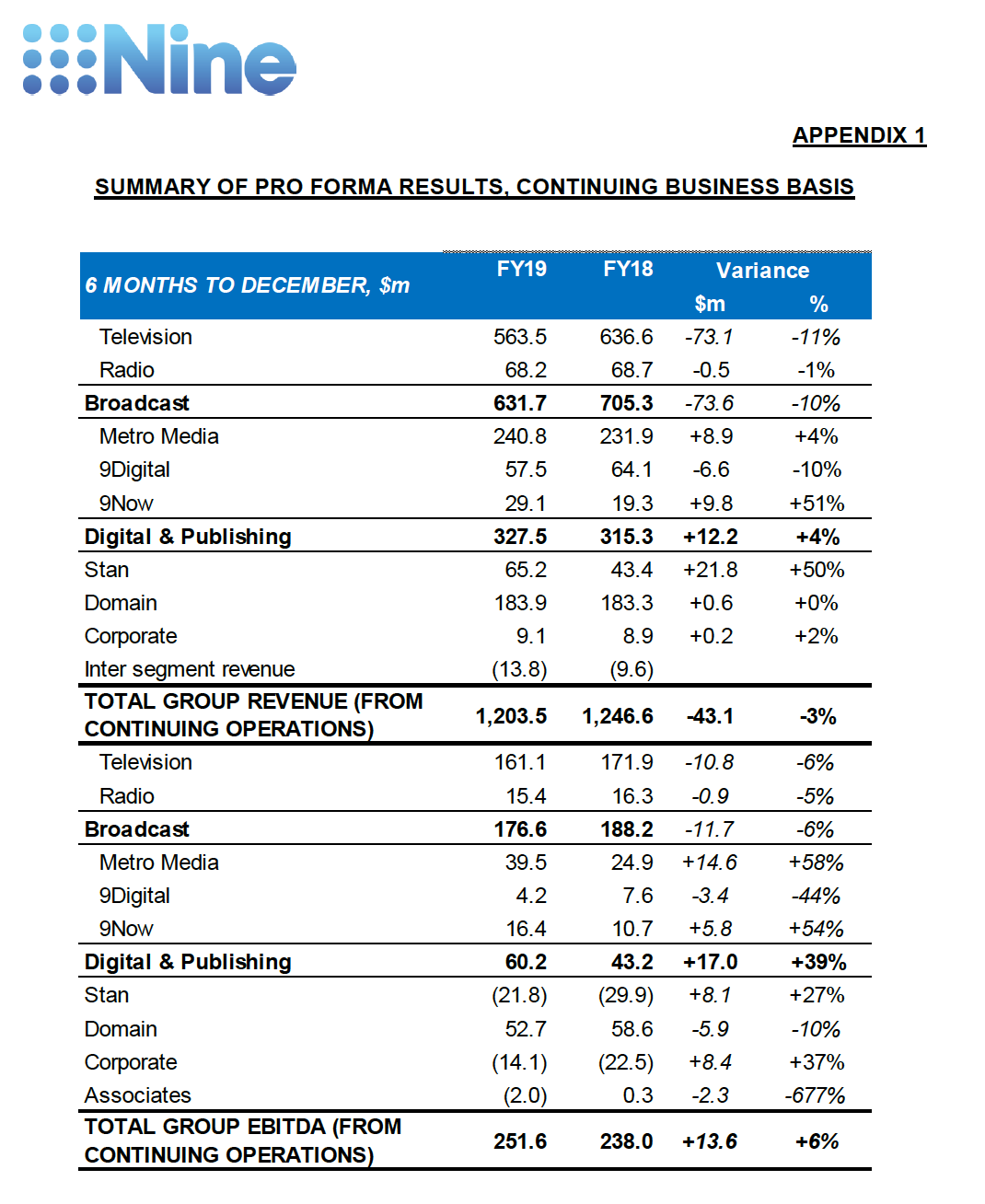 Since the recent changes to cross media ownership rules, the ACMA now compiles a dossier on all owners, which is a useful reference on who owns what. Nine's ownership register is below, as of last month (click to enlarge).