NOVA Entertainment has secured strong digital results across all devices with the number one place in the radio category, the biggest jump in rankings within Australian digital publishers and significant year on year growth since the station launched its new digital platforms.

Since implementing NOVA Entertainment's new digital strategy with the re-launch of novafm.com.au in October 2014 and ensuring all sites are optimised for mobile, video and social, the company has seen strong performances across multiple devices and categories.

Off the back of this strategy the novafm website has eclipsed the more established digital publishers and is now placed second only to News.com.au – within the multi-entertainment category.

The Novafm website is number two in the Entertainment category multi-entertainment on all devices, moving from ninth to second ranking, with 207% year on year growth, and is also number two for mobile, moving from fifth to second and with 294% YOY growth.

Novafm.com.au is the number one site in the radio category across all devises in Melbourne, Brisbane, Perth and Adelaide and is the fastest growing radio brand on mobile devices.

Despite strong competition and the arrival of international brands into the local market, since October 2014 NOVA Entertainment has experienced the biggest jump in rankings for Australian Digital Publishers with 181% YOY growth on all devices, and 274% YOY growth for mobile.

Angus Stevens, NOVA Entertainment Digital Content and Product Director said,
"The launch of Nova's new sites 12 months ago was the first step in our plan to extend the brand beyond radio and become a significant digital publisher within the entertainment category. Our mobile, video and social first strategy has built out our digital community, and by using the Nova filter to capture everything on the web that we know our audience will love and share, we've generated huge audience growth."

NOVA Entertainment's content strategy has been based around the premise that "the content we share is how we want the world to see us", this philosophy has defined how the novafm.com.au site was built and has generated audience growth independent of the on-air audience.

Nova's 'social first' strategy integrates Facebook, Twitter and Instagram communities throughout the site. This approach has maximised the organic reach of content, with the website's articles automatically integrating into Facebook to generate compelling social hooks.
Every article houses social widgets to allow the audience to easily share content and throughout the site, the social aggregator platform Stackla, harnesses Nova's off-site social conversations and loops them back into novafm.com.au. In addition an audio player that live streams Nova to mobiles, combined with a video hub that offers a big screen experience, allows the audience to access and share all of Nova's content on the site and enjoy an optimised mobile experience.

"The video first strategy whether it be Fitzy & Wippa's videos or the exclusive Nova's Red Room performances, combined with our content partnerships with Jukin Media and Facebook has established Nova as a leading social video publisher within Australia and its brought with it significant revenue opportunities," said Stevens.

Nova's digital growth reflects the company's commitment to building a diversified entertainment brand, and delivers on our vision to create content that is loved and shared by audiences wherever they are.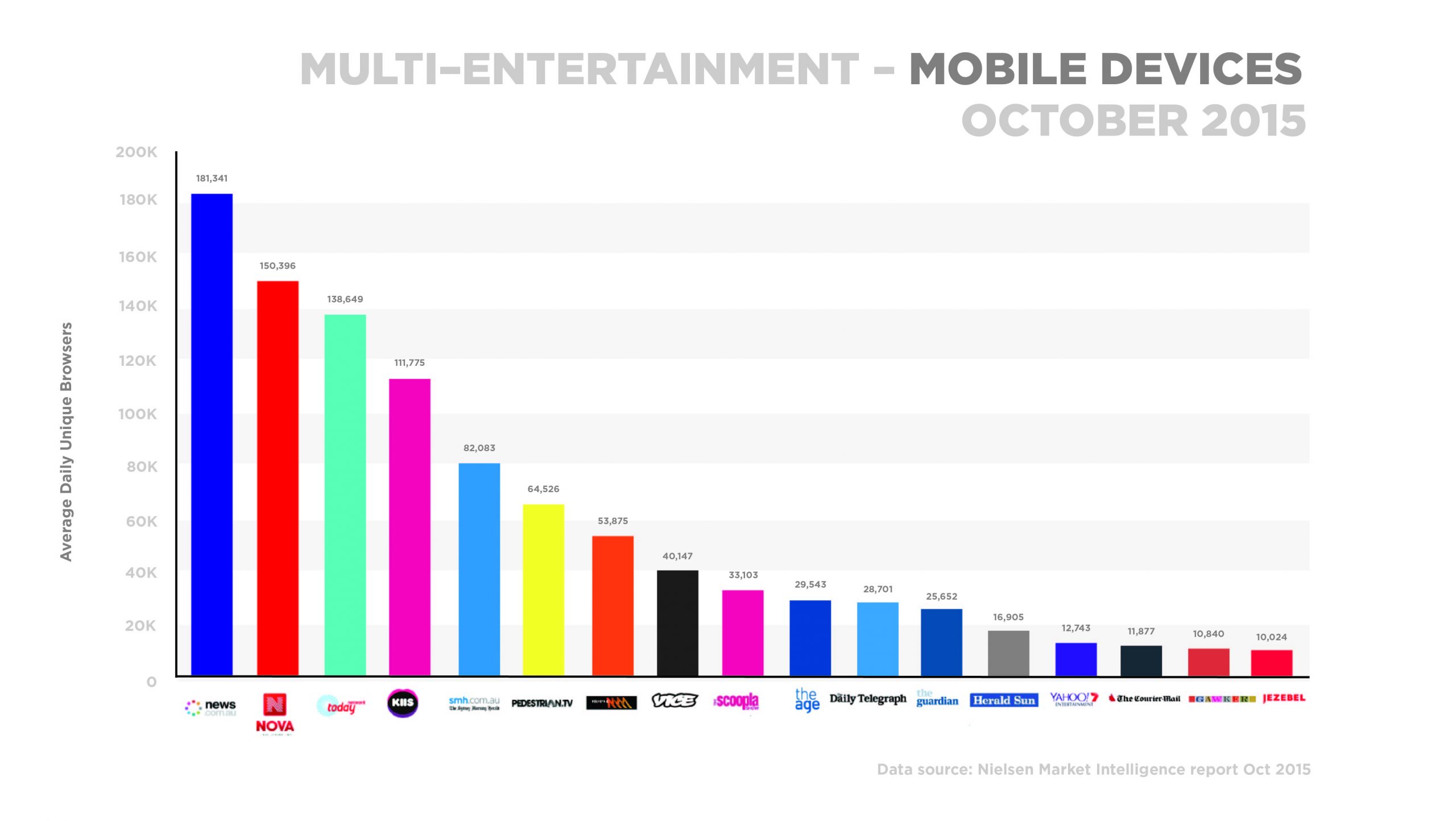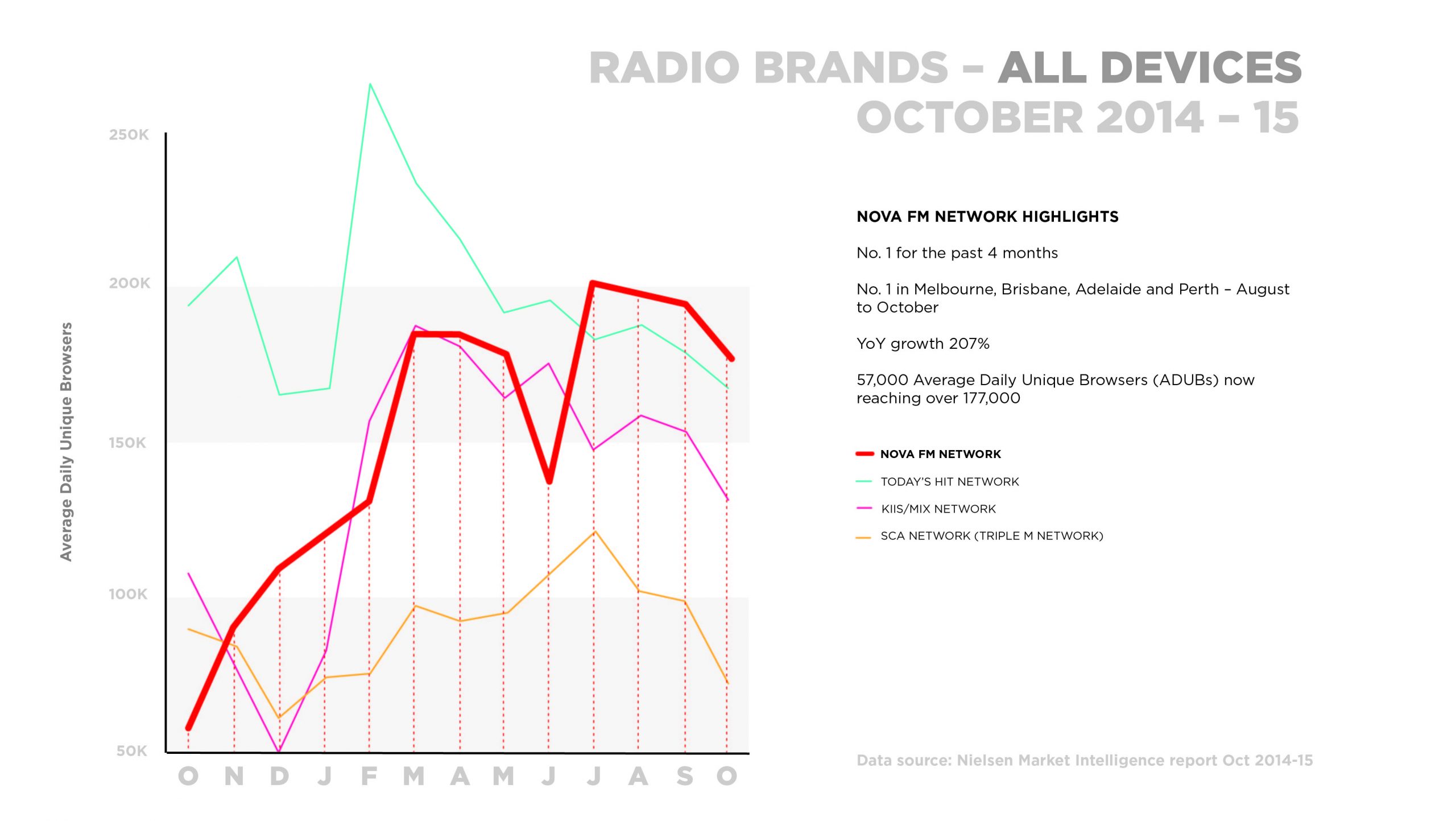 * All figures are industry standard ADUBs Marketing Intelligence reporting October 2014 – 2015