NZME has announced its financial results for the full year ended 31 December 2021, reporting 5% Operating Revenue growth to $349.2 million, Net Profit After Tax of $34.4 million and Operating EBITDA of $66.0 million.
Operating Earnings Per Share increased to 11.9 cents per share, compared to 11.3 cents per share in 20201.
NZME Chief Executive Michael Boggs says he's proud of what the business achieved in 2021, despite the challenges of COVID-19.
He says "As I reflect on 2021, I am very proud of what we achieved, especially in what has been a difficult and uncertain trading environment with the reintroduction of COVID-19 restrictions across the country. We grew our audience reach to 3.5 million across our platforms and achieved strong financial results, growing revenue across NZME's three strategic pillars: Audio, Publishing and OneRoof.
NZME demonstrated progress in its digital transformation, reporting a 37% increase in total digital revenue compared to the 2020 financial year.
Audio advertising revenue increased 11% year-on-year to $101 million and total radio audience market share increased 1.8 percentage points to 37.4%4.
Growth in advertising revenue market share was achieved across all three key channels in 2021; to 40.9%5 in radio advertising, 47.4%6 in print advertising and 24.3%7 in digital display advertising.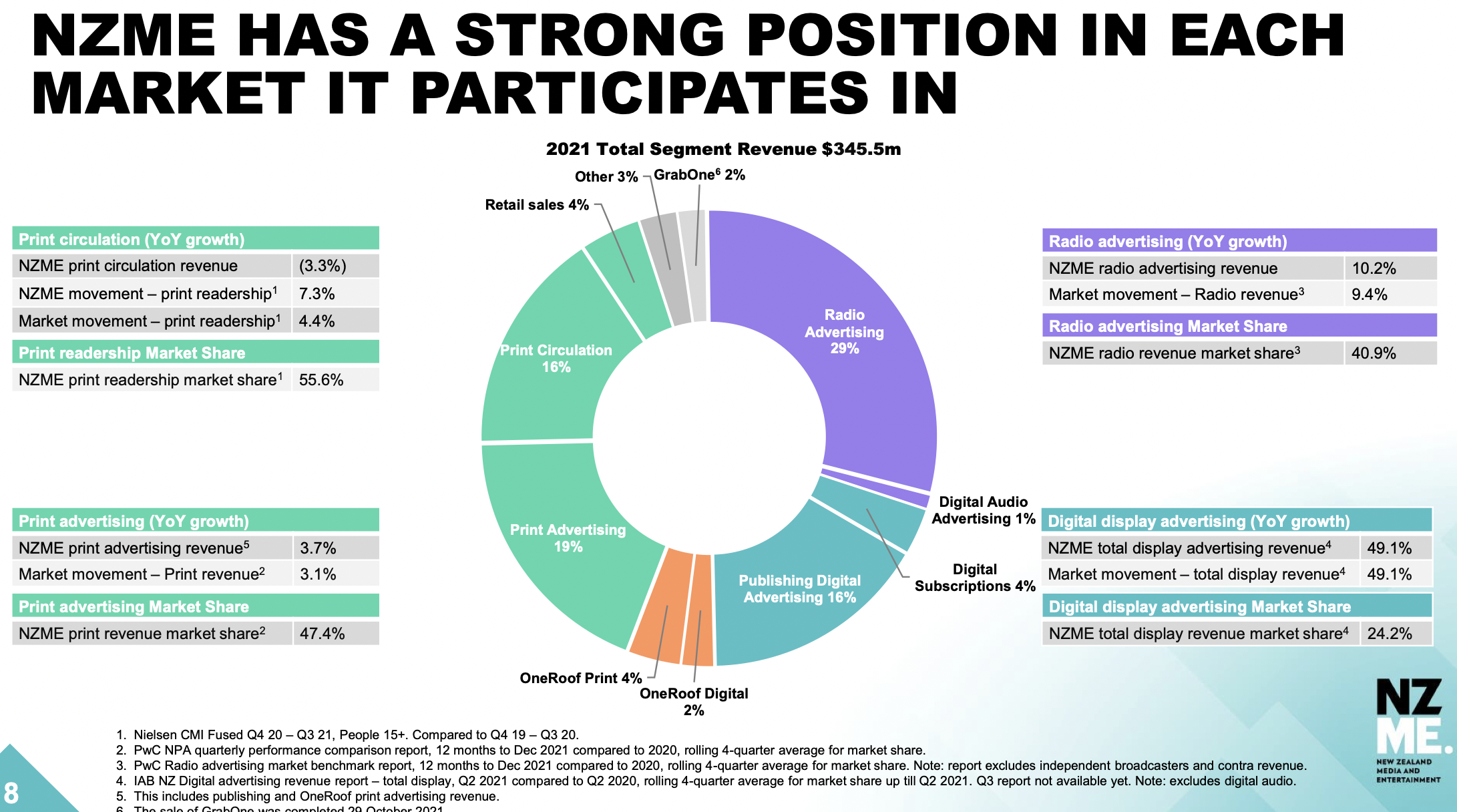 NZME's digital audio platform, iHeartRadio, further cemented its position of being New Zealand's leading podcaster and increased digital listening hours by 25% in 20219.
The company executed on its capital management goals in 2021, including fully paying down debt to end the year in a net cash position of $13.5 million, an improvement of $47.4 million throughout 2021.
NZME Chairman, Barbara Chapman says despite 2021 being another disrupted and challenging year due to COVID-19, NZME's guiding principles and strategic priorities remained relevant and robust.
She says, "The reduction of net debt provided the Board with options on how best to deliver value to our shareholders and we are pleased to have previously announced an on-market share buyback programme expected to commence in March 2022 and a fully imputed and fully franked final dividend of 5.0 cents per share.
"In 2022, the Board continues to focus on delivering shareholder value through dividends and the on-market share buyback, but we also remain in a strong position to make investments that align with our strategic priorities and fuel NZME for growth."