Opinion from Peter Saxon
Last week, we posted an article by Australian expat and media researcher, John Patkin, now based in Hong Kong, who argued that AM/FM and DAB+ were all endangered species. This brought swift rebuke from industry heavyweights such as CRA's CEO Joan Warner, the ABC's Director of Radio, Michael Mason and international radio futurologist, James Cridland.
To be clear, Patkin wasn't exactly saying that radio is doomed, just that its unique delivery systems are.
Some would say it amounts to the same thing – like a recently launched, cheeky little outdoor ad campaign from Holden and Spotify with the message, "Bye Bye Breakfast Radio, Hello Spotify From Your Phone."
As if suddenly the option of playing tunes on your morning commute is going to compell you to dump your favourite breakfast show.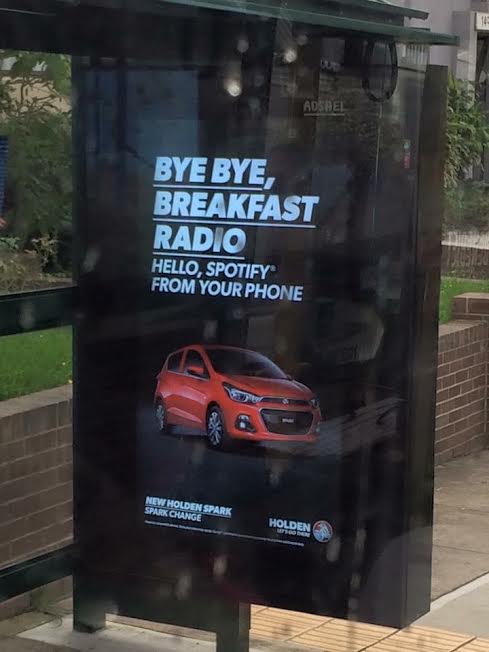 What that ad does, though, is capitalise on the confusion in consumers minds between Content and Delivery… real radio and music streaming services that call themselves radio.
Regardless of how they are delivered to consumers, radio and records are separate products. If you'd rather listen to your own music selection than breakfast radio then there have been plenty of ways to do that ever since the 8 Track player was invented and fitted to motor vehicles more than half a century ago. Streaming services such as Spotify and Pandora are just the latest way to do it.
Sure, these services have some pretty impressive features over the iPods they've replaced. They can recommend new music based on your taste and habits. You can access millions of songs compared to, perhaps, thousands in your own collection and at a cost considerably less per year than you would likely spend on buying albums. Free, even, if you're happy to cop commercials. That is, if you ignore the data download costs.
All of which has, along with iTunes music downloads, impacted upon record stores to the point of extinction but has barely affected radio.
While real radio stations may include a music component as part of its content it is there to interplay with news, weather, personality and other features.
Ironically, what little music a terrestrial station may play still serves to define its format even though Kyle and Jackie O's CHR breakfast show is hard pressed to pump out the hits at a rate of more than two an hour. Which suggests that their audience hangs around for something other than the opportunity to discover new music.
The day may come when the likes of Pandora, Spotify and Apple find a way of competing with local radio presented by live talent. But for now they're struggling with a global business model which, according to Spotify's financials, has racked up a $US197 million loss despite 60 million users worldwide.
That aside, if we agree that Content is King, who cares how it's delivered?
The incumbent terrestrial radio licensees care, that's who.
AM/FM and DAB+ provide the current licensees with exclusive platforms where unlicensed radio operators can't compete. And if audiences abandon those platforms and move online where no licence is required, the value of those licenses – worth up to $150 million 10 years ago – will drop to zero.
In truth, radio licenses are worth next to nothing already. Sources suggest that $6 million is the best offer MML has received for Sydney AM station 2CH. Even Super Network owner Bill Caralis paid more than that ($8.25 Mil) for 2SM 17 years ago.
Between 2000 and 2005, DMG paid almost $700 million for seven metropolitan FM licences for its Nova and Vega brands – and that was before a studio was built, talent signed or a survey result published. By 2012, Lachlan Murdoch's company, Illyria, had bought the entire operation from DMG for around $220 million as a going concern.
Yet, despite the sharp drop in licence values, commercial radio remains a viable business in Australia breaking revenue records month after month. And the ABC still commands a stable share of listening.
For now, the vast majority of radio audiences prefer to listen to terrestrial signals and it's in radio's interest to keep it that way for as long as possible. DAB+ is part of that strategy.
Still, one day everything might be delivered online rendering the playing field level for all kinds of "radio." What of real radio then?
While my crystal ball is on the blink, I'm willing to bet that talent and local content will still be king. And top talent will be in even greater demand and therefore more scarce than it is now.
Only the biggest, best resourced and most professional networks will be able to afford to attract that kind of talent along with the marketing and infrastructure needed to deliver the listener and engagement numbers required to succeed – licence or no licence.
Peter Saxon