"SBS PopAsia is a unique, multiplatform offering," Mandy Wicks tells radioinfo.
At the recent Digital Radio OB in Sydney, the marquee with the biggest crowd, by far, was SBS Radio's PopAsia. How did a little station, that started on digital and online, build such a loyal and responsive audience?
"In a market that was previously unidentified, we now have a community of active fans." It's all about identifying the niche and serving it well says Director, SBS Audio & Language Content Mandy Wicks:
"Young multicultural Australians are often under-served by the media. We recognised a gap in the market in terms of bringing the Asian pop phenomenon to Australia and SBS Radio embraced the idea of creating a community around it; to engage deeply with this group.
"We aimed for our audience to feel that they were not just consuming content, but were an active part of SBS PopAsia – helping shape it, build it, and own it; because ultimately, we created it for them."
The target audience is younger Australians from an Asian background with a passion for Asian pop music and culture.
Asia Pop is a huge phenomenon in every country in this region. A KBS Korea broadcaster told radioinfo recently that her station regularly gets hundreds of screaming fans turning up outside its radio studios when Asia Pop stars are interviewed. The same happened in Sydney when band Nu'Est (pictured below) visited the PopAsia stage at the OB.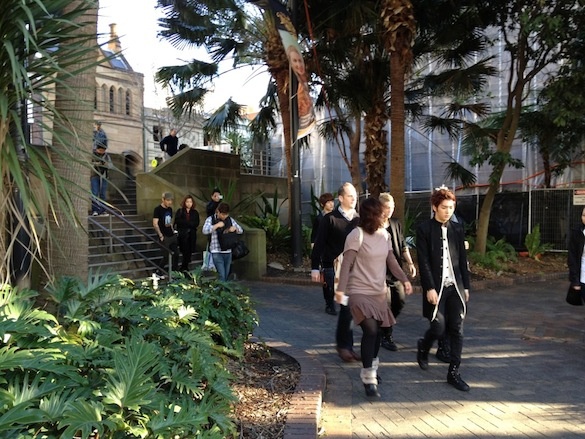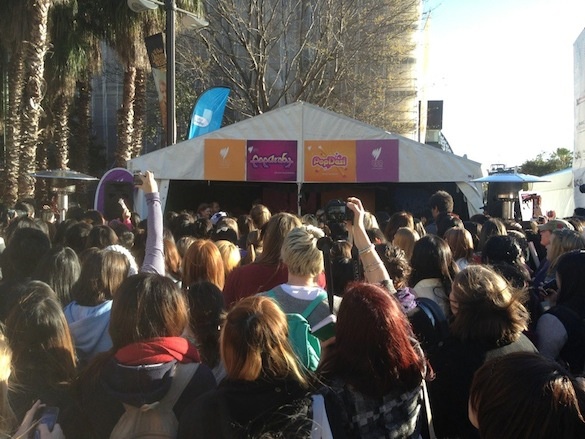 SBS PopAsia is primarily a Digital radio station, but following feedback from the audience, the station has also launched a successful video music program on Sunday mornings, and just recently, a Monday afternoon program also. It has also launched smart phone apps, and mobile and digital radio are now the two biggest platforms driving audience growth.
Twitter is also a big connector for the PopAsia audience, the term "K-pop" features almost every 20 seconds in the twittersphere.
The niche audience is primarily second and third generation Asian-Australian teen girls who are proficient in English, but often speak Korean, Mandarin, Cantonese or Japanese at home, or easily interchange between their Asian language and English when with friends of similar backgrounds. About 70% of the audience is female and under 30.
They are highly tech savvy early adopters, consuming media from many sources and in a variety of languages. They're digital natives, well educated, and keep track of 'what's hot' via Facebook, YouTube and Twitter from Australia, Asia, or internationally.
"What started as a single weekly radio program has grown and expanded exponentially. SBS PopAsia now hosts 10 hours of live radio each week, 24/7 online streaming at sbs.com.au/popasia, two weekly television programs, a mobile app, and a dedicated YouTube channel. It has seen extraordinary growth over the past 18 months," Wicks told radioinfo.
Trevor Long, the Acting Network Manager of SBS Audio & Language Content has been involved in Digital Radio from the early trial days almost a decade ago. He "couldn't be more proud" of the station's achievement:
"The huge crowds and presence for SBS during the recent Radio United OB in Sydney and Melbourne proved to us that we were on the right track. I've always said that Digital Radio would succeed with a couple of clear things – great content and good value devices.
"The devices are certainly getting there and they improve each year, and new stations like SBS PopAsia and our other offerings SBS Chill, SBS PopAraby and SBS PopDesi show that by targeting a niche market and working with the audience to build a sound and a station that they engage with – we can draw big crowds and get excellent audience numbers. It's a great Digital Radio success story."
The station has many live hosted shifts. Jamaica Dela Cruz is the anchor and primarily face of SBS PopAsia. She was born in the Philippines, studied Media and Broadcasting, and hosted her own pop radio show at the age of seventeen. In 2008 she came to Australia and started working for SBS with the Filipino language program, later moving into her role with SBS PopAsia. She relies on her English, Filipino, and Japanese language skills along with a love of anime, Asian pop, Asian drama and cartoons to ensure that the content delivered engages with the audience.
Other presenters include DJ Masta Tea, Princess Ania, JK and Mega Matt. Together, they portray fun, passionate role models for young multicultural Australians.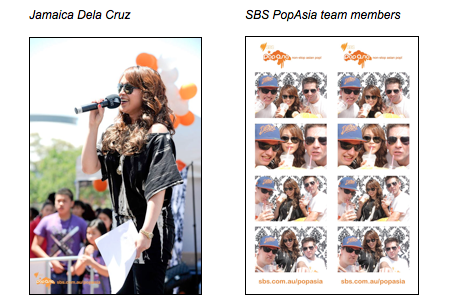 PopAsia participates in many community festivals and events, including the recent big K-Pop concert in Sydney, the City of Sydney Twilight Parade, Lunar New Year celebrations and many other Asia focused events.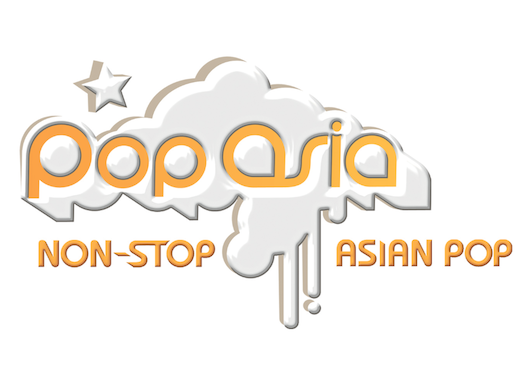 The PopAsia niche station has grabbed its audience by the vocal chords and they are screaming in delight. Watch this station to see what it does next, energy, youth and innovation are generating quite a buzz with its audience and inside the station itself.