South Australia goes to the polls to elect the next state government tomorrow, with radio set to mount coverage of the polls and results this weekend.
With the pandemic, health and the economy some of the top of mind issues in the state ABC Radio South Australia will bring listeners all the latest election news and updates throughout the day.
Coverage will be heard on ABC Radio Adelaide AM 891/DAB+ and SA's five regional stations ABC North and West ]Port Pirie, ABC Riverland Renmark, ABC South East Mount Gambier and ABC West Coast Port Lincoln (5LN) as well as on ABC News Radio.
David Bevan, Stacey Lee and Nikolai Beilharz will bring listeners the updates and analysis as the numbers unfold.
The ABC Radio team will be joined by the incumbent Environment Minister, Liberal David Speirs and former State Ministers including the ALP's Susan Close and Kyam Maher, as well an array of the State's best political minds.
ABC Radio Adelaide's Drive presenter Jules Schiller and a team of roving reporters will hit the streets of Adelaide to gauge the latest reaction from a city celebrating the final hours of Mad March and the end of another election cycle.
Results will also be available online at www.abc.net.au/SAVotes and ABC TV NEWS will present a special bulletin at 7PM with presenter Jessica Harmsen and State Political Reporter Rory McClaren updating the results at the end of the day.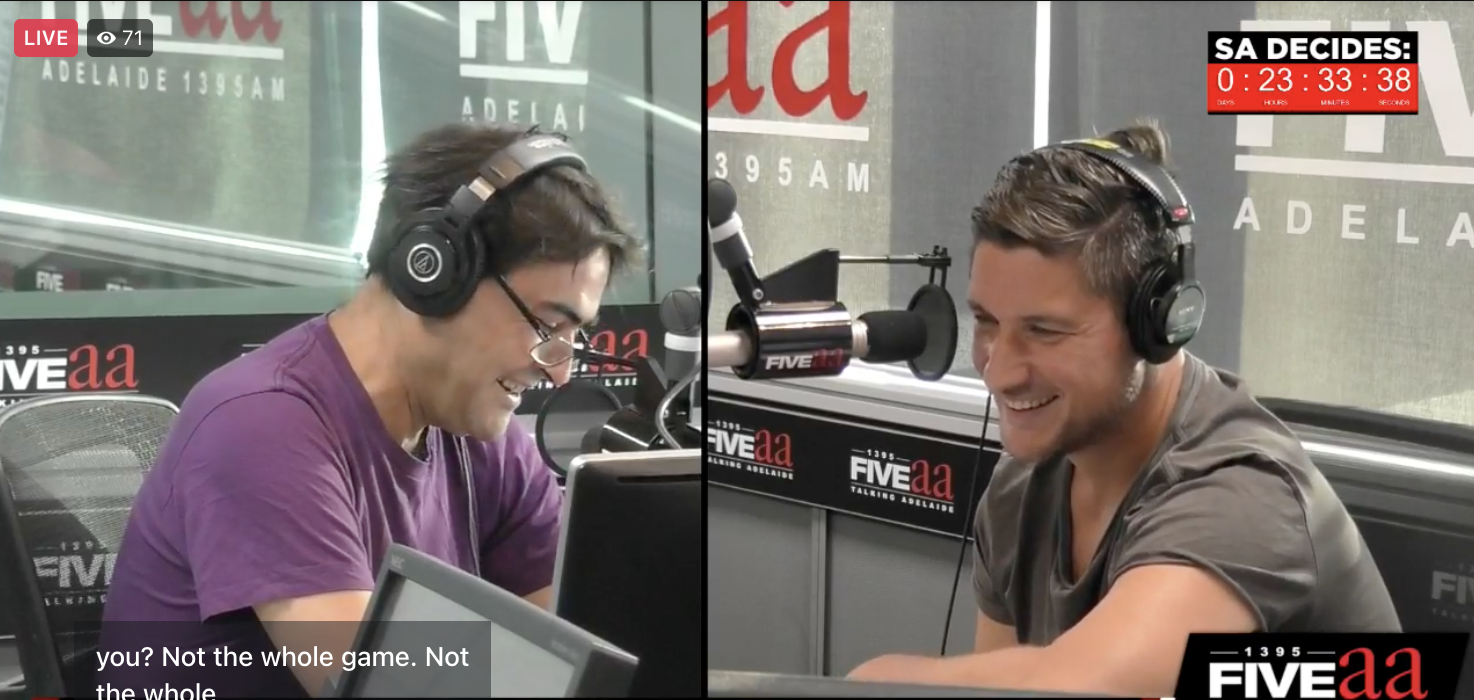 On FIVEaa, breakfast hosts David Penberthy and Will Goodings have been interviewing politicians all week, covering the issues at state and national level. This morning they spoke to Federal Labor leader Anthony Albanese.
Penberthy and Goodings will be back on air this Saturday for Election Night coverage, broadcasting live 10:30pm until midnight. The station will also stream the coverage live on Facebook and YouTube for this 90 minutes at https://www.facebook.com/1395FIVEaa. The breakfast show always streams the entire show every morning from 6-9am.
Polling booths open at 8am tomorrow and the station will feature ongoing election updates in News Bulletins throughout Saturday morning into Sunday.
Earlier in the election campaign David Penberthy predicted that the Premier Stephen Marshall would be "in serious trouble" and could lose the election. Tomorrow will determine whether his prediction in February will be correct, or if the past few weeks has changed the current state government's fortunes.
PLAY VIDEO | Anthony Albanese on FIVEaa Breakfast is stunned by a quirk in the way elections work in SA. pic.twitter.com/TV5ajsucyh

— FIVEaa (@1395FIVEaa) March 17, 2022