ABC Radio National has moved into the world of digital publishing with the launch of White Paper.

The app based e-Publication embeds audio and video into a book-like format, and contains indepth articles contributed by RN staff. The impressive monthly digital magazine is formatted for iPads and tablets.

The ABC's 'ideas network' is a natural place for Australia's national broadcaster to experiment with this new publication format.

Audio remains a key focus for White Paper, with embedded clips and interactive audio features tracking conversations across RN's programs.

White Paper was "born out of the success of long-form articles on the RN website, coupled with our commitment to be where our audience is – on all platforms," RN's Online Editor Laura Warne (pictured below) has told radioinfo.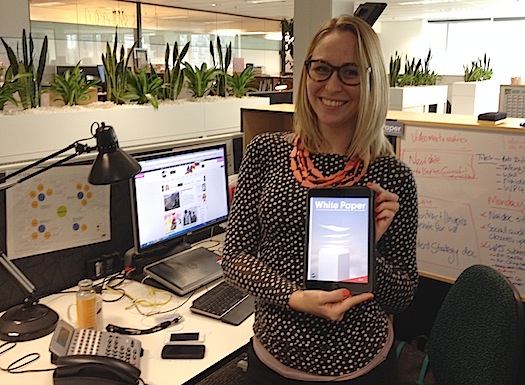 "For the past couple of years, we've been experimenting with reversioning RN's radio content into written articles, short video documentaries, and interactive multimedia features. Our online visitors have grown by 40 per cent over the past year, proving the strong demand for RN's digital content.

"We're committed to further expanding RN's audience, targeting people via social media and on new platforms with innovative storytelling techniques. By offering on-air broadcast, on-demand audio, online feature articles and now the tablet-based White Paper, we're making RN's high-quality content available to people wherever, whenever, and however they want it.

"It's also an opportunity for us to showcase the extraordinary talent of RN's producers and presenters. White Paper combines content from RN's 50+ programs, allowing us to explore issues in depth and from a number of different perspectives. We also work with other ABC partners to resurface relevant archival content, such as audio, video and images."

The first editions of the publication have covered themes such as libertarianism, health, and the Sydney Writers' Festival.

Warne says upcoming issues will step behind the headlines in the wake of May's European Parliament elections, examining issues as broad as Eurosceptic politics, French pop music, and Romania's lost generation of orphans.

Once downloaded to your device, White Paper does not require an active internet connection, so readers can view articles and interact with embedded audio and video features offline, wherever they are.
The publication is likely to unlock the rich treasure trove of content that is made for radio national to wider audiences such as schools, universities in a way that combines text with rich content, in a very readable form. Below is a 'content map' from one of the articles on Drone Strikes, followed by examples of the high quality graphics in the magazine.
This video shows how it works.