"Tim… someone from the Australian Communications and Media Authority has called about your radio station." These were the words that confronted then 12 year-old Tim Wong-See after operating a pirate radio station from his home in West Pennant Hills for two years.
From the age of twelve Tim \has had a burning passion to work the radio industry. Although his industry beginnings are somewhat unorthodox, he is now on the right track for a career in radio after being accepted into the 2013 AFTRS radio course.
Wong-See founded his own 24 hour illegal pirate radio station at his home in West Pennant Hills Sydney. The station was called "2FT" and was eventually shut down by ACMA after receiving complaints from locals. His innovative, but illegal, setup would not only be a great story for parties, it became the basis of his budding radio career.
To this day he recalls the first moment he brought home a wireless FM microphone that could transmit your voice a few meters away. He has told radioinfo: "Looking back this trivial toy became the foundation of a two-year experiment that eventually led to a broadcast signal from my own bedroom in West Pennant Hills out to Parramatta, Rydalmere and areas on the other side of Sydney in Kernel."
Tim Wong-See recalls the setup for the pirate radio station was on a small desk: "The studio as it was, consisted of a cheap microphone, an 8 channel mixer, amplifier and lots of cables… I still have a small hole in my flyscreen that was used to feed the audio cables out from my room to the transmitter underneath the house. I knew things were getting intense when I had to put the transmitter under the home because the radiation could have been an issue in the long run."
After a while on air he started getting e-mails from people in the area saying they had heard this mysterious FM radio station that had suddenly appeared on their FM radio and asking if it was licensed or if it was a pirate radio station.
"Probably they were the first signs of trouble to be honest, but I was loving it too much to really look into these e-mails"
Towards the middle of 2007 Tim built his own FM transmitter and aerial that was secured to the side of the house with a small g-clamp. However this aerial proved to work against him.
"My parents didn't like to entertain the idea of getting a professional to install the aerial on our roof which was fair enough I guess, so a small g-clamp had to do the job, but it didn't prove strong enough, some days I'd get home after a windy day to find the aerial lying on the neighbours roof. It's a bit of a giveaway for an illegal radio station when you are pulling a crudely made piece of copper off your neighbours roof !"
2FT was a 24-hour operation and the 5 CD changer took care of the airwaves while Tim was away or sleeping. He also wrote his own hourly news bulletins with audio grabs, prepared the Sunday talk show and put together all the songs with regular music shows.
No doubt ACMA had their measurement equipment beaming in his direction by this time and judging by the events that followed over the next few months, they were onto him. He began to also have thoughts as he recalls a moment where he stepped back to assess the true legality of his escalating setup:
"There were moments I knew that the only way this pirate radio setup was going to end was if I was shut down by ACMA or if the transmitter simply blew up because of over heating, our TV signal was being interrupted by my radio signal and our computer speakers began to buzz non-stop much to the frustration to my family."
One day Wong-See arrived home from school one hot Friday afternoon to a phone call from his mum that he will always remember. "I will certainly remember the words of my mum to me that over the phone that afternoon, she said 'Tim you're not in trouble but someone from the Australian Communications and Media Authority called about your radio station, someone has complained.' My immediate reaction was 'it's happened' and I put down the phone and ran down under house to turn the transmitter off for what would be the final time and whispering to myself 'no more.'"
Being only 14 by that stage, he was naturally scared the following week when two ACMA field officers came round to his home to inspect and shut down the station. After he was shut downhe started volunteer work at community radio Alive 90.5 FM (then called 2CCR FM) as a casual announcer.
Tim Wong-See has now just completed his HSC and is going into his fifth year hosting his own weekly show Tim's Music Jam on Alive 90.5 FM. He has been accepted into the Graduate Diploma in Radio course at AFTRS.
His Alive FM show is a music-based program and through his time Tim has interviewed many Australian and international acts on the show. His knowledge and love for music continues to grow with his passion for radio.
"I'm very grateful for how things have worked out over the past few years for my budding radio career, Jeffro at Alive FM has taught me how to run and present my first legal radio show and how to do interviews, skills that I'll certainly take with me into the working industry."
Tim hopes to one day become an announcer on Triple J or work as a producer on a Sydney commercial radio station. "From the people I've met, it is a tough industry to break into and you have to go where you're put, but I know this is what I love and want to do."
Tim can still be heard on Alive 90.5 FM and online at www.tmjlive.com and www.alive905.com.au Saturday mornings from 11am.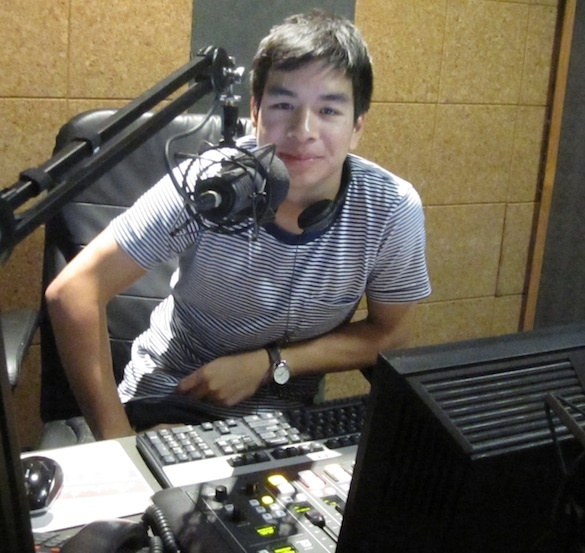 Tim, good luck in your career, from radioinfo!