Content from BPR
Thanks to Paige Nienaber for this one. Paige was at the Twin Cities market leading station WLOL at the time the following happened.
The KDWB Blimp.
The year was 1987….. U2's "The Joshua Tree" was released, "Platoon" won the Oscar for Best Picture and the Simpsons first made an appearance on TV.
This radio promotion was going to be just as great…… or so it seemed.
The KDWB blimp had characters/personalities on board. It was to be captained by an explorer and crewed by a Nordic goddess and her silent partner, Captain Vague. The only characters missing seemed to be a millionaire and his wife, a movie star…. (ok, if you haven't seen Gilligan's Island, don't worry about the analogy).
The blimp was circling the globe…. and heading for the American Twin Cities of Minneapolis-St Paul which just so happened to be from where KDWB broadcast.
KDWB spent close to a million dollars on the concept and marketing of the promotion on television, newspapers and billboards (remember it was 1987 – no internet, no social media) and as the blimp headed towards its destination, the intrepid travelers on board encountered many adventures along the way. Meanwhile, to keep the excitement going at street level, vehicles wrapped with Blimp Ground crew signage were "blitzing the streets" of the Minneapolis-St Paul market.
On the day of the heavily promoted arrival of the blimp, competitor stations were keeping a watchful eye on the events as they unfolded. One station, WLOL, received a call from a listener. A fleet of vehicles had pulled up outside her workplace and people in capes and goggles had run in and handed her a voucher for a free toaster. They then left as quickly as they had arrived, capes flapping in the breeze. Not long after, the station received a similar call ……another fleet of vehicles with people in costume was driving around and giving away prizes.
The excitement was building to a crescendo….. that never came.
The KDWB blimp didn't deflate on the way to Minneapolis…….it never existed.
There was no KDWB blimp….. just a bunch of promo staff in fancy dress on the ground giving away vouchers!
Local TV stations and newspapers were merciless in their criticism of the station. So were the listeners.
Radio is the theatre of the mind…. not the theatre for the mindless (paraphrasing Steve Allen).
David Kidd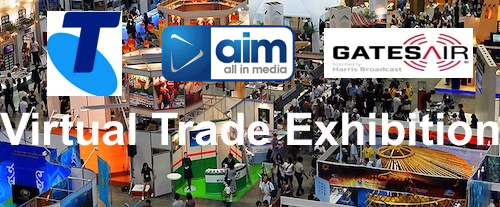 ---
Subscribe to the radioinfo podcast on these platforms: Acast, Apple iTunes Podcasts, Podtail, Spotify, Google Podcasts, TuneIn, or wherever you get your podcasts.